For most of us the aging process means experiencing a loss of volume in the face, and loss of facial fat too. This can often result in facial features getting a saggy appearance, and looking deflated or looking tired. The most commonly affected areas on the face tend to me under the eyes (sunken eye bags and crow's feet for example), around your mouth (smile lines) and on the forehead too.
It's totally normal to feel self-conscious of your changing features as you get older, and whilst the changes are normal too, it's fine to want to improve the look of them. Improving the issues you've identified can boost your confidence and help you feel more comfortable in your own skin again. Our non-invasive facelift is a great starting point for feeling more youthful, refreshed and 'yourself' again, and we find a lot of people decide to get their first non-invasive facelift before a big birthday party, wedding (your children's wedding perhaps) or a big event. Feeling youthful and attractive again can help you enjoy your event so much more.
What is a non-invasive facelift?
Skincare and facial aesthetic treatments have come a  long way and the results they can offer without being invasive are truly outstanding. A lot of people assume, because a non-invasive facelift doesn't involve surgery or 'drastic' changes, that the results won't be as powerful or visible. But the opposite is actually true.
The new technology available to facial aesthetic treatments means you can attain the same results as a traditional facelift without going under the knife or putting yourself at risk. It offers you the rejuvenation and the visible results, without the financial and time investment of surgery.
So how does it actually work?
Well, the non-invasive procedure uses the new collection of hyaluronic acid (HA) dermal fillers to achieve perfect, natural-looking results. The non-invasive treatment that we offer at Harley Street MD focusses on 8 key areas of your face, aiming to volumize and lift these key areas.
The 8 Point treatment ensures that these hyaluronic acid fillers are injected precisely where you need them the most, and exactly where you want to start seeing results. We ensure that the 8 points where we inject the fillers are the most optimal for results, but also the areas that ensure the most balanced and even appearance too.
A non-surgical facelift may also include a variety of the following treatments:
Fillers to increase plumpness and volume of skin

Botox to freeze muscle and reduce lines and creasing

Ultherapy

Lasers or radio-frequency for skin tightening
The non-invasive facelift achieves beautiful, natural looking results – giving you immediate improvement and immediate confidence!
What are the benefits of a non-surgical, non-invasive facelift?
The traditional facelift is a type of plastic surgery, that involves being put under general anaesthesia. Often, this involves a serious operation at a hospital or private hospital and involves lifting and repositioning the facial skin and muscles.
Whilst many people still choose to undergo surgery, the surgical method is definitely lessening in popularity, especially with the many medical advancements in skincare and aesthetics, it's now possible to get serious results without the need of serious operations.
The non-surgical facelift allows you to turn back the years without worrying about any scars, downtime or extortionate cost. Here are the main benefits of a non-surgical facelift:
Having a 'traditional' facelift can require a big financial commitment. A non-invasive facelift is much more affordable, so you won't need to worry about saving up huge amounts of money beforehand.
There are minimal risks involved with a non-invasive facelift, meaning there is no need to undergo general anaesthesia, or worry about scarring or bleeding.
A non-invasive facelift has minimal downtime associated with it – unlike a traditional facelift where you may be required to take a week (or two) off work to full heal and recover.
Get in touch to find out more
If you have any questions about non-invasive facelifts, we'd be happy to guide you in your enquiries and help answer any queries you might have. Our treatments are also bespoke and tailored to you, so we're always keen to hear from you beforehand, so we can advise the best course of action.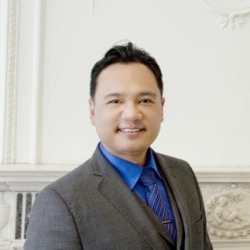 Latest posts by Dr. Chia Tan
(see all)