If you're insecure about your nose, it can affect how you feel about yourself on a daily basis. Your nose is a prominent part of your facial structure, and if you feel self-conscious of it it can have negative effects on many parts of your day-to-day life.
However, for many people a 'nose-job' is a frightening prospect. Having anyone change your face, without knowing or seeing the exact outcome, can be overwhelming and scary. Many people worry if a 'nose-job' can ever look subtle, or natural… so we'll try and address that here.
So, Can a Nose Job Look Natural?
The answer, of course, is yes. A good surgeon, doctor or cosmetic practitioner should always listen to your requests and you should always make it clear the kind of result you're after. Having photographs is useful, and also being vocal about the kind of shape and style you're hoping to achieve. If you want your nose-job to look subtle and natural – then a good doctor will prioritise this and ensure you get the look you desire.  
Ensure you Look at all the Different Options
Some nose treatments lend themselves to looking more natural than others. Many people assume the only option when having work done to your nose, is by surgery or by rhinoplasty procedures. But often, going 'under the knife' can give more drastic results – and by drastically altering your appearance, the result can come as a bit of a 'shock' during recovery and once recovery is complete. It's often this drastic change, that can prompt thoughts like "it doesn't look natural".  
If you want to avoid a drastic change, and instead want to go for a small (but noticeable) change – then looking at other options is a good idea. One of the best ways to alter the shape of your nose without surgery, is by using nose fillers – and at Harley Street MD we offer this service.
Nose Filler – A Quick Introduction
Nose filler can change the shape of your nose, by filling out target areas to create a smoother, or more heightened effect. The filler we use at Harley Street MD, is a hyaluronic acid (HA) based filler. It is one of the best in the industry and delivers incredible looking results.
We're experts in changing the shape of your nose subtly, which can lead to impressive structure and shape changes over all. A tiny change in the shape of your nose can lead to a big difference in the structure of your face – and nose fillers are an ideal way to achieve this.
We'll look closely at the shape and structure of your nose and strive to deliver the most beautiful result possible. The treatment is likely to only take 30 minute to an hour, but the results will leave you feeling new levels of confidence. The results can last between 12 – 18 months, so you have plenty of time to enjoy your newly shaped nose before coming back for a top-up session.
Non-surgical nose reshaping for men and women is relatively new in the cosmetic world, and has revolutionised the way we can change people's appearance. The non-surgical options are particularly popular with people who have a curved nose, a hook-shaped nose or a bump on the nasal bridge. So if you fall into one of those categories, there may be a non-surgical nose procedure for you, that can offer you the natural look you want.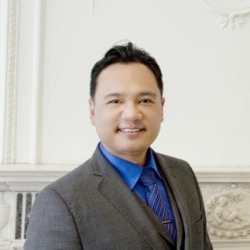 Latest posts by Dr. Chia Tan
(see all)