Perioral lines filler is a dermal filler for wrinkles around the mouth. Filler for lip lines can be made from various substances; currently, hyaluronic acid (HA) filler is the most popular dermal filler due to a very low rate of associated complications. At Harley Street MD in London, we use FDA-approved Allergan HA filler for lip lines and other aesthetic treatments. 
What are Perioral Lines and Wrinkles?
Perioral lines and wrinkles are the lines around our mouths that can create facial expressions that give the impression of being annoyed or sad. As we age, loss of collagen and reduced tone of the orbicularis oris muscle can lead to the appearance of perioral or "smoker's lines". 
As you age, there will be a loss of facial volume and the slowing down of collagen and elastin production — which is critical for good skin tone. This can cause perioral lines and wrinkles to become deeper and more noticeable. Smoking/vaping, as well as other factors, such as high UV exposure, can also contribute to wrinkles around the mouth area. The changes you may notice are: 
Oral commissures

— The corners of the mouth where the upper and lower lips meet start to "turn down".

Marionette lines

— The lines from the corners of the mouth down to the bottom of the chin become deeper.

Perioral "smokers" lines

— Fine lines from above the lip.
How to Get Rid of Lines around the Mouth
Dermal fillers can help to get rid of lines around the mouth by rejuvenating and smoothing skin to achieve a more youthful appearance — without needing cosmetic surgery. Dermal fillers can also be used following a facelift to delay the natural progression of ageing, which will still happen.
HA dermal fillers can totally transform your overall appearance by: 
Restoring loss of volume

Providing structural support to lift up oral commissures

Fill deep creases caused by marionette lines

Smooth out fine perioral lines. 
Treatment with dermal fillers replenishes lost volume and stimulates natural hyaluronic acid and collagen production. You will be amazed at the difference it makes by softening those wrinkles around your mouth and restoring the corners of your mouth to their previous state.
At our Harley Street London clinic, we often combine it with other treatments, such as smile line filler, tear trough treatment, and Botox injections, to help you achieve a more youthful, rejuvenated appearance without the risks associated with cosmetic surgery.
Perioral Lines Treatment — Before and After Photos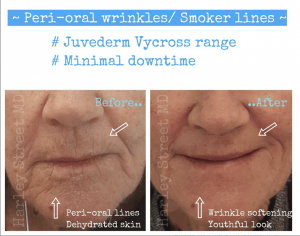 What Is the Best Treatment for Perioral Lines?
At our Harley Street aesthetic clinic in London, Dr Chia Tan recommends the Juvederm Vycross range of HA fillers as the best treatment for perioral lines. Produced by Allergan, Juvederm is the most popular brand of hyaluronic acid-based fillers in the world. Results generally last between 12 and 18 months, with most clients choosing to have an annual treatment to soften the appearance of fine lines in the perioral area and maintain a youthful look. 
Why Choose Harley Street MD Clinic in London?
All non-surgical aesthetic treatments carry potential risks and complications. By selecting a medically qualified and trained aesthetics expert with extensive anatomy knowledge, these can be significantly reduced. 
One of the few aesthetic clinics in the UK with CQC-registration, Harley Street MD in London was started by Dr Chia Tan.. Renowned aesthetic physician Dr Tan has a Diploma in Otolaryngology-Head and Neck Surgery (DOHNS) and has a full registration with the GMC. Dr Tan is also a member of the following groups:
All our filler and injectable treatments are performed by Dr Tan. With minimal downtime, this treatment is an extremely effective, quick way to look rejuvenated in under half an hour. 
Book a free, no-obligation consultation with Harley Street MD at our central London aesthetic clinic. We'll discuss your concerns and treatment options to help you achieve the results you want.