Get Rid of Perioral Lines Around The Mouth
Wrinkles and creases around our mouths often give people the impressions of being old, tired and sad. Down-turning of oral commissures, marionette lines and those fine perioral "smokers' lines" are caused by a loss of facial volume and skin firmness. Fortunately, dermal fillers can help you to wind back the clock and achieve a more youthful appearance without undergoing the scalpel, Helping you change that 'sad' look into a perfect smile. Dermal fillers can restore loss of volume by providing structural supports to lift up deep creases and smooth out fine perioral lines.
Treatment with dermal fillers not only can replenish lost volume, but also stimulate natural hyaluronic acid and collagen production. You will be amazed at the difference it makes by softening those wrinkles around your mouth and restoring your mouth corners to their previous up-turned appearance.
When combined with treatments such as smile line filler, cheek augmentation, tear trough correction and anti-wrinkle treatment, our Harley Street London clinic can help you to achieve a younger, more youthful, rejuvenated appearance, without the need for invasive plastic surgery.
Perioral Lines – Before and After Photos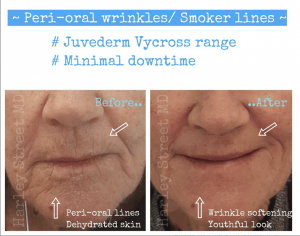 As we age, loss of collagen and reduced tone of the orbicularis oris muscle can lead to the appearance of perioral or 'smoker's lines'. They are so-called because smoking/vaping, as well as other factors such as high UV exposure, can contribute to wrinkles around the mouth area. This can make the skin appear dehydrated, with wrinkles in downturned corners of the mouth giving us a sad expression.
With the help of the Juvederm Vycross range, we can help you turn back the clock. These hyaluronic acid-based fillers soften the appearance of fine lines in the perioral area, replenishing your youthful look. Our filler treatments are performed by an experienced clinician for your peace of mind. With very minimal downtime, this treatment is perfect for a quick wrinkle fix in under half an hour. Book your free consultation today to achieve a stunning, wrinkle-free smile.
Book a free, no-obligation consultation with us at our central London, Harley Street clinic. We'll discuss your options and help you achieve the results you want.