How to Make Your Lips Look Bigger?
Do you look in the mirror and feel unhappy about the size or shape of your lips? If you naturally have smaller lips or have noticed that the plumpness and shape of your lips is changing as you age, lip fillers in London at Harley Street MD could be the solution.
Full, plump lips are often associated with youth, and lip enhancement in London at Harley Street MD can instantly create a more pleasing lip shape to enhance your facial appearance. The ideal lip shape is generally considered an upper lip with a well-defined vermilion border, which forms part of your cupid's bow, and a plump bottom lip.
Typically, the desired outcome is full, shapely lips that look natural, but not everyone wants the natural look. Lip fillers are so popular as the filler can be added gradually until you are happy with the shape and size of your lips. Lips can be symmetrical, or occasionally, a slightly fuller bottom lip is preferred. At Harley Street MD we don't have a "one size fits all" approach, and before any aesthetic procedure, you will have time to discuss your goals and objectives.
Lip Fillers
Various dermal fillers can be used to enhance lips, each with advantages and disadvantages. We use hyaluronic acid (HA) dermal filler for lip enhancement at Harley Street MD, in London. Our high-quality HA dermal lip fillers are made from pharmaceutical-grade, synthetic, biodegradable hyaluronic acid, identical to your body's natural hyaluronic acid.
HA dermal fillers are a safe and effective method of female and male lip enhancement and skin rejuvenation, restoring lost volume and rehydrating dermal tissue. Furthermore, hyaluronic acid (HA) dermal filler stimulates the natural production of collagen. Hyaluronic acid (HA) is present naturally in the human body, significantly reducing the potential for any allergic reaction. Subsequently, out of all the dermal fillers available on the market, HA dermal fillers are extremely safe, with a low incidence of complications.
Often referred to as the body's natural moisturiser, hyaluronic acid (HA) attracts water molecules and provides structural and hydrating functions — the key to creating full and soft lips. Though abundant in our youth and earlier years, production decreases over time, which leads to loss of volume and shape of the lips.
HA dermal fillers are one of our clinic's most popular procedures for non-surgical lip enhancement in London. They will improve fullness and create the perfect lip shape, and you will also notice that your skin is smoother and lip wrinkles are less noticeable.
Benefits of Lip Enhancement Filler Procedures at Harley Street MD London
Whether you are male or female, expertly administered lip fillers in London at Harley Street MD, can create the results you desire. During your free no-obligation consultation at our central London Harley Street aesthetic clinic, we will take the time to understand the effects you seek from lip fillers. We understand that individual preferences may be for a full, sensuous pout or subtle volume and enhancement of the lip shape.
Non-surgical lip enhancement in London at Harley Street MD aesthetic clinic is performed by a General Medical Council (GMC)registered doctor.
The key benefits of HA lip fillers include the following:
Enhances and creates more definition in the upper lip vermilion border
Augments the shape of the cupid's bow (philtrum ridge).
Restores volume, creating fuller, plumper lips
Reduces the vertical lines on the lips (lip wrinkles)
Produces soft and natural-feeling lips
Reverses downward mouth corner.
How Long Do Lip Fillers Last?
The results from lip fillers in London at our Harley Street MD aesthetic clinic vary between individuals. Lip enhancement with HA fillers typically lasts for between 12 and 18 months. How long lip fillers last is also depending on several factors, including, but not limited to:
Age
General health
Natural lip shape and fullness
Treatment areas
Consistency (thickness) of the lip filler
Quantity of lip filler injected
Lifestyle, for example, smoking or sun exposure.
Before and after Photos of Lip Enhancement with Fillers at Harley Street MD London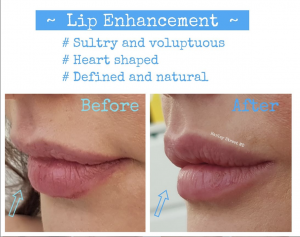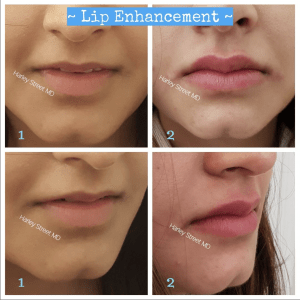 In the above image, our client was initially afraid of the infamous "duck lips" look, and we are glad to say that her result is remarkably natural and attractive. This picture was taken immediately after the procedure, and as you can see, lip fillers can look completely natural. 
These lip fillers in London were performed using the highest quality Juvéderm Volift hyaluronic acid (HA) dermal filler to give a more sultry, defined look. The cupid's bow is lifted, and the lips are fuller and more defined, giving them that beautiful heart shape without compromising a natural look.
During your free lip filler consultation, we will discuss the lip shape and overall look you want to ensure we can produce your desired outcome. Book a no-obligation free consultation for lip enhancement at Harley Street MD in London.