How To Get Rid of Bags Under Eyes on Men
Under-eye bags and dark circles are not exclusive to women – many men also find that this problem area can cause them to feel insecure too. We offer an effective and subtle way to reduce dark circles, by injecting filler into the tear trough area.
Tear trough filler is a series of micro-injections that are carefully injected into the area underneath your eyes. This is often the place that feels sunken or hollow – especially for people who are self-conscious about their dark circles and adding filler to this area can bring back some vitality and youth back to your face. The fillers are injected, and then gently massaged into the area, to lift the skin and give a more youthful and full appearance.
Whereas once, the only way to get rid of eye bags and dark circles was to have surgery (something many people want to avoid) the tear trough filler offers a minimally invasive, and low risk option that is affordable too. The downtime is minimal, so you could be back at work the same day – which is often an appealing aspect for many patients.
Our highly experienced doctor has worked with many men, getting them the aesthetic results they have hoped for.
Why Do Men Suffer from Dark Circles?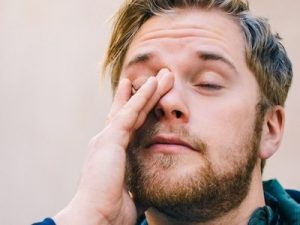 Men can get dark circles at any age, some men may even notice dark circles in their early twenties if their lifestyle is stressful or demanding. For most men, the appearance of dark circles tend to worsen with age, and this is just because of how skin and genetics change as you get older.
When men age, the skin under the eyes (tear troughs) becomes lax and the cheek fats reposition into the middle of the face. This allows semi-circular depressions to form and create a tired look. This hollow area that runs from the inner eye area to the upper cheek is called a tear trough hollow and it is a common aesthetic issue amongst men.
These "dark circles" under men's eyes create unflattering shadows and give an impression of a weary and aged appearance. Under eye fillers can be injected to lift these hollow areas, removing the tired look and simultaneously lighten the dark circles caused by the shadow effect.
This is a revolutionary and virtually painless non-surgical eye-lift treatment that can provide instant results with almost no downtime. The treatment is very subtle but also very effective and you'll leave looking fresh, younger and more awake.
What Does Dark Circle Treatment Procedure Involve?
The procedure involves careful introduction of under eye filler treatment to recreate the smooth, firm foundation of the area under the eyes. Facial fillers have pharmaceutical-grade hyaluronic acid that is similar to the naturally occurring hyaluronic acid found in facial soft tissue. Its main function is to support and hydrate the skin. It is one of the best fillers for use in tear troughs.
The treatment with hyaluronic acid-based facial fillers is entirely reversible, as we can use an enzyme that will remove the dermal filler effect within days. This works as a safety net, especially for clients who are new to this facial procedure.
Topical anaesthetic cream and injection are used prior to the treatment to ensure maximum comfort. Additional local anaesthetic is also combined with the filler to ensure that the under eye filler treatment is relatively painless. The procedure takes about 30 minutes and you will see improvement immediately. Final result is usually in 2 weeks time. Complimentary follow up is typically offered after 2 weeks of treatment.
The effect of the dark circle treatment can between 12-18 months typically.
Each syringe contains 1 ml of Juvederm Vycross range dermal filler. This is one of the latest fillers produced by Allergan, it is incredibly soft and therefore perfect for tear trough treatment. Although 1ml of dermal filler may be sufficient for both eyes, in some cases additional syringes are required depending on severity.
The cost of the first syringe is £350 with every additional syringe charged at £300.
Highly Experienced and the Latest Clinical Methods
Our methods here at Harley Street MD are always the latest in clinical progression. We are extremely active in various international conferences to keep ourselves up to date, and we stay at the front of medication and aesthetic advances, so that we can offer the very best procedures to our clients.
Our practitioners are constantly receiving new and updated training, and it's important to us that their passion for our patients and seeing amazing results shines through. You'll receive the best level of care, from your first consultation appointment right through to your aftercare and follow-ups.
Contact us to book a FREE no-obligation consultation today.
Before and after photos for Under Eye Fillers for men