How to get rid of dark circles under eyes
Are you one of those men that tend to look a little tired even after you had a good nights sleep? Could this be because of the dark circles and sunken areas under your eyes? When men age, the skin under the eyes (tear troughs) becomes lax and the cheek fats reposition into the middle of the face. This allows semi-circular depressions to form and create a tired look in those early business meetings. This hollow area that runs from the inner eye area to the upper cheek is called a tear trough hollow and it is a common aesthetic issue amongst men.
These "dark circles" under men's eyes create unflattering shadows, often known as 'dark hollow' and give an impression of a weary and aged appearance. Soft fillers can be injected to lift the hollow areas, removing the tired look and simultaneously lighten the dark circles caused by the shadow effect.
This is a revolutionary and virtually painless non-surgical eye-lift treatment that can provide instant results with almost no downtime. The treatment is very subtle but also very effective.
The procedure involves careful introduction of soft fillers to re-create the smooth, firm foundation of the area under the eyes.. Facial fillers have pharmaceutical-grade hyaluronic acid that is similar to the naturally occurring hyaluronic acid found in facial soft tissue. It's main function is to support  and hydrate the skin. It is one of the best fillers for use in tear troughs.
The treatment with hyaluronic acid-based facial fillers is entirely reversible, as we can use an enzyme that will remove the dermal filler effect within days. This works as a safety net especially for clients who are new to this facial procedure.
Topical anaesthetic cream is used prior to the treatment to ensure maximum comfort. The local anaesthetic is combined with the filler to ensure that the treatment is relatively painless during and after the procedure. The procedure takes about 30 minutes and you will see improvement immediately. Final result is usually in 2 weeks time, fillers need time to integrated with the surrounding tissues to achieve hydration balance within the area. Complimentary follow up is therefore typically offered after 2 weeks of treatment. The effect of the treatment lasts very long and can even be up to 2 years.
Each syringe of the dermal filler contains 1 ml of dermal filler. This is one of the latest dermal fillers produced by Allergan, it is incredibly soft and therefore perfect for tear trough treatment. Although 1ml of dermal filler is generally sufficient for both eyes, in some cases additional syringes are required. Cost of the first syringe is £350 with every additional syringe charged at £200.
Before and after photos for Dark Circles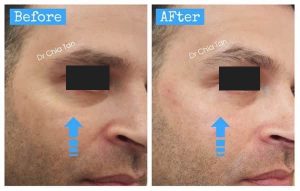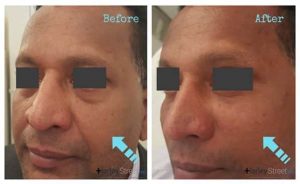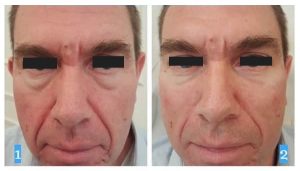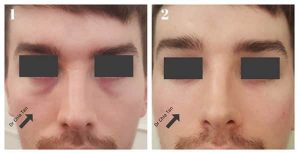 Your treatment
PROCEDURE TIME 30-45 minutes

BACK TO WORK Same day

ANAESTHETIC Topical

FULL RECOVERY 1-2 days

DURATION OF RESULT 1-2 years

RESULTS Immediate
Treatment price
Dark Circles (Tear Trough) Treatment
More information