Botox London Anti-Ageing Treatments
Botox is one of the most effective and popular treatments for reducing facial wrinkles and fine lines, and you can safely combine it with dermal fillers. Both women and men visit our aesthetic clinic for Botox in London, dermal fillers and other aesthetic treatments to help them look younger and feel more confident. 
What is Botox?
Made from botulinum toxin type A, Botox was approved in 1989 by the FDA to treat Blepharospasm, a condition that causes involuntary muscle spasms in the eyes. Since then, it has been approved for treating various medical conditions, including cervical dystonia (neck spasms), overactive bladder (OAB) and migraines.
The FDA went on to approve Botox for cosmetic use in 2002, and it is now approved in 98 countries worldwide. Botox injections are typically administered to smooth "crow's feet" around the edge of the eyes, forehead and frown lines, but you can also use it to give the face a slimmer appearance. You can have your entire face treated in less than an hour, and because there is no downtime, it's a treatment that can be done on your lunch break. 
How Does Botox Work?
Botox was initially used medically and cosmetically to prevent muscle contraction. Now expert aesthetic practitioners tend to use smaller amounts for the modulation of muscular activity, which limits movement but doesn't completely paralyse the muscles. This looks more natural and helps to prevent complications such as eyelid droop. Restricting movement in targeted areas helps eliminate wrinkles and stop the formation of future wrinkles and deeper lines for a natural, youthful look. 
In the UK, there are no regulations around who can legally perform Botox injections. Many aesthetic practitioners will have only completed a  short course before providing Botox treatments. This will not give the time needed to understand the relationships between the facial muscles, arteries and veins.
It is essential to choose a practitioner with a medical background to reduce the possibility of complications such as vascular occlusion (VO), which can lead to necrosis (death of tissue). All Botox treatments at Harley Street MD are performed by Dr Chia Tan, a fully registered doctor with a diagnostic approach taking into account the anatomical and functional use of the facial muscles for a natural result.
The most popular facial areas for Botox treatment are:
• Forehead
• Frown lines (between eyebrows)
• Crows feet (corner of the eyes)
• Eyebrow arches
• Nose lines
• Gummy smile
• Dimpled chin
• Mouth corners
• Top lip
• Neckbands.
If you are considering Botox in London, you can have a free consultation at our professional aesthetic clinic to discuss your goals and needs without any pressure to commence treatment. 
Am I a Suitable Candidate for Botox in London? 
We can administer Botox injections to individuals over the age of 18. When carefully administered by an experienced aesthetic practitioner using fine needles, Botox has low rates of risks and complications, and allergic reactions are extremely rare. However, at Harley Street MD, aesthetic clinic in London, Dr Tan will not administer Botox to individuals with:
• Known hypersensitivity to human albumin
• Disorders of the neuromuscular junction
• Myasthenia gravis
• Lambert-Eaton myasthenic syndrome
• Multiple sclerosis
• Myopathies.
Before and After Photos for Botox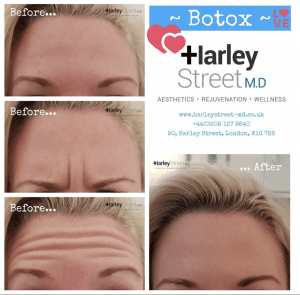 Common Questions about Botox in London at Harley Street MD
How Much Does Botox Cost? 
The cost of Botox injections will vary depending on the practitioner's experience and qualifications, the clinic's location and the treatment's purpose. Generally, you should expect to pay between £200 and £400 for one area of the face to be injected with Botox. 
What Are the Risks and Complications?
Temporary side effects and complications can include:
• Redness and bruising 
• Flu-like symptoms
• Headache
• Nausea
• Muscle weakness (very rare).
When Will I See the Results?
The results from your Botox treatment are generally better seen three to five days after treatment. Deep lines will continue to reduce as the use of the muscles is limited following Botox injections.
How Long Does Botox Last?
Botox typically lasts four to six months, and most people need a "top-up" twice a year.
Interested in getting Botox in London? Contact us today for a FREE no-obligation consultation at our Harley Street clinic.