How to Make Your Nose Smaller
A non-surgical nose job uses dermal fillers; the duration of the effect varies between individuals, depending on age, patients' general health, the thickness of the HA products (i.e. grade), the type of fillers, as well as the clients' lifestyle. Nose reshaping can last up to 18 months and can be reversed if required, which gives you the extra peace of mind when it comes to nose reshaping.
Take a look at our before and after photos for nose reshaping.
The filler we use is one of the best dermal fillers in the cosmetic industry at present – it is a hyaluronic acid (HA) based filler. HA is found naturally under our skin and it has an important structural function and is responsible for the fullness and firmness of the skin.
Nose Reshaping without Surgery
The non-surgical nose job is particularly popular in individuals with a curved or hook-shaped nose or a bump on the nasal bridge. The effect is instant. In our clinic, we could even project your nasal tip and increase the nose to mouth angle to that is often associated with a more youthful appearance.
Unlike traditional rhinoplasty, there will be no general anaesthesia, plaster cast or long downtime. There is virtually no downtime with dermal filler.
Whether you are looking to straighten your nasal bridge or create a nasal tip button, we are here to offer our professional help and advice.
Contact us today and book a FREE, no-obligation consultation.
Before and After Photos of a Non-Surgical Nose Job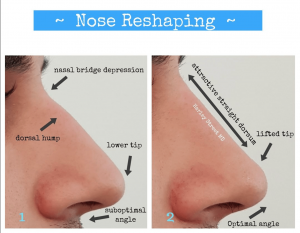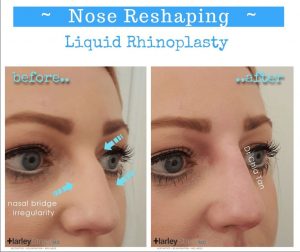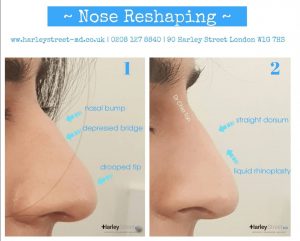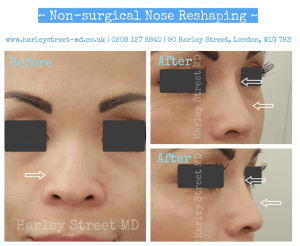 If you are feeling self-conscious due to a depression on the nasal bridge, dorsal hump or lowered nasal tip, then using our state-of-the-art techniques which are performed under the skilled hand of an experienced doctor, we are able to sculpt an attractive straight dorsum. The photos above show how we have done this and lifted the nasal tip too by increasing the nasophiltrum angle, to give a more youthful appearance. As a result, we have a balanced side profile and a very happy, confident client. What's more, is that absolutely no scalpel-to-skin surgery was required. This is a quick and effective treatment with virtually zero downtime.
With the advancements in non-surgical cosmetic medicine, you don't necessarily require painful surgery to change the shape of your nose anymore.
Interested in a non-surgical nose job or simply want to know more about the procedure? Contact us today for a FREE no-obligation consultation at our Harley Street Clinic.