The Best Non-surgical Nose Job in London
With the help of dermal fillers, we can give you the non-surgical nose job of your dreams and change the shape of your nose without having to go under the knife. This is a great alternative to traditional rhinoplasty surgery, using dermal filler to reshape the nose. This is made of hyaluronic acid (HA), which is found naturally in the body and serves an important structural function responsible for fullness and firmness of the skin. If you've been thinking about getting a nose job, read on to learn more about the exciting, new, non-surgical nose job treatment we offer at Harley Street MD in London. 
Nose Reshaping without Surgery
If you are feeling self-conscious about the shape of your nose due to a depression or bump on the nasal bridge (or if you have a curved or hook-shaped nose) our state-of-the-art techniques — performed under the skilled hand of an experienced doctor — can sculpt an attractive straight dorsum or give fullness to a smaller nose. The photo below shows how we lifted the nasal tip of one patient by increasing the nasal philtrum angle and how we filled the nasal depression for a straighter nose. As a result, we have a balanced side profile and a very happy, confident client. What's more, is that absolutely no scalpel-to-skin surgery is required with our non-surgical nose jobs. This is a quick and effective treatment with virtually zero downtime — just many of the benefits of choosing non-surgical rhinoplasty.
Is a Non-surgical Nose Job Safe?
Unlike traditional rhinoplasty, there will be no general anaesthesia, plaster cast or long downtime with a non-surgical nose job. We use a topical numbing cream to help reduce the pain that might be caused by the needle, but you shouldn't feel much during the procedure. A local anaesthetic is integrated within the dermal filler to further minimise any discomfort during and after the treatment. There is virtually no downtime with dermal filler as it's a minimally-invasive procedure that does not require a trip to the hospital — many people come to get injectables on their lunch breaks. Whether you are looking to straighten your nasal bridge or create a nasal tip button, we are here to offer our professional help and advice.
Before and After Photos of a Non-Surgical Nose Job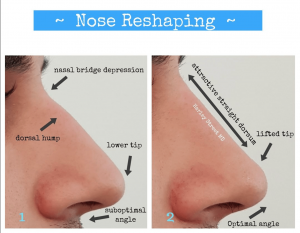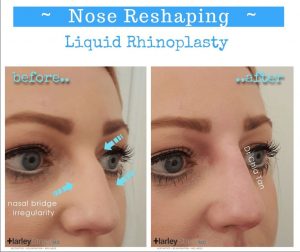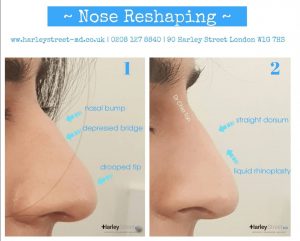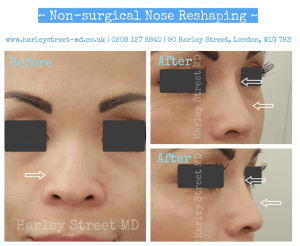 How Long Does a Non-surgical Nose Job Last?
A non-surgical nose job uses dermal fillers, so the duration of the effect varies between individuals depending on age, general health, the thickness of the HA products (i.e. grade), the type of filler, as well as the client's lifestyle. Nose reshaping can last 12 to 18 months and can be reversed if required, which gives you extra peace of mind when it comes to choosing a procedure. After this, you just come into the office for a top-up session.
This procedure is ideal for both men and women, so get in touch for a consultation if you are considering a nose job. With advancements in non-surgical cosmetic medicine, you don't necessarily require painful surgery to change the shape of your nose anymore.
Want to change your nose and feel more confident? Contact us today to arrange a free, no-obligation consultation at our cosmetic skin clinic at Harley Street, and allow us to restore your confidence and bring your best face forward.