How to Get Rid of Bags Under Eyes
For a lot of us, as we age, we notice the skin on our face becoming lax. Feeling self conscious of sunken eyes, or dark circles is completely normal as you get older – and many of us who suffer from this insecurity seeking out ways to freshen up our appearance and feel more youthful can really restore confidence.
The soft tear trough filler we use consists of pharmaceutical grade hyaluronic acid that is similar to the naturally occurring hyaluronic acid found in soft tissue. It supports and hydrates the skin and is regarded as one of the safest fillers for use in tear troughs.
See our before and after photos for tear trough fillers.
Why Do We Get Dark Circles and Eye Bags?
Some people are naturally born with more sunken eye shapes, or eye bags. For others though, the skin under our eyes becomes lax with age and it's something that gets more noticeable as we get older.
Generally, the reason for this decline in appearance is because the fat from the cheeks descends into the middle of the face leaving semi-circular depressions around the eyes. This often creates a tired look – and also tends to 'age' people too.
What Are Tear Trough Filler Injections and How Do They Help?
The hollow area that runs from the inner eye margin to the upper cheek is referred to as a tear trough hollow. It is these depressions that make the eyes look 'sunken' and cast unflattering shadows under the eyes often known as 'dark circles' that can give an impression of a weary, aged appearance.
The fillers we inject into the tear trough area are made with hyaluronic acid, a substance that is found naturally in the body. This substance is super hydrating and gives the space under the eyes a new fresher, less-sunken, plumper appearance.
Soft tear trough fillers can be injected to bring these tear trough depressions back from the depths. By lifting these hollow areas, it can take away the tired look and lighten the dark circles caused by the shadowing effect. The treatment is subtle but extremely effective. You'll love more awake, more rested, and more youthful after your treatment.
The overall result is that of a younger and fresher appearance. This is a revolutionary and non-surgical 10-minute eye-lift treatment that can rejuvenate your look with minimal downtime.
What Happens During Tear Trough Treatment?
It's a very simple and quick procedure, so if you're feeling nervous, hopefully we can put your mind at ease.
The treatment procedure involves the careful introduction of a filler into the tear trough, this is done using a fine injection needle. Your doctor or practitioner will be very careful and gentle, and a lot of patients don't feel much pain at all.
Once the filler has been injected, it is then gently massaged into the target area to blend into the cheekbone and re-create the smooth, firm foundation for your under-eye area.
How Long Do The Results Take To See?
You will experience immediate lifting effect from the procedure, nonetheless the final result is usually in 2 weeks time; this is because fillers need time to integrate with the surrounding tissues to achieve hydration balance, and skin in the treated area also needs time to relax and smooth out.
Say goodbye to tired looking eyes. Give us a call today to arrange a free, no obligation consultation at our cosmetic skin clinic at Harley Street to allow us to restore your confidence.
Tear Trough Treatment Before and After Photos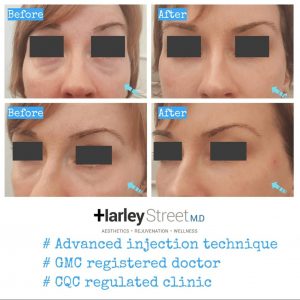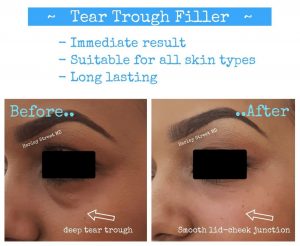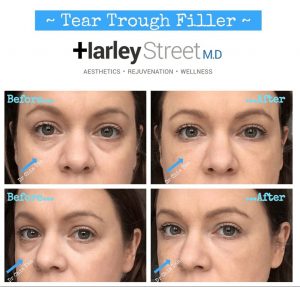 What if I don't like the results?
We're positive you'll love how you look after receiving your tear trough fillers, but one of the main benefits of hyaluronic fillers is that they can be reversed. This is a big safety net for many people, especially those who are having the treatment for the first time.
Your Confidence Will Soar
Stress, fatigue and age can all contribute to the appearance of dark hollows under the eyes which can make us look tired. Many patients struggle to cover up dark circles even after applying lots of concealer – but there is a simple solution.
Our non-surgical tear trough treatment uses soft dermal fillers under the eye, injected by an expert aesthetics doctor. This treatment restores volume, rejuvenates and brightens the area, reducing the appearance of dark circles. Most importantly, it restores confidence in our patients. With an integrated local anaesthetic for your comfort, this treatment is perfect if you want to look well-rested and invigorated in under 30 minutes.
This treatment procedure requires skillful deposition of filler aliquots via a cannula technique and the results are often very rewarding and long-lasting.
Tear trough rejuvenation requires in-depth knowledge of the anatomy and meticulous injection skill. The treatment itself involves careful planning and it is therefore paramount to only get this treatment at a reputable clinic. At Harley Street MD, our doctors are GMC registered and the clinic is fully regulated by CQC. We perform many tear trough treatments per day and by using advanced cannula technique, we are consistently achieving great results safely, painlessly and with minimal downtime.