Tear trough filler is an effective way to improve the appearance of dark circles and bags under your eyes while reducing wrinkles and fine lines. This non-surgical injectable dermal filler treatment will refresh your face, banish under-eye bags and give you a more youthful look.
What Are Tear Trough Filler Injections?
Tear trough filler injections are a popular cosmetic procedure that combats tired-looking eyes and eliminates signs of ageing in the under-eye area. This non-surgical procedure to rejuvenate the eye area involves the injection of soft dermal fillers made with hyaluronic acid (HA), a natural substance in the body. Thanks to the super hydrating properties of hyaluronic acid (HA), tear trough injections can give the under the eyes a smoother, plumper and less sunken appearance.
Tear trough injections are administered to improve the appearance of depressions and sunken eyes. The treatment can rectify your tired look and lighten dark circles caused by the shadowing effect by lifting these hollow areas. In this quick and simple procedure, hyaluronic acid (HA) filler is injected into the targeted areas, with an integrated local anaesthetic mixed in to reduce any discomfort.
Tear trough filler restores volume and rejuvenates the under-eye area, reducing the appearance of dark circles in a subtle yet highly effective way. Most importantly, tear trough injections boost confidence, resulting in a younger and fresher appearance. Under-eye filler is revolutionary, non-surgical and super quick, offering a natural alternative to a surgical eye lift that can roll back years with minimal downtime. This treatment is perfect for you if you want to look well-rested and invigorated in under 30 minutes.
Why Get Tear Trough Fillers?
The hollow area that runs from the inner eye margin to the upper cheek is referred to as the "tear trough." If you have under eye depressions, the eyes will look sunken and cast unflattering shadows, emphasising dark circles and making you look tired and older than you feel. If you've ever wondered how to get rid of bags under your eyes and tackle dark circles, tear trough filler injections can make a huge difference.
It's normal for the skin on your face to become lax as you age, leading to lines and wrinkles. You may not know that, as you age, the actual fat distribution and structure of your face changes and this can cause hollows or dark circles in the under-eye area. One of the fastest ways to rejuvenate your appearance, and feel more youthful and more confident is with dermal filler injections.
The soft tear trough filler we use at Harley Street MD consists of pharmaceutical-grade hyaluronic acid (HA), similar to the same substance naturally occurring in soft tissue. Hyaluronic acid (HA) supports and hydrates the skin and is regarded as one of the safest dermal fillers for tear trough treatment.
See before and after photos below of our clients who have had tear trough filler at our London aesthetic clinic for an idea of the kind of results you can expect.
Tear Trough Treatment before and after Photos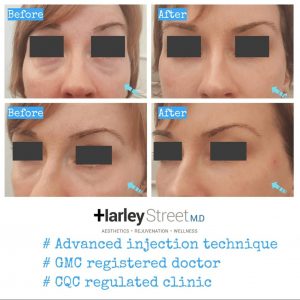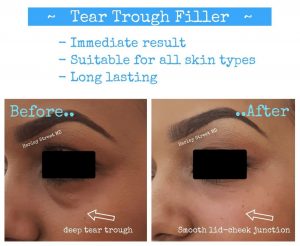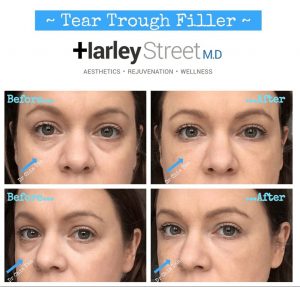 Why Do We Get Dark Circles and Eye Bags?
Some people are naturally born with a more sunken eye shape due to bone structure or eye bags. For other people, the structure of our face and the skin under our eyes becomes lax with age. Hollows and eye bags become more noticeable as we get older.
Generally, this decline in appearance is because the fat from the cheeks descends into the middle of the face, leaving semi-circular depressions, referred to as tear troughs, under the eyes. This often creates a tired look and tends to visibly age people, too.
Looking for Tear Trough Filler in London?
If you're searching for expert aesthetic practitioners with in-depth experience providing aesthetic injectable dermal filler treatments and will ensure natural-looking results with minimal downtime. Our leading practitioners at Harley Street MD provide the highest quality tear trough treatment in under 30 minutes, delivering brighter, more-hydrated skin, and banishing hollows and dark circles, for a more youthful look.
If you have any questions or want to know more about our aesthetic treatments, contact us at our aesthetic clinic in London for a free, no-obligation consultation.
Ready for a Confidence Boost?
Stress, fatigue and age can all contribute to the appearance of dark hollows under the eyes, making us look tired. Many patients struggle to cover up dark circles even after applying lots of concealer — but there is a simple solution.
Tear trough filler rejuvenation requires in-depth knowledge of anatomy and meticulous injection skill. Treatment involves careful individual client planning, which is why it's paramount to get this treatment at a reputable clinic. At Harley Street MD, our doctors are GMC registered, and our clinic is fully regulated by the Care Quality Commission (CQC). We perform multiple tear trough treatments and consistently achieve excellent results safely, painlessly and with minimal downtime.
Say goodbye to tired-looking eyes and hello to a renewed sense of confidence. Get in touch for a FREE no-obligation consultation at our Harley Street aesthetic clinic and discuss tear-trough filler treatment with our expert team.