How to get a slimmer face
Over-developed jaw muscles (masseters) can often lead to a square-looking jawline. Reduction of the jawline through the use of face fillers has revolutionised cosmetic sculpting of the lower face. This procedure is particularly popular in Asia (especially Chinese and Korean) where masseter hypertrophy is often apparent and fairly common. By treating these areas, one's face will look thinner and sharper by achieving the reverse triangular appearance; facial traits often associated with youthfulness and attractiveness.
Surgical shaving of jaw bones is very invasive, irreversible and can have a long downtime, and extensive recovery period. Jawline reduction using facial fillers, on the contrary, is safe, effective and affordable. The procedure involves injections of the toxin into the masseter muscles on each side of the face. It takes approximately 2-4 weeks for the masseters to reduce in size and therefore slim down the jawline and the effects can last up to 6 months.
Book a free, no-obligation consultation with us at our central London, Harley Street clinic today.
Before and After Photos for Jawline reduction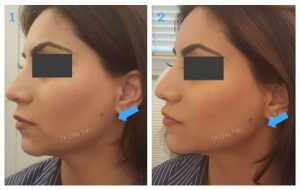 This woman came to our clinic looking to improve the shape of her jawline. Using carefully injected dermal fillers, we were able to turn her dream of a chiselled jawline into a reality. Under the skilful hand of an experienced clinician, the initially indistinctive jawline was shaped with finesse to give a more structured mandibular angle. The whole process takes under 30 minutes with very minimal downtime and is completely non-surgical. The final result left our happy client with a sharp jawline and model-like look.
If you feel you would benefit from a jawline reduction or are simply interested in learning more about the procedure, then book your FREE no-obligation consultation today.