If you are feeling self-conscious about wrinkles on your hands, we have the perfect treatment to help turn back the clock. Hand rejuvenation is a popular treatment for people with ageing hands or prominent veins, making your hands look smooth, radiant and youthful in under an hour.
Frequently, cosmetic medicine focuses on facial treatments, yet one of the most neglected areas of the body is the hands. People can usually tell a person's age just by looking at their hands, and in some cases, wrinkles or prominent veins may appear prematurely and make you appear older than you are.
Because the skin on the back of the hands is extremely thin and constantly exposed to the elements, loss of natural fat padding over time will reveal wrinkles and skin laxity while dark spots form due to sun damage. Worst of all, the underlying structures such as tendons and veins begin to show, giving your hands a skeletal appearance that may make you lose self-confidence.
Hand creams might make your hands feel softer, but they are unlikely to improve their appearance significantly. Our hand rejuvenation treatment or "hand lift" is the only way to reverse the ageing process on the hands, with safe dermal fillers helping you achieve a beautiful look.
Hand Rejuvenation Treatment: Make Your Hands Look Younger
The latest advancements in aesthetic medicine give us an effective way to treat wrinkles, restore volume and easily improve the texture of your hands. In our expert hand rejuvenation treatment, we use dermal filler Radiesse, a dense yet malleable filler made of calcium hydroxylapatite (CaHA) microspheres. This filler restores lost volume and minimises the appearance of veins and tendons, providing a smooth, natural result in just one treatment. Radiesse hand rejuvenation has the added benefit of stimulating collagen production, which is naturally lost over time and causes many visible signs of ageing.
Radiesse is EU and FDA approved, and many studies back its effectiveness in hand rejuvenation. This effective dermal filler will lift depressions between the tendons and veins, reducing the bony appearance of your hands and leaving them looking years younger. You'll want to use a doctor who is an expert injector and understands the anatomy of the hand to ensure a safe and effective treatment.
What Does Hand Rejuvenation Treat?
Our non-surgical hand rejuvenation procedure can treat the following signs of hand ageing:
• Loss of volume — Loss of volume in ageing hands is common. By administering dermal fillers in targeted areas, the hands will appear "lifted" and instantly more youthful.
• Pronounced veins and tendons — A loss of collagen and elastin over time results in thinner skin on your hands, causing veins and tendons to become more prominent. If you don't like the look of them, Radiesse fillers can add plumpness and make them less visible.
• Lines and wrinkles — Wrinkly hands can make you appear older than you are. Radiesse fillers use hyaluronic acid to add volume and smooth away lines for a plump, radiant look.
Hand Rejuvenation — How Does It Work?
The beauty of Radiesse hand rejuvenation is the ability of the CaHA gel to create a scaffold that lifts depressions in the skin. Once injected into your skin, the spherical calcium hydroxylapatite particles encourage your body to produce its own collagen to slow down the ageing process.
During your hand treatment, we'll first ensure you are comfortable and apply numbing cream if needed. We use a very small cannula to administer the injectable filler into targeted areas of the hands and massage it in to ensure a natural look. The procedure is virtually painless and takes less than 30 minutes to inject both hands. You may experience some light bruising or redness around the injection site, but most people can return to work the same day.
Hand Rejuvenation — Before and After Photos 
Take a look at these results from two of our patients, who have both enjoyed amazing transformations as a result of our expertly administered hand rejuvenation treatment. You can see that the hands are much smoother, with restored volume and a younger-looking appearance.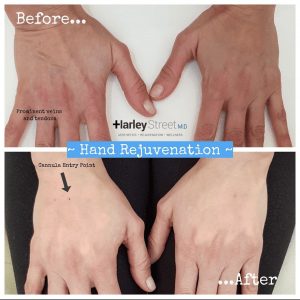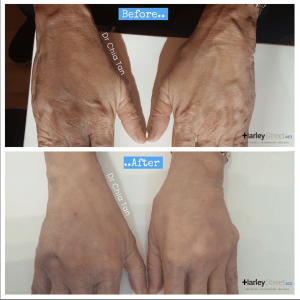 How Long Does Hand Rejuvenation Last?
Radiesse is a long-lasting filler with effects proven to last up to 18 months. Dermal fillers do not provide permanent results, but Radiesse does have the added benefit of slowing the ageing process so that fewer wrinkles form. Right after treatment, you will notice a difference in the appearance of your hands, but it may take a couple of weeks for the full results to appear.
Radiesse maintains a soft, natural feel and takes on the characteristics of surrounding skin tissue. The gel dissolves over time and is completely metabolised by the body, leaving only the new collagen your body developed. This treatment is great for both men and women, so get in touch for a consultation if you'd like to rejuvenate your hands and achieve a youthful appearance.
If you feel self-conscious about ageing hands, our aesthetic specialists would love to help you turn back the clock and regain your confidence. Contact us today to arrange a free, no-obligation consultation at our Harley Street London clinic.