How to Get Rid of Your Double Chin
If you aren't happy with the way your chin looks or wish you had a more defined jawline, you may consider chin filler. Dermal fillers are an instant and highly effective way to enhance your facial features without invasive surgery, and chin fillers can define your profile to create the look you've dreamed of.
Our chin augmentation procedure is a safe method of aesthetically enhancing your facial features, balancing your profile and creating a more contoured look. By adjusting the chin's height, width and projection with dermal fillers, our experienced cosmetic specialists can bring your facial features into perfect balance and give you the jawline you desire.
Chin filler is a dermal filler made from hyaluronic acid (HA), a gel-like substance that adds volume and plumpness to the skin. When used in this face area, dermal fillers add shape and definition. Fillers are very safe and provide immediate results, and the procedure itself can be performed in as little as 30 minutes. There is no downtime, so you can return to work right after treatment.
Though dermal fillers aren't permanent, they can last for up to 18 months, making them an excellent, long-lasting option for anyone who wants to make minor tweaks to their appearance without surgery.
How Does Non-surgical Chin Augmentation Improve Your Appearance?
A well-balanced and symmetrical face is generally considered more attractive and plays a significant role in overall appearance. Using chin fillers to refine the size or shape of your chin and jawline can improve this balance and boost your confidence.
Chin fillers can minimise the appearance of a double chin or jowls, resulting in a more defined, lifted and younger-looking appearance. For those who feel that their chin is too prominent or not prominent enough, chin augmentation can improve the side profile of the face, providing remarkable results in an instant. Our expert practitioners can also administer non-surgical jawline reduction treatment to define the jaw area, improve facial proportions and create a slimmer-looking face.
The Advantages of Chin Filler
Chin filler is a quick, affordable and reversible procedure, making it a fantastic alternative to surgical chin implants. Going under the knife is a scary prospect for many, and the fear of pain and recovery time puts many people off the idea of changing their appearance.
There are several advantages of opting for chin filler over surgical chin augmentation:
Minimal pain or discomfort — topical numbing cream is applied to the face before we expertly administer injections. The high-quality dermal filler also contains a built-in anaesthetic to make the procedure more comfortable.
Minimal recovery time — there is no downtime required for chin fillers.
Low-risk procedure — jaw and chin fillers are safe and have few side effects. Some patients may notice slight bruising, redness or swelling at the injection site.
Reversible treatment — chin fillers are non-permanent and can safely be reversed, providing peace of mind to anyone receiving treatment for the first time.
Long-lasting results — treatment lasts an average of 12 months or more. 
Chin Filler for Women
Many women worry that their chin isn't as prominent as it could be, or don't like its shape. A weak or sunken chin may make jowls or a double chin appear more obvious, but this can be treated by increasing height at the central point. Chin filler for women will sharpen the face, improve definition and balance, and make it look slimmer and more feminine.
Chin Filler for Men
Dermal fillers for men can provide a prominent chin and contoured jawline for a strong, masculine look. Chin fillers enhance a man's natural bone structure and provide balanced height and width, especially when combined with pre-jowl and jawline treatment.
Chin and Jawline Reshaping without Cosmetic Surgery
You don't need to resort to an invasive and non-reversible surgical operation to achieve the look you want. Chin augmentation with dermal fillers can fix your imperfections, utilising a non-invasive procedure to reshape your chin and jawline. Results can be seen instantly and will continue to improve for weeks without the downtime or recovery period of traditional cosmetic surgery.
Improve Your Confidence with Expertly Administered Chin Fillers
Many people feel self-conscious about the area under their chin and don't like looking at their side profile in photographs. With the help of non-surgical chin augmentation, you can always look your best from any angle. Administered by an experienced injector, our chin filler treatments provide excellent results in half an hour.
Chin filler can significantly improve your confidence, helping you enjoy life without anxiety about your appearance. Your newly balanced chin will subtly change your appearance, making you feel unstoppable. If your chin shape has been holding you back in social situations, chin fillers are ideal for restoring confidence and feeling great again.
Chin Fillers: Before and after Photos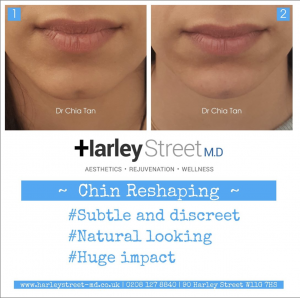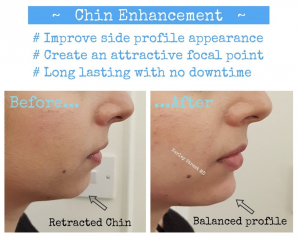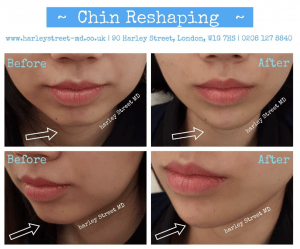 Free Consultation for Non-surgical Chin Augmentation
When you visit our trusted London clinic for chin fillers, we'll provide a free consultation with a professional, GMC registered cosmetic doctor. At Harley Street MD, we pride ourselves on our bespoke service, with tailored guidance and treatment that's customised to your facial symmetry and individual requirements.
During your consultation, one of our expert practitioners will discuss our recommendations with you and, most importantly, listen to your requests. When reshaped properly, the chin can significantly impact your facial contouring, so we'll take the time to plan your tailored treatment and ensure the best possible results.
If you want to add balance and definition to your chin and jaw area, book a FREE no-obligation consultation with our aesthetic treatment experts today. We'll talk you through the chin filler procedure, answer any questions and provide excellent quality treatment to enhance your look.