How to get rid of a double chin, or a more defined face
Beauty depends on the graceful balance of all facial features. Chin augmentation is commonly sought after to enhance facial harmony. By adjusting the height, the width and projection of the chin, one can often to bring all facial features into the perfect balance.
In a woman, an increased height at the central point will sharpen your face and make your face look thin, yet defined and feminine. In a man, a prominent chin with a balanced height and width will give you a strong masculine look, especially combined with treatment on the pre-jowl sulci and jaw lines.
You don't need to rush into a very invasive, non-reversible surgical operation to achieve what you want nowadays. The discovery of dermal fillers can help achieve all that you desire by means of a non-invasive procedure to reshape your chin, jaw and jowl. Results can be seen instantly and without the downtime or recovery period that comes with traditional cosmetic surgery .
Whether you have a small and retracted chin that you want to restore the balance to, or seeking perfection for prominent, defined attractiveness, book a free, no-obligation consultation with us at our central London, Harley Street clinic today.
Before and after photos for chin augmentation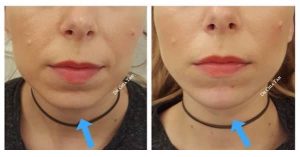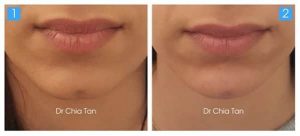 Your treatment
PROCEDURE TIME 30-45 minutes

BACK TO WORK Same day

ANAESTHETIC Topical

FULL RECOVERY 1-2 days

DURATION OF RESULT 9-18 months

RESULTS Immediate
Treatment price
More information