How to Get Rid of Your Double Chin
Suppose you aren't happy with the way your chin looks. In that case, dermal fillers are a new and popular way of adjusting and altering the appearance of your facial features without the need for surgery or invasive surgical treatments. 
Our chin augmentation procedure is a method of aesthetically enhancing the balance of your facial features with the use of dermal fillers. By adjusting the height, width and projection of the chin, we can bring your facial features into perfect balance and give you the jawline you desire.
Chin filler is a form of dermal fillers, which consist of gel made from proteins and hyaluronic acid (HA). Fillers are very safe. The procedure is fast and can even be done on your lunch break. There is no downtime, so you can return to work right after the procedure. Though dermal fillers aren't permanent, they can last for eighteen months or more, making them a great option for those who want to make small tweaks in their facial features without surgery.
How Does Non-surgical Chin Augmentation Improve Your Appearance?
The balance of facial features is key to the aesthetic look of your face. Refining the size or shape of the chin with filler can not only help to improve this balance, but it will also boost your confidence every time you step out into the world.
Chin augmentation can help improve the profile of your face from the side, for people who feel their chin is too prominent or not prominent enough. We can also use dermal fillers to help balance out the jawline and minimise the appearance of a double chin or jowls.
The Advantages of Chin Filler
Chin filler is a fantastic alternative to surgical chin implants and it's a quick procedure that is affordable and reversible. Going under the knife is a scary prospect for many, and the fear of pain and recovery time puts many people off the idea of changing their appearance.
There are many advantages of opting for chin filler over surgical chin augmentation
There is minimal pain — we make simple injections and the skin is first treated with numbing cream.

There is minimal recovery time — there is no downtime for chin/dermal fillers however, some patients may notice slight bruising, redness or swelling.

The procedure is reversible — this is appealing for those who are receiving the treatment for the first time.

Treatment lasts an average of 12 months or more.
Chin Filler for Women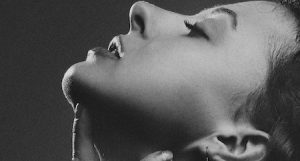 Many women worry that their chin isn't as prominent as it could be or they don't like the shape. Often, a sunken chin can make jowls or a double chin look more obvious, so an increased height at the central point will sharpen the face and make it look slimmer, as well as more defined and feminine.
Chin Filler for Men
For men, their jawline is often something they want to improve, especially if their chin and jaw isn't as strong or prominent as they'd like. In a man, a prominent chin with a balanced height and width will give them a strong masculine look, even more so when combined with treatment on pre-jowl and the jawline.
A Modern Treatment Course
You don't need to rush into an invasive, non-reversible surgical operation to achieve the look you want. Chin augmentation with dermal fillers can help accomplish all that you desire by utilising a non-invasive procedure to reshape your chin and jawline. Results can be seen instantly and will continue to improve for weeks without the downtime or recovery period that comes with traditional cosmetic surgery.
Improve Your Confidence
Many people are disturbed when they see a side-profile photo because they feel self-conscious about the area under the chin. With the help of chin augmentation with dermal fillers, you can always look your best from any angle. Administered by an experienced injector, our chin filler treatments take less than half an hour.
Chin filler can make considerable changes to your confidence, letting you enjoy life without any shyness or anxiety about your appearance. Your newly balanced chin will subtly change your appearance so that you feel confident and unstoppable. If your chin has been holding you back in social situations, then receiving dermal filler is an ideal way to gain back that confidence and feel great again.
Before and After Photos for Chin Augmentation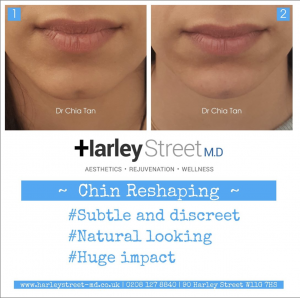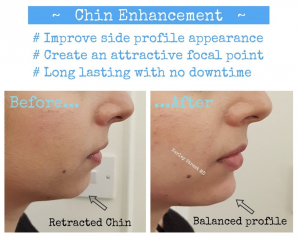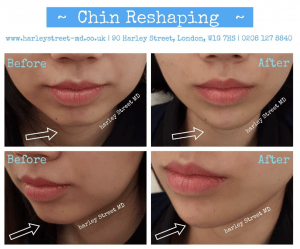 As part of our consultation, we will provide you with tailored pointers from a professional cosmetic doctor. We pride ourselves on our bespoke service — customised to your facial symmetry. We discuss our recommendations with you but, most importantly, we listen to your requests. Treatment planning is a necessary step in holistic facial aesthetics. The chin is often neglected and yet, when reshaped properly, it can have a significant impact on your facial contouring.
If you want to augment your chin to create a balance of facial features or get rid of a double chin, book a FREE no-obligation consultation with our aesthetic treatment experts today. We offer the best facial enhancement treatments with dermal fillers in London that meet all your needs.