Anti-Wrinkle Injection Treatment in London
Your skin naturally loses elasticity and volume as you age, forming wrinkles and fine lines. While we can't completely stop the ageing process, specific treatments can help revitalise your facial appearance. Anti-wrinkle injections and facial fillers are two popular non-surgical options that provide noticeable yet subtle results.
If you feel self-conscious about the appearance of lines and wrinkles on your face, at our aesthetic clinic in London, you can turn back the clock. Our anti-wrinkle treatment combines non-surgical cosmetic treatments tailored to your needs and preferences.
Our goal is to make you feel good about yourself and your appearance. We can build a bespoke treatment plan that will leave you naturally rejuvenated, whether you wish to soften wrinkles around the eyes or mouth, erase forehead wrinkles, or smooth smile lines.
How Anti-Wrinkle Injections Help Smooth Lines and Wrinkles
Anti-wrinkle injections like Botox and dermal fillers are among the most popular and effective treatments to reduce facial lines and eliminate wrinkles. Botox may be a way to delay a face lift or can be combined with our non-surgical 8-point facelift treatment.
Treatments are non-invasive and, most importantly, when performed by a suitably qualified aesthetic practitioner, are very low risk, with a low incidence of complications. Depending on your preferences and the depth and placement of your wrinkles, we can combine anti-wrinkle injections with dermal fillers in targeted areas. This combination is highly beneficial if you also want to smooth out facial lines and give the appearance of more youthful and rejuvenated skin.
During your free-of-charge consultation, we will discuss all the available options and create a treatment plan to address your individual concerns. At Harley Street MD, we know everyone does not want the same result, so we may use a combination of Botox and dermal fillers to help you achieve your anti-ageing goals.
What Causes Facial Lines and Wrinkles?
Visible ageing is a natural part of life, with fine lines and wrinkles forming on our skin as we age. Your face and neck are constantly exposed to the elements, so ageing tends to be more noticeable.
As you age, your skin:
• Loses elasticity
• Produces less collagen
• Becomes thinner
•  Is more easily dehydrated.
Wrinkles are a common skin concern that can make you look older and tired. Did you know that there are dynamic and static wrinkles? Dynamic wrinkles form when we use our facial muscles, while static wrinkles are always visible, even when our face is at rest. But don't worry. Non-surgical cosmetic treatments can help delay the development of lines and reduce the appearance of wrinkles.
If you are not ready or don't want cosmetic surgery, anti-ageing injections can support a great skincare routine to keep your skin looking vibrant and smooth. Anti-wrinkle injections and dermal fillers work together to reduce wrinkles and delay their future development. Book a free aesthetic consultation and discover how non-surgical anti-wrinkle treatments can help you keep up a youthful appearance,
How Botox Anti-Wrinkle Injections Work
Botox is a neurotoxin that inhibits or lessens muscle contraction, smoothing out the appearance of lines and wrinkles while preventing further ageing-related changes to the face. This is because it stops your face from making repetitive facial expressions leading to dynamic wrinkles.
The most popular treatment areas for Botox anti-wrinkle injections are:
• Forehead lines
• Smile lines
• Frown lines (between eyebrows)
• Crow's feet (corners of the eyes).
Botulinum Toxins can also be used to give your face a slimmer appearance. This treatment is particularly popular if you have strong muscles in your jaw, referred to as hypertrophy, which can make your face a wider shape. Carefully treating these areas can make your face look slimmer and more defined. Additionally, Botox injections can be very useful for treating jaw clenching and bruxism (teeth grinding).
Dermal Fillers vs Anti-Wrinkle Injections
Anti-wrinkle injections temporarily block the nerve signals to facial muscles, allowing them to relax and reduce the appearance of fine lines and wrinkles. These injections can be used to treat common problem areas like crow's feet, frown lines, and forehead lines, resulting in a smoother, more youthful appearance.
Facial fillers, on the other hand, are used to plump up the skin and add volume where it has been lost due to ageing. They can be used to enhance the appearance of the cheeks, lips, and nasolabial folds and to smooth out marionette lines. These days, generally, a more natural anti-ageing result is preferred, and dermal fillers are an effective way to reduce the look of deep wrinkles. At Harley Street MD, in London, we use hyaluronic acid (HA) filler. This substance is found naturally in your body and plumps skin while hydrating and increasing elasticity.
Anti-wrinkle treatment using hyaluronic acid (HA) filler is a quick procedure that will give you a more youthful appearance. Unlike Botox, it does not "freeze" your facial muscles, ensuring you maintain natural facial movement and expressions. Another benefit of using HA dermal fillers is they can be dissolved if you are not happy with how you look following your anti-wrinkle treatment. We add the filler very gradually, so please rest assured that this is something exceptionally rare.
To achieve plump, youthful skin, dermal filler anti-ageing injections are injected over a larger area of the face, and there's virtually no downtime required. Fillers can be used to treat more facial areas than those generally targeted with Botox. Dr Chia Tan, an expert aesthetic doctor at Harley Street MD, provides advanced anti-wrinkle treatment for:
• Tear troughs (hollows under your eyes)
• Enhance eyebrow arches
• Smooth "bunny lines" around the nose
• Reduce a gummy smile
• Smooth a dimpled chin
• Reverse downward mouth corners
• Smooth top lip lines
• Reduce prominent neck bands.
In addition to anti-ageing benefits, dermal fillers can also be used to create fuller, more shapely lips and reshape the jaw or chin. In expert hands, they are also skillfully injected to reshape the nose, often referred to as a non-surgical or liquid nose job.
You can achieve all of these results without the need for cosmetic surgery. If you have been considering rhinoplasty (surgical nose job) or other types of plastic surgery, have a chat with us first. You may achieve the change you desire without needing invasive surgery, which carries a much higher risk of complications and, in many cases, the need for revision surgical procedures.
Before and After Anti-Wrinkle Treatment Photos
Here are the results from one of our patients, who has noticeably reduced facial lines due to our anti-ageing treatment.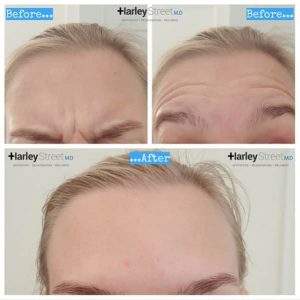 Looking for an anti-wrinkle treatment that will restore your confidence? Contact us for a free, no-obligation consultation at our Harley Street aesthetic clinic in London and let our experts help you put your best face forward.