Cheek Augmentation Treatment With Cheek Fillers
Many people consider full and firm cheeks to be very attractive; if you are craving high, defined cheekbones our cheek augmentation procedure should be one of the first treatments to consider. Through the use of dermal fillers, we are able to help to create those 'apple cheeks' that are associated with youth and attractiveness, as well as enhance the definition of those zygomatic arches that can give you an alluring, sensuous look. By using the latest cannula approach, we can create highlight at the peaks of your cheeks and give you those sought-after, sexy subzygomatic shadows.
How Do Cheek Fillers Work?
The dermal filler consists of pharmaceutical-grade, synthetic biodegradable hyaluronic acid that is identical to our own natural hyaluronic acid. It is commonly used in aesthetic medicine as a safe and effective way to rejuvenate the skin. It can be used to minimise wrinkles, restore loss of volume, and rehydrate the skin tissues. Furthermore, it stimulates the production of our own collagen in a natural way. It is not harvested from any animals and it is naturally broken down without any residuals or toxins. The HA-based filler is possibly the safest fillers in the market at present.
Dermal fillers improve the look of your cheeks and can bring back a smoother, fuller and healthier appearance to your skin. When injected into the cheeks, it can be used to:
Create fuller and higher cheekbones, a feature often considered attractive
Minimise the nasolabial folds (nose to mouth lines) by lifting the mid-face region
Minimise harsh angles & shadows to achieve a smoother cheek contour
Enhance the zygomatic arch definition, the natural curve that is often considered sexy
The duration of its effects vary between individuals depending on age, patients' general health, the type of fillers (HA or CaHA based), the quantity of the filler injected, as well as the clients' lifestyle. Most dermal fillers can last up to 9 months, with newer generation fillers expected to last much longer.
For cheek augmentation, we recommend using only the best Dermal Fillers as the first line of treatment, with the longest duration of effectiveness that can last up to 18 months. HA-based fillers can be dissolved by Hyaluronidase, giving you a safety net and extra peace of mind should you decide to go ahead with a cheek augmentation procedure.
Before and After Photos – Cheek Augmentation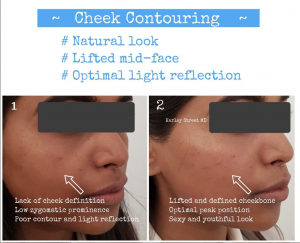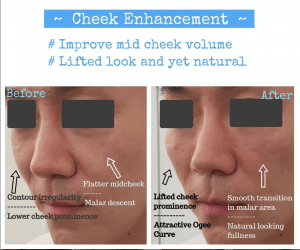 Contoured cheekbones are an attractive feature that can be achieved with the help of soft dermal fillers. With the skilful eye of an experienced doctor, fillers can help to lift the mid-face area, restoring the zygomatic prominence to its peak position. This gives a very desirable definition to the cheekbones by improving light reflection in the malar area. The resulting S-shaped 'ogee' curve produced is an incredibly flattering feature. In under 30 minutes, you too can achieve this youthful yet natural look.
Choosing the right cheek filler and injector can be stressful – here at Harley Street MD we are here to help. Using the Juvéderm Vycross range, we are able to produce stunning results. The patient above wanted to improve the mid-cheek volume and create more structure and definition. You can see that by using filler the cheeks have been lifted, creating a more youthful and refreshed appearance. We took into consideration the golden Phi ratio and were able to construct the attractive ogee (S-shaped) curve by lifting his zygomatic prominence to the optimal position. The transition on his malar area (cheekbone) is certainly much smoother. This natural-looking fullness takes precision and care and is achievable by an expert injector.
Interested in cheek augmentation? Book a FREE no-obligation consultation to discuss cheek fillers at our central London, Harley Street clinic today.