PRP Hair Loss Treatment in London

Platelet Rich Plasma therapy (or PRP hair loss rejuvenation) is a clinical treatment which uses plasma from your blood to rejuvenate the skin and stimulate hair growth. The PRP hair treatment process is quick and produces visible results that appear natural. No pharmaceutical products are used, and it's not the traditional "surgical" procedure you might expect.
If you have noticed your hair getting thinner or your hairline receding, you are one of 7.4 million men in the UK who are losing their hair at any one time. Two-thirds of all men go on to experience male pattern baldness. You may dismiss hair loss as minor, but it can impact your confidence and psychological well-being. Consequently, hair loss treatments are big business, and various options include:
• PRP Hair Treatment — The injected plasma used in PRP treatment for hair loss works by introducing platelets to targeted areas. This improves the blood supply to damaged hair follicles which helps to stimulate hair growth. 
• Medication — Although it can be effective, research has shown hair loss medication to have associated side effects. The most common side effects include erectile dysfunction, upper and lower respiratory tract infections, urinary tract infections, nausea, abdominal pain, and weight increase.  
• Hair Transplants — Surgically transplanting hair can be a successful way of combating male baldness. As with all surgery, there are risks of infection and scarring after a hair transplant. PRP hair treatment could be an excellent option if hair loss is getting you down and you're struggling to find a solution that works for you.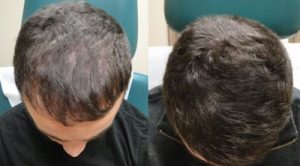 The PRP Hair Treatment Process
So, how does PRP hair treatment work? Before PRP treatment for hair loss, your skin will be cleansed and disinfected. We will use topical numbing cream to ensure comfort, which takes about 10 minutes to work. We will use an ice pack and Arnica cream if needed to minimise bruising. The risk of bruising is small as the needles used are tiny (i.e. 30G).
The whole procedure takes around 30-45 minutes, including the injections. Many men see us at our Harley Street clinic in London for PRP hair loss treatment during their lunch break or after work. No downtime is needed, so you can return to your normal daily activities immediately following treatment.
We've outlined the three-step PRP hair loss treatment below:
Step One
A small amount of blood (20ml) is taken from your arm the same way as if you were having a blood test by your doctor. A blood sample is then put into a centrifuge; a machine used to separate fluids of different densities.
Step Two
The centrifuge separates the plasma, and Platelet Rich Plasma (PRP) is then isolated and ready to be injected. PRP contains specific cells rich in growth factors that stimulate hair growth.
Step Three
The PRP is injected into your scalp to stimulate the tissue and encourage natural, faster hair growth. This treatment is precise, and we inject the PRP into the exact locations of the head you want to target (if your hair follicle loss occurs in a specific area).
Who Is the Best Candidate for PRP Hair Treatment?
Anyone experiencing hair loss may find that PRP treatments work for them. Men with early hair loss tend to respond particularly well, and the sooner you start treatment, the better. If you have PRP for hair loss when you first notice your hair thinning, you will have a greater chance of stopping hair loss in its tracks.
Medical conditions that may mean PRP hair treatment is not suitable include:
• platelet disorders 
• taking medications that inhibit platelet function,
• active infection on the scalp
• uncontrolled diabetes
• severe anaemia. 
PRP Hair Treatment vs Hair Transplant
Research into PRP for hair loss shows it is an effective clinical treatment without significant side effects. PRP hair treatment is often recommended following hair transplants. One study following hair transplant procedures indicates PRP treatment can help transplanted hair grow after it is transplanted.
A hair transplant is perhaps the most popular hair restoration method for men, but it is an expensive and lengthy procedure. The survival rate of hair transplants is between 10 and 80%. Although complications are not common, you should take risks such as infection and scarring into consideration. 
PRP Hair Treatment vs Medication
When you first notice your hair is getting thinner or see a bald spot, it can be tempting to rush out and buy hair loss medication. After all, there is nothing easier than just taking a pill! But these medications come with side effects such as erectile dysfunction.
Even if you are currently using oral or topical treatments, PRP hair treatment can help to amplify your body's natural repair system while stimulating hair growth.
Complications and Side Effects of PRP for Hair Loss
There is no risk of allergy or rejection, as PRP is obtained from your body and is made from your blood. As with any treatment involving injections, there is a small risk of side effects, including:
• mild bruising 
• mild swelling (usually subsides within 48 hours)
• infection (you might need antibiotics).
How Long Does PRP Hair Treatment Take to Produce Results?
Results from PRP hair loss treatment are generally visible after three weeks, but optimal collagen regeneration takes up to three months. The results typically last as long as 18 months, after which you may want to book a follow-up appointment. For best results, consistency is key, but long-term hair rejuvenation is possible with continued treatments.
Effects may vary between individuals, and we highly recommend three sessions for the first treatment, four weeks apart, for optimal stimulation. There is no limit to the number of treatments you can have for maintenance, but we recommend a session every three to six months for the best results.
PRP hair treatment in London is a safe and effective solution for hair loss with a high success rate. At Harley Street MD, our highly trained practitioners will discuss the best treatment plan for you. Find out if you're a good candidate with a free PRP for hair loss consultation.
At Harley Street MD, we provide a complimentary follow-up appointment four weeks after your treatment to review your progress. 
Take control and reverse hair loss with PRP hair treatment in London at Harley Street MD. Book a no-obligation consultation and find out if you're a good candidate for PRP hair treatment with our qualified team of medical professionals.