Stimulate Hair Growth with PRP Hair Treatment in London

Platelet Rich Plasma therapy (or PRP hair loss rejuvenation) is a cosmetic treatment where unique growth factors and proteins are retrieved from your blood and then re-injected to rejuvenate the skin and encourage hair growth in thinning hair.
In the UK, 7.4 million men are losing their hair at any one time, with two-thirds of all men eventually being affected by male pattern baldness. For some men, hair loss can be a distressing experience and adversely affects their psychological well-being. PRP hair treatment is an option for anyone looking to combat hair loss without surgery or medications that may have negative side effects.
PRP Is a Popular Hair Restoration Alternative to a Hair Transplant

A hair transplant is perhaps the most popular hair restoration method for men, but it can also be an expensive and lengthy procedure. Many men either don't want to commit the time and energy to the complex and challenging recovery, or they'd prefer not to invest vast amounts of money into something that may not take successfully.
PRP therapy is an alternative to traditional hair transplant surgery for male pattern baldness and hair loss. It is a new and promising approach that encourages more men to leap into hair loss prevention.
What Makes PRP Hair Treatment Different?

The PRP treatment process is relatively quick, requires minimal downtime, and produces visible results that appear natural. There are no pharmaceutical products used, and it's not the traditional "surgical" procedure you might expect.
The PRP Therapy Process
So, how does PRP hair treatment work? We've outlined the three-step process below:
Step One
A small amount of blood (20ml) is taken from your arm in the same way as if you were having a blood test by your doctor. A sample of your blood is then put into a centrifuge, a machine used to separate fluids of different densities.
Step Two
The centrifuge separates the sample into three layers to produce PRP and concentrates the platelets inside the blood, which are the specific cells rich in growth factors. These growth factors are what will encourage hair rejuvenation. PRP is isolated from the plasma and drawn up into a syringe.
Step Three
The PRP is activated in vitro and injected back into your scalp to stimulate the tissue and encourage natural, faster hair growth. This treatment is precise, and we inject the PRP into the exact locations of the head you want to target (if your hair follicle loss occurs in a specific area).
PRP stimulates collagen production and triggers the skin-rejuvenation process, which is why this therapy is also used in the popular "vampire facial" to combat ageing skin. As a hair treatment, PRP works by introducing platelets to targeted areas, improving the blood supply to damaged hair follicles so they can get the nutrition they need to survive. By administering PRP in specific regions, healthy hair growth is promoted.
Who Is PRP Hair Treatment Suitable For?
Anyone experiencing hair loss may find that PRP treatments work for them. Still, patients with platelet disorders, or those who take medications that inhibit platelet function, may not be suitable for this treatment. Some other medical conditions may disqualify you for PRP therapy, such as an active infection on the scalp, uncontrolled diabetes or severe anaemia. 
Men with early hair loss tend to respond particularly well to PRP hair treatment, and the sooner you start treatment, the better. Men who seek PRP therapy when they first notice their hair thinning will have a greater chance of stopping hair loss in its tracks.
Why is PRP Hair Treatment so Popular?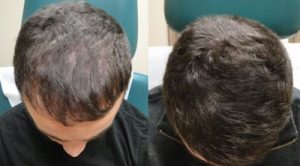 Male pattern hair loss is common — 50% of men over the age of 50 will experience hair thinning to some extent. Many men are persuaded to take medication for treatment, but these prescriptions often cause erectile dysfunction — which is not a desirable side-effect.
As a minimally invasive and low-risk treatment, it's clear why PRP hair treatment has become such a popular hair restoration choice among men. Although this treatment is relatively new, data highlights the positive effects of PRP injections on male pattern hair loss and the absence of significant side effects.
Some men who take medication for hair loss combine this with PRP to ensure the best results. Even if you are currently using oral or topical treatments, PRP can help to amplify your body's natural repair system while stimulating hair growth.
What Does a PRP Hair Treatment Appointment Involve?

The whole hair loss treatment procedure takes around 30-45 minutes, including injections, so it's a short appointment time — many men see us at our Harley Street clinic during their lunch break or after work. There's no downtime needed, so you can return to your normal daily activities afterwards without a problem.
During PRP treatment, your skin will be cleansed and disinfected. Topical numbing cream will be used to ensure comfort, which takes about 10 minutes to work. If needed, we will use an ice pack and Arnica cream to minimise bruising. Bruising risk is small as the needles used are tiny (i.e. 30G).
Are There Side Effects of PRP for Hair Loss?
There is no risk of allergy or rejection, as PRP is obtained from your body and is made from your blood. As with any treatment involving injections, there is a small risk of side effects such as bruising and swelling in the injection site. These minor side effects will ease within a few days.
How Long before PRP Hair Treatment Produces Results?
Results from this procedure are visible after three weeks, but optimal collagen regeneration for the skin on the scalp takes up to three months. The results typically last for as long as 18 months, after which you may want to book in for a follow-up appointment. For best results, consistency is key, but long-term hair rejuvenation is undoubtedly possible with continued treatments.
Effects may vary between individuals, and we highly recommend three sessions for the first treatment, four weeks apart, for optimal stimulation. There is no limit to the number of treatments you can have for maintenance, but we recommend a session every three to six months if possible.
PRP hair treatment could be an excellent option if hair loss is getting you down and you're struggling to find a solution that works for you. At Harley Street MD, our highly trained clinicians will discuss the best treatment plan for you and — if you're considered a good candidate for PRP hair treatment — will use their expertise to help you restore your hair and regain confidence.
Take control and reverse hair loss with PRP hair treatment at Harley Street MD. Book a no-obligation consultation today to discuss treatment options with our qualified team of medical professionals.