Anti-aging Treatment For Men
The nasolabial folds, commonly known as "smile lines" or "laugh lines" become more pronounced as men get older. They are the two skin creases that run from each side of the nose to the corners of the mouth, and are the result of the loss of facial volume and skin elasticity. To some men, they may represent a sign of maturity, status and character, nonetheless when they become very deep, they may make you look tired or unhappy.
Dermal Fillers for Men
Dermal fillers for men can restore loss of volume by providing structural supports to lift up deep creases. Treatment with dermal fillers not only replenish volume, but also stimulate natural hyaluronic acid production in the treated areas. Dermal filler is highly versatile, besides treating nasal labial folds it is also frequently used in restoring cheek volume, improving appearances of sunken temples and eyes, lifting jaw lines and reshaping noses and chins without the need of invasive plastic surgery or downtime.
Besides softening your facial lines, dermal filler stimulates your natural hyaluronic acid production which acts as an internal moisturiser to hydrate your skin. It is FDA approved and CE-marked. HA based fillers can be dissolved by Hyaluronidase if necessary, giving you extra peace of mind.
Get in touch and book a free consultation at our central London, Harley Street clinic today.
Under Eye Fillers for Men: Before and After Photos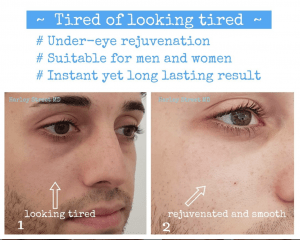 A common misconception is that our aesthetics treatments are only available for our female clients – this is certainly a myth! Our under-eye fillers are especially popular with our male patients, who often wish to improve the look of tired dark circles. This handsome young man was looking to remove the appearance of hollows under his eyes. With the help of delicate dermal fillers administered by an experienced clinician, in under 30 minutes we were able to give the impression of weeks of beauty sleep.
Juvederm's hyaluronic acid-based fillers restored volume and youthfulness to the area, leaving his under-eyes looking replenished and rehydrated. The use of a cannula rather than a needle minimises invasiveness and requires no knife-to-skin contact. Non-surgical means fewer complications, and virtually zero downtime.
Contact us today to book a FREE consultation on dermal fillers in London.