Face Lift without surgery
As we age, the skin loses volume, firmness, elasticity. This results in the formation of deep facial creases, droopy eye brows, sunken cheeks and temples, nasolabial folds and pre-jowl sulcus. The best procedure to correct these signs of facial ageing has always been a traditional surgical facelift. However, not everyone wants to achieve a younger look through surgery. The hefty cost, long downtime and serious potential complications are not for the faint-hearted.
At Harley Street MD, we are experienced in using combination of minimally invasive non-surgical procedures in order to restore lost volume, tighten the skin, eliminate fine lines, soften deep creases and redefines 3D facial contours as well as improve the symmetry and harmony of your face. A non-surgical facelift makes it possible to gently lift the entire face without the need of a scalpel.
Non-surgical liquid facelift is a bespoke treatment as it is designed according to your needs and facial symmetry. A combination therapy using dermal fillers, wrinkle fillers and PDO threading can be provided in order to achieve the best possible wrinkle softening, facial contouring and volume enhancement effects. You will experience a relatively painless procedure with results that can be seen immediately and minimal downtime compared to traditional surgical facelift. In non-surgical facelift, we can:
Lift eye brows, improve upper eye lid laxity & create eye brow arches
Restore volume in temples & eliminate harsh facial shadows & angles
Enhance cheekbones & accentuate zygomatic arches for chisel, defined firmness
Soften smile lines & marionette lines to achieve a younger look
Lift mouth corners & reverse downturning of oral commissures
Soften pre-jowl sulcus & redefine those jaw lines
Improve the angles between nasal tips & lips, re-create that button nose, resembling youthfulness
Enhance your chin front & side profile and enhance facial harmony
Before and after photos for Non-Surgical Liquid Facelift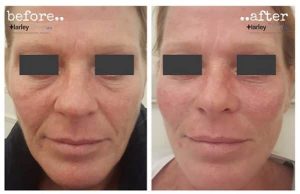 Book your non-surgical liquid facelift with us today.
Your treatment
PROCEDURE TIME 45-60 minutes

BACK TO WORK Next day

ANAESTHETIC Topical

FULL RECOVERY 1-2 days

DURATION OF RESULT 12-18 months

RESULTS 1-2 weeks
Treatment price
Non Surgical Liquid Facelift
More information