More Britons than ever are having cosmetic surgery and procedures aboard with an increase of 109% reported in recent years. Due to this trend, one question has been posed more and more-   is it better to have a cosmetic procedure in the UK or abroad? The main argument touted for having a cosmetic procedure abroad is that it can often be cheaper than a UK clinic. However, cheaper does not always mean better and having a procedure abroad may not be the best decision in the long run. 
Cosmetic Treatments at Home
The main advantage to having a procedure in the UK compared to aboard is that it is easier to verify that a clinic is reputable as they are required to be registered by the CQC (Care Quality Commission). Furthermore, it is easy to research the qualifications of those completing the procedure and visit clinics prior to treatment for a consultation prior to committing to the cosmetic procedure. This also means that appropriate aftercare can be completed and any follow up visits are easy to arrange.
In the event that something goes wrong with a procedure, there is the reassurance of being able to access the clinic that does not require a costly flight abroad. A cosmetic procedure may not be as cheap as in some other countries, but there is peace of mind of the assurances and protection by having a procedure in the UK.
Cosmetic Treatments Abroad 
You may find that having a cosmetic procedure aboard may be cheaper than in the UK. However, while it may be cheaper, it may also have increased risks and you will not be able to re-visit the clinic in which you were treated easily for any follow up or if there are complications following treatment. Furthermore, different countries have different regulations than UK clinics and this can make it hard to verify that it is a well established clinic with fully trained medical professionals due to the difference in qualifications. In fact, a survey by British Association of Aesthetic Plastic Surgeons (BAAPS) in 2014 reported that there had been a 25% – 35% increase in patients reporting complications after having cosmetic procedures aboard.   These risks make the "cheaper" option seem less attractive. 
At Harley Street, MD, your treatment is conducted by a registered medical doctor in a CQC registered premises.  We are located on Harley Street, one of the most famous medical hubs in the world and provide a personal bespoke service. In fact, there are many international visitors to Harley Street as London is recognised as one of the best places in the world for medical care – so why would you go elsewhere?! You will have a consultation prior to any treatment and will be able to discuss any concerns throughout the process. Why risk travelling abroad when you can visit Harley Street, MD? You'll be in safe hands.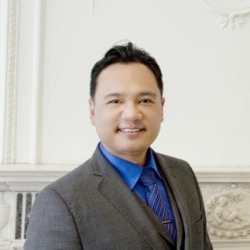 Latest posts by Dr. Chia Tan
(see all)