As we age, it's natural for the face to start to sag and the skin to lose its elasticity. This can result in facial features moving south, giving you a tired or deflated look. For most of us, the ageing process means experiencing a loss of volume in the face too. The most commonly affected areas on the face tend to be around the eyes (sunken under eyes and drooping eyelids), around your mouth (smile lines and jowls), the neck and on the forehead.
It's normal to feel self-conscious of your changing facial features as you get older. While changes to the face are something that everyone will experience, it's fine to want to improve your look with cosmetic treatments. Lifting your face can boost your confidence and help you feel more comfortable in your skin again. Today, we share the different types of facelifts so you can make an informed decision on what is best for you. 
What Is a Facelift?
A facelift is exactly as it sounds. It's a procedure that lifts the face to combat the signs of ageing that naturally occur on our faces thanks to gravity and loss of elasticity. It is used to improve sagging skin to restore your face to a more youthful appearance. 
You might need a facelift if you are experiencing any of these symptoms:
Loss of collagen and suppleness of the skin.
Loss of fat and plumpness, creating sagging around the chin and neck.
Weight loss resulting in sagging of the skin and sunken under eyes.
Keep in mind that a facelift is not meant to improve fine lines and wrinkles, skin texture or sun damage, but is used to reduce sagging and excess folds of skin. There are both surgical and non-surgical options for a facelift. Let's talk about the different methods and the cost of facelifts.
Non-surgical Types of Facelift
Our non-invasive facelift treatments are a great starting point for feeling more youthful, refreshed and like yourself again. We find a lot of people decide to get their first non-invasive facelift before a big birthday party, a wedding (your children's wedding perhaps) or a business event. Feeling youthful and attractive during important occasions can help you enjoy them so much more. If you are trying any non-surgical cosmetic treatment, we recommend getting your procedure at least a couple of months before the big event to give time for your full results to show.  
Skin care and facial aesthetic treatments have come a long way, and the results they can offer without going under the knife are truly outstanding. A lot of people assume that because a non-invasive facelift doesn't involve surgery or "drastic" changes, the results won't be as powerful or visible, but the opposite is true. New technology in non-surgical cosmetic treatments can offer similar results as traditional facelifts without putting yourself at risk — and it costs far less as well. It offers you the rejuvenation and the visible results, without the financial and time investment of surgery. Below are our two most common non-surgical facelift options.
PDO Thread Lift
The PDO thread lift procedure uses a mesh of PDO threads around the face for an immediate lifting effect. Your skin will have a tightened and smoother appearance, and this procedure is the closest thing you can get to a surgical facelift. The PDO thread lift is a fantastic option for those who don't want to undergo surgery but do want to see long-lasting and guaranteed results. It's also a great option because the downtime is minimal, and most people can return to work the next day.
Liquid Facelift or 8 Point Face Lift
The non-invasive liquid facelift procedure uses new hyaluronic acid (HA) dermal fillers around the face to achieve natural-looking results. We at Harley Street MD offer a bespoke treatment for a liquid facelift, or you can try our 8 point face lift that targets key areas of the face, aiming to volumize and lift overall for a beautiful, more youthful look. These non-surgical options use hyaluronic acid fillers injected precisely where you need them the most to help soften lines and fill in deep wrinkles and folds. Fillers can also increase the plumpness and volume of the skin, giving you an immediate improvement and boost in confidence. This procedure starts at £650.
Surgical Options
If you want to see a more permanent result or have excess sagging skin that can't be improved with non-surgical methods, a surgical facelift would be a good option. This is a surgical procedure that removes excess skin and pulls back the existing skin to create a tighter and more lifted look. While this comes with greater costs, risks and downtime than the non-surgical options above, a surgical facelift can result in more drastic and long-lasting results. 
Types of Surgical Facelifts
There are a few different types of surgical facelifts. You'll want to discuss your options with a board-certified surgeon before deciding on surgery, as it should never be taken lightly. A mini-facelift targets the lower face for mild sagging of the skin, which results in a smaller incision along the hairline. A traditional facelift is for those with severe jowl and neck sagging, and it is more invasive with incision points behind the ears as well as the hairline.
What Is Involved in a Facelift?
If you have many places that are sagging around the face and deep-set wrinkles, a facelift can address several areas altogether. However, a facelift does require serious financial commitment and recovery time, as you will need to take time off immediately following the surgery and perhaps for several weeks afterwards. This can hinder going about your day-to-day life, so it can be off-putting to many. While the results can be transformative, there are also more risks involved with surgery, as is the case with any invasive procedure.
You will need to go to the hospital and be put under general anaesthesia for a surgical facelift. During surgery, an incision is made along the hairline and sometimes under the chin and behind the ears. Your surgeon will remove excess skin as needed and pull back your skin to tighten it across your face before stitching it up. The face will be bandaged, and most people need to stay in hospital overnight. Aftercare and recovery from the surgery can take several weeks, and you'll need to take time off from work. 
What Does a Facelift Cost?
Surgical facelifts can cost anywhere from a couple of thousand pounds to over £10,000. Keep in mind that if you work, you will miss that time off from being paid as well, since facelifts are elective surgeries. There may be other costs involved in your recovery so research all the details of pre and post-surgery.
Is a Facelift Right for You?
If you are thinking about facelift surgery but are not sure if it is right for you, consider trying dermal fillers first to see if you can get the results you desire without surgery. We offer many options that can restore lost volume, tighten your skin, eliminate fine lines, soften deep creases and improve the symmetry and harmony of your face. 
The non-surgical facelift options allow you to turn back the years without worrying about any scars, downtime or extortionate cost. Here are the main benefits of a non-surgical facelift:
Having a traditional facelift can require a big financial commitment. A non-invasive facelift is much more affordable, so you won't need to worry about saving up huge amounts of money beforehand.
There are minimal risks involved with a non-invasive facelift, meaning there is no need to undergo general anaesthesia or worry about scarring or bleeding.
A non-surgical facelift has minimal downtime associated with it, unlike a traditional facelift where you are required to take several weeks off of work to fully heal and recover.
While the results aren't permanent, dermal fillers produce visible results that last up to 18 months.
Dermal fillers help stimulate collagen and improve elasticity in skin texture while softening fine lines and wrinkles. These will also help prevent sagging and wrinkles in the future.
While many people still choose to undergo surgery, the surgical method is lessening in popularity, especially with the many medical advancements in non-surgical aesthetics. It is now possible to get great results without the need to go under the knife.
To find out more about our non-surgical facelift options that improve your look, get in touch for a FREE, no-obligation consultation at our Harley Street clinic today.
Updated February 2021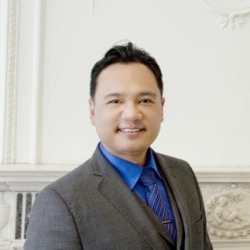 Latest posts by Dr. Chia Tan
(see all)