DIY beauty is all the rage. You are probably bombarded with ads on Instagram on the latest beauty trend, from derma rollers, hyaluronic acid masks to weird laser light masks that make you look like Jason Voorhees. Often the products that are sold to the general public are not professional grade. Skincare products contain less active ingredients and beauty tools are not tested enough to back up the claims the company's make. So how do you sift through all the noise to know what beauty products and tools work at home — and what you should leave up to the professionals? We are here to help! 
Skincare Treatments to Leave to the Professionals
Some treatments should always be left to a professional. Things like injectables should never be done on your own (and you would be buying fake products that didn't work anyway). Depending on your skin type, many skincare treatments are best performed in a cosmetic clinic after a thorough consultation to assess your skin and discuss your needs. If you have a skin condition or have specific issues you want to target, a professional will give you the best course of action to reach those needs. So you are less likely to throw money away on DIY treatments that will never give you the results you desire. Below are a few of our top treatments that are best left to professionals. If you have any questions about these procedures, get in touch for a free no-obligation consultation. 
Micro-Needling
We all know and love micro-needling. If you have damaged skin like acne scarring, age spots, heavy wrinkles or pigmentation, we recommend seeing a professional for a micro-needling facial. The Dermapen we use in the clinic is a professional-grade micro-needling device that penetrates more deeply than any home tool. Its motor-controlled micro-needles create micro-injuries to the skin to stimulate new collagen and improve elasticity and texture. Some clients may need more than one treatment to see results. This device requires special training to use and is only found in medical and cosmetic clinics.
You may be tempted to try micro-needling at home with the little derma rollers you can get online. If you have good skin and use the derma roller for preventative care, we think that it's fine to use at home. As long as you use a gentle hand, don't overuse it and follow the instructions carefully. And clean it properly after every use! It is possible to hurt your skin with this home device as it does have needles that penetrate the top layer of skin, so err on the side of caution. Seek professional help if you have mature skin or acne damage as the home derma rollers will not give the results you want. 
Chemical Peels
A chemical peel is a facial treatment that removes the top layer of skin to reveal the fresh skin underneath. Peels come in various strengths and formulations — in our clinic we use medium-strength peels that penetrate the middle layers of skin. These go deeper than the peels you can find at the drug store. Depending on your skin type and the goals you want to achieve, a chemical peel is best left to the professionals. 
There are light alpha and beta hydroxy or fruit acid peels you can buy over the counter and do at home, which won't give you the same results as a professional chemical peel but may be a nice option to start with or for in-between professional sessions. The side effects should be minimal with these lighter peels, but you need to look at the strength and consider the other products you use that might not play nice with the ingredients in chemical peels. Do a bit of research before you jump into chemical peels at home or see a professional first that can recommend a good one for your skin and needs.
DIY Beauty at Home
It's tempting to DIY beauty treatments at home to save money. Sometimes you can cut corners, but you rarely get the same results as you would in a spa or cosmetic clinic. That's something to keep in mind when doing beauty treatments at home. You get less mileage out of DIY treatments, but it's better to do something than nothing at all. So the beauty treatments below are worthy of home use and save a bit of pocket money too. 
Face or Sheet Masks
As long as you choose a face mask that is right for your skin type and doesn't cause irritation, it's totally fine to do face and sheet masks at home. It may be hard to decide what kind of mask to try at home — clay, hydrating, cream, gel, sheet mask — there are so many that all have different functions. If you don't have any idea where to start, see a professional for a full-on facial, and they can make recommendations on the right type of mask for your skin type. Then you aren't guessing and throwing money down the drain. 
Face and Body Scrubs
The same rule applies as above, choose the right scrub for your skin type. Also, keep in mind that you will want to use a different scrub for the face than for the body because the skin on your face is much more sensitive and delicate. You could make a DIY body scrub from sugar, sea salt or coffee grounds. You don't need to use face and body scrubs every day, so take care and don't go crazy. If you ever have any doubts about the treatments above, it doesn't hurt to see a professional for a skin consultation. Then you are equipped with more knowledge about what products are good for you to use at home. 
Are you looking to rejuvenate your skin for a more youthful look? Book a free no-obligation consultation with our aesthetic treatment experts. We offer the best facial treatments and skincare in London to meet all your needs.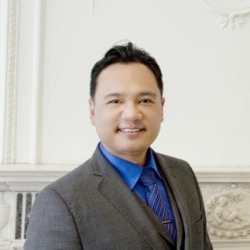 Latest posts by Dr. Chia Tan
(see all)