It's common for men to eventually go through a stage where their hair starts to thin, which can progress to partial or complete hair loss. Many hair loss treatments exist to rejuvenate hair growth.
This article explores the science behind PRP (Platelet-Rich Plasma) therapy, the pros and cons, what you can expect and why it's important to seek help from an experienced healthcare provider.
What Is PRP for Hair Loss?
PRP therapy uses your body's plasma to promote hair growth. The platelets in your blood can stimulate hair regrowth in dormant hair follicles. This PRP rejuvenation treatment requires a small amount of your blood (20ml) from your arm for the extraction — this is the same as having a blood test.
Our experienced staff separate these platelets from your blood using a centrifuge. At your PRP session, we inject the extracted plasma into areas of your head where hair loss occurs to stimulate hair growth.
Once applied, the proteins in the platelets promote a healing process for regrowth. This works by improving blood supply to your follicles that regenerate your hair over a long-term period.
What Causes Hair Loss?
Common causes include:
Genetics from a family history of thinning hair
Hormonal changes like thyroid disorders
Nutritional deficiencies
Medical conditions such as autoimmune disease, alopecia areata and scalp infections
Ageing
Stress caused by trauma
Chemicals in some hair treatments can damage your scalp follicles.

---
Consult with our healthcare professionals to ask how PRP treatment can help you.
---
What Evidence Exists to Support PRP Therapy for Hair Regrowth?
PRP treatment has a high satisfaction rate, and numerous clinical studies have revealed the efficacy of PRP. In 2016, a study of 40 PRP therapy patients revealed its effectiveness for hair follicles. It found PRP therapy can provide faster density of hair growth partly by rejuvenating dormant follicles.
Another example is the study published in the Journal of Cutaneous and Aesthetic Surgery, which echoes its effectiveness but highlights that androgenetic alopecia and alopecia areata show the most positive results with PRP therapy. Out of 60 participants in the journal's study, 48 were males aged between 19 and 45. Some of the promising end results from the study found that:
The treatment needed four sessions to gain good results.
Out of those who completed four sessions, 40 patients gained excellent hair rejuvenation.
So, in answer to the question, "Does PRP Hair Loss Treatment Work?" These studies show very encouraging results.
Is PRP Therapy Treatment Right for You?
During your consultation with Harley Street MD, we'll discuss your hair growth needs and medical history. As a qualified healthcare professional, we will assess and determine if PRP therapy is right for you.
We may advise you against the treatment if you have a history of drug misuse or are on blood thinners. Or if you have a low tolerance history with anaesthetics.
How Many Treatments Are Needed?
The initial round of treatments is four to six weeks apart and will need two to three sessions. Positive results on hair growth vary from person to person, though for optimal results, expect three months. It is possible to see noticeable results within only a few weeks.
Can PRP Accelerate Hair Growth?
What's important are the growth aspects and how successfully your PRP therapy repairs your follicles. It's not so much the speed as how well your hair recovers over time. Expect results after regular PRP treatment that include reduced hair loss, better hair regrowth and a healthier scalp.
What Are the Advantages and Disadvantages of PRP Hair Loss Treatment?
There are two distinct advantages to PRP treatment that stand out to many, they are:
It's non-surgical and, therefore, is a minimally invasive procedure. No stitches, just a painless injection into your scalp
This also means there is no scarring — no plastic surgery, scars or cuts.
PRP therapy extracts plasma from your blood, so it minimises the chance of rejection, contamination or allergic reactions.
Further Pros of PRP Hair Loss Treatment
It creates natural hair growth as opposed to a hair transplant, which can look out of place.
We customise each PRP treatment to the individual's hair growth needs, i.e. the severity of your hair loss.
Long-term hair follicle health improvements
It's a quick procedure, taking about an hour per session with no downtime.
As a side note, PRP also has skin rejuvenation properties and can help soften skin and smooth wrinkles.
The Possible Cons of PRP Therapy
There are some minimal risks of side effects associated with the therapy. Your professional healthcare consultant will make you aware of these.
Scalp itchiness and sensitive skin
Headaches
Some minor pain, swelling and bruising at the treated area (this should fade within two days)
Temporary bleeding.
These are very mild symptoms and will dissipate within a few days.
Do be aware of results expectations. The severity of your baldness may require many sessions before noticeable results.
How Does Rogaine Compare to PRP?
Also referred to as minoxidil, men with lasting baldness enjoy using this over-the-counter treatment for hair growth. It's quick as you apply the treatment directly to your scalp. Experiences of its uses vary, though many users have found its ability to revitalise hair follicles can take many months of applications.
Rogaine enhances how blood flows to the hair follicles and is significantly cheaper than PRP. However, Rogaine treatment can cause side effects not experienced after PRP. These include possible heart palpitations, dermatitis and weight gain.
It's important to consult with a qualified healthcare provider like Harley Street MD about hair loss treatments before any usage.
Let's Sum up the Facts about PRP Therapy for Hair Loss
Harley Street MD will provide the best advice on PRP therapy if you're considering a hair loss treatment. What are the key takeaways to help you consider PRP therapy?
A low-risk and minimally invasive treatment that uses your own blood cell platelet-rich plasma.
Noticeable results are possible within two to three sessions over four to six weeks, though they can take up to 18 months.
Minimal side effects and downtime.
Studies and reviews show positive results for hair loss after PRP therapy.
Results may take just a few weeks of treatments to many months of PRP sessions for noticeable improvements.
An effective way to regrow hair if you suffer from alopecia areata or androgenetic alopecia.
The costs vary from £400 for a single session to three sessions, costing around £950.
Please contact Harley Street MD to arrange a suitable date for a FREE, no-obligation consultation at our clinic. We'll personalise the PRP therapy procedure for your unique needs towards hair regrowth.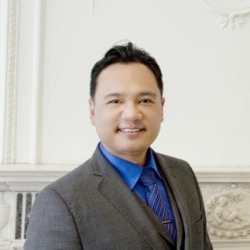 Latest posts by Dr. Chia Tan
(see all)