As Father's Day approaches, it can be tough to know what the perfect gift for dads is. We are advocates of the gift of self-care, and dads are just as deserving of some TLC as anyone else! 
With a significant rise in demand for male cosmetic procedures, a little boost may well be the top of your dad's wishlist. Whether he is a seasoned pro at facial treatments or his personal grooming doesn't extend much beyond a face wash, we've put together a list of services he'll be sure to appreciate this Father's Day. 
Non-Surgical Facelifts for Men
If your dad is entirely new to medical aesthetics, a non-invasive treatment is a great starting point. Our non-surgical facelift is the perfect all-rounder because this facial treatment targets a whopping eight areas for maximum results from just one session.
Dermal fillers are used to target the key areas associated with ageing and make subtle boosts across the board that will give an overall more youthful effect. Our specialist consultants will put together a bespoke treatment based on your dad's specific problem areas, so you're really giving him a tailor-made experience for Father's Day.
There's no recovery time with this facial treatment, so it's ideal for on-the-go dads. There is also no scarring, and the effects last for 12-18 months, so this is the gift that keeps on giving!
Give the Gift of Dermal Fillers
Dermal fillers are an excellent solution to fine lines and wrinkles that are key signs of ageing in men. A study on the signs of facial ageing in men found that crow's feet and nasolabial folds are two of the areas of the face that change the most with age. These kinds of fillers reinstate volume that will help to give skin a plumper, more youthful look. 
Dermal fillers are a versatile facial treatment and can be used not just to reverse the signs of ageing but also for other cosmetic boosts like plumping and lifting. They can be used to reshape features like the nose and jawline and enhance the lips. These are all achievable with small amounts of dermal filler and no need for invasive plastic surgery. 
A Good Night's Sleep — Or the Next Best Thing
Dark circles under the eyes are common in men and can result from a poor diet, lack of sleep or simply down to ageing. If your dad has been burning the candle at both ends, he may be interested in our facial treatment specifically for removing dark circles. 
Parenting isn't exactly associated with rest, so if a good night's sleep isn't on the cards, an under-eye facial treatment could be the next best thing. If the Father's Day gift ideas are up to mum, this may be ideal for new dads who have had some recent sleepless nights! Equally, dads of teenagers may not be getting much sleep either, and this particular facial treatment will smooth and firm the under-eye area. A smoother surface reduces shadows and fills out saggy skin that gives an ageing appearance.
These facial treatments are all non-invasive procedures and will provide long-lasting results without a lengthy recovery period.
We have many different facial treatments available, so if you want to give your dad a nudge to get some TLC this Father's Day, why not book him in for a free consultation to discuss his options and find the best treatment options for him.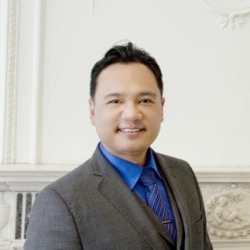 Latest posts by Dr. Chia Tan
(see all)