Getting the lips enhanced and plumped became popular years ago after being endorsed by celebrities like Kylie Jenner and Charlotte Crosby. In 2020, it's not unusual to pop into the cosmetic clinic on your lunch break for dermal fillers, and it's not a taboo subject to talk about anymore. Because lip enhancement with dermal filler is a non-surgical procedure with no downtime, women across the world are trying it out for the first time. The full plumped up pouts of the rich and famous can be achieved by injecting the lips with dermal filler to get the desired shape and volume.
You would think that wearing a mask in public would slow the appointments for lip filler, but lip enhancement remains one of our most popular treatments. Constantly seeing themselves on Zoom calls means that more women feel a boost in confidence by having a "tweakment" like dermal fillers. With the increased use of social media, women of all ages want a sexy pout. Instagram filters can give you the smoothest skin, but in real life, it's dermal fillers that help remove wrinkles, smooth out skin tone and plump lips. 
We get loads of enquiries about fillers and the safety of lip enhancement with dermal filler. Below you'll find the most common questions we get asked and everything you need to know about our non-invasive lip-enhancement procedure. Get in touch if you have further questions, and we can set you up with a free consultation to see if lip enhancement is right for you. 
What Are Lip Fillers?
Dermal fillers are now used to enhance facial features in several cosmetic procedures. When it comes to lip augmentation, hyaluronic acid (HA) is injected as necessary to restore volume and reshape the lips. Hyaluronic acid is not a fake substance you need to worry about — it is found naturally under our skin, and it is ideal for this procedure as it attracts water molecules and creates firmness in the skin. Our body's natural HA decreases over time, so injecting HA into areas of the face can restore lost volume and provide a firm and smooth appearance. Our dermal fillers are pharmaceutical grade, and they are a safe and effective method of lip enhancement.
What Type of Lip Filler is Used?
There are many types of dermal filler on the market today, and your aesthetician will know which one is best to achieve your desired results — they may even use a combination of fillers across the lip. Some fillers are thicker and help create volume, which adds plumpness to the overall shape and can help patients with one lip that is thinner than the other. Other fillers help create a new shape in the lips — like if you need a more pronounced Cupid's bow. You'll discuss your desires at your first consultation so the injector will know which filler (or fillers) will be best for your needs. The brands Juvéderm and Restylane are the most commonly used dermal fillers.
How Long Do Fillers Last?
Results can vary between individuals, but an HA lip filler will usually last for six months to a year. You want to be careful not to overdo lip filler, so err on the side of minimal and natural, and come into the clinic no more than once or twice a year for a top-up. It takes an experienced injector and precision to get lip filler right, so make sure to go with the right clinic.
What Certification Is Needed to Give Fillers?
Within aesthetics, there are different levels of training that involve various facial treatments and procedures. While it is not required by law to have any particular certification to administer dermal fillers, things like Botox require a prescription and a doctor to administer. Since the regulations are lacking in regards to fillers, we recommend taking a look at a practitioner's education and certification, along with reviews and any available before/after photos. If you can get a referral from a trusted friend, even better. Stick to a board-certified professional to reduce any risks.
How Long Does It Take to See Results?
After the initial consultation where we discuss the results you want to achieve, the entire procedure only takes a maximum of 45 minutes. You can get lip fillers on your lunch hour — it's that quick! The results are immediate, and there is practically zero downtime. You may experience a little swelling or bruising in the days after the procedure, but you can go about your life as normal.
Do Lip Fillers Hurt?
We are often asked if lip enhancement is painful, but everyone's pain tolerance is different. You may feel a little discomfort as the filler is being injected and moved around the lips. However, the doctor will apply a numbing cream beforehand, and there is also local anaesthetic within the injection, so you shouldn't feel too much discomfort before or after the procedure.
Are the Results Permanent?
Hyaluronic acid dermal fillers are not permanent, which gives some patients peace of mind in case they don't like the results. If you are unhappy with your new lips, the filler can be dissolved. Substances like Botox can not be dissolved, and we do not recommend that they are used for lips.
Is It Safe to Have Lip Enhancement?
Dermal fillers are safe for use in all areas of the face and are EU and FDA-approved, so they are considered safe. As we've said before, you want an experienced practitioner performing your procedure to ensure your safety. 
Are There Side Effects to Dermal Fillers?
You may experience bruising or swelling, which usually subsides within a day or two. There is also a small risk of local infection, and if you are prone to cold sores, the injections could trigger one. If you are susceptible to cold sore flare-up, antiviral medication will be prescribed to minimise the risk of a breakout. Complications from dermal fillers are rare, but there are always risks associated with cosmetic procedures.    
How Much Is Lip Enhancement with Dermal Filler in the UK?
Typically, patients don't need much lip filler for lip enhancement, so pricing starts at £350 depending on the size and shape you prefer and the types of filler used. We encourage our clients to go for a natural look, and it's better to start with less and work your way up. At your appointment, we may use half a syringe to start then have you come back a week or so later if you decide you want to use the rest. 
Whether you are looking for a full, sensuous pout or a natural, subtle lip enhancement, our lip augmentation specialists at Harley Street MD are here to help.
Book a free, no-obligation consultation at our central London, Harley Street clinic today, and let us help you achieve the lips you have always wanted.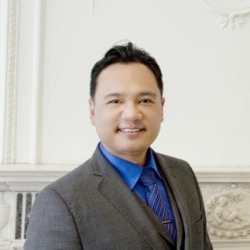 Latest posts by Dr. Chia Tan
(see all)