Lip fillers, after being endorsed by celebrities including Kylie Jenner and Charlotte Crosby, are becoming more and more popular. Because lip enhancements are a non-surgical procedure, and the results are temporary, women across the world are trying them out for the first time. The full, plumped up pouts of the rich and famous can be achieved by injecting the lips in various places for the desired shape and volume.
Lip enhancements are one of our most popular treatments so we get lots of enquiries about the fillers used and the safety of the procedure. Here's everything you need to know!
What are lip fillers?
Dermal fillers are now used on a number of cosmetic procedures to enhance facial features. When it comes to lip augmentation, hyaluronic acid (HA) in injected as necessary to restore volume and reshape the lips. HA is not a fake substance you need to worry about having in your body – it is found naturally under our skin, and is ideal for this procedure as it attracts water molecules and creates firmness in the skin. Our natural HA decreases over time, so re-injecting into areas can restore lost volume and provide a firm, smooth appearance. Our dermal fillers are pharmaceutical grade and are a safe and effective method of lip enhancement.
How long do fillers last?
Results can vary between individuals, but a HA lip filler will usually last for up to 6-9 months.
How long does it take?
After the initial consultation where we discuss the results you want to achieve, the procedure only takes a maximum of 45 minutes. You can get lip fillers on your lunch hour it's so quick! The results are immediate and there is practically zero downtime. You may experience a little bruising in the days after the procedure but you can go about your life as normal.
Do lip fillers hurt?
We are often asked if lip enhancement is painful. You may feel a little discomfort as the filler is being injected. However the doctor will apply a numbing cream beforehand and there is also local anaesthetic within the injection, so you shouldn't feel too much discomfort before or after the procedure. Dental block (regional anaesthesia) is also an option and will be offered too.
Are the results permanent?
No, HA fillers are not permanent which gives some patients peace of mind in case they don't like the results. If you are unhappy with your new lips, the filler can be dissolved.
Are there side effects?
The only thing you may experience is bruising or swelling, which usually subsides within a couple of days. There is also a small risk of local infection and if you are prone to cold sores, the injections could trigger a cold sore. If you are susceptible to cold sore flare-up, anti-viral medication will be prescribed to minimise the risk of break out.   
Ready to achieve the perfect pout? Book your lip consultation today.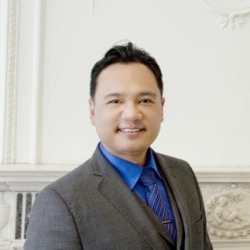 Latest posts by Dr. Chia Tan
(see all)