If you're self conscious about your under eye bags, don't worry, you're not alone. For many men and women, eye bags and dark circles are the things they would most like to change or alter on their face, and many men and women claim that their eye bags affect their self confidence in a negative way. 
If you feel self-conscious of your eye bags, and feel like they stand out – there are things you can do to fix them and make you feel more confident again. Short-term products and remedies may work for a day or two, and are pretty easy to find in pharmacies and beauty-stores (facemasks, eye cream and clever makeup are all options) – it's long term solutions that will have you feeling better in yourself for longer. 
The permanent, or long-term solutions for treating the eye area vary in price and accessibility, but there are two main ways to give your eye bags a long-term fix. One is a non-invasive filler, and the other is a surgery. 
Because of the risks involved with surgery, and the costs involved, for many people it is simply not an option they want to explore. Whilst surgery can provide permanent results, it can also be a scary, painful and costly experience that takes weeks (if not months) to heal from. 
If you're looking for a long-term solution to eye bags that doesn't involve invasive surgery, there is a fantastic option available, that gives results for 1-2 years and takes as little as 10 minutes to complete. We've explained more below: 
Non-Invasive option: Tear Trough Filler 
The area under your eyes that often gives the tired and worn impression, is called your tear trough. This area of your face tends to look a little sunken as you get older, and it's this that can leave you looking like you have dark circles. Soft tear trough fillers are injected to rejuvenate this area around your eye, making it look fuller, more hydrated and more youthful. By lifting the hollow areas around your eyes, it helps to balance out your features, brighten your face, and eliminate those dark circles you're so self conscious about. We have dark circles for men treatments available too.
The soft tear trough filler that gets injected under your eyes, is made up of pharmaceutical grade hyaluronic acid. This is a substance that already appears naturally in your body, and it supports and hydrates the skin – giving you even more of a youthful glow. 
Receiving tear trough filler treatment is a revolutionary approach to getting rid of eye bags and skin around your eyes, and it's something many men and women swear by. The results are hugely effective, and you'll notice a subtle, positive and noticeable result. The treatment only takes about 30 minutes, and you'll experience minimal downtown (most people go back to work the same day).  
The results from tear trough rejuvenation can last between 12-18 months, which is incredible for a non-invasive procedure, especially at such an affordable price too. 
You can contact us about this procedure if you have any questions, we're always more than happy to answer any questions and discuss your treatment plan.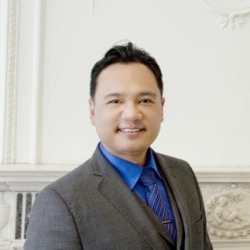 Latest posts by Dr. Chia Tan
(see all)