If you are feeling self-conscious about your nose and are considering a nose job, there are ways you can get the nose you love without going under the knife. Have you heard of a non-surgical nose job? This exciting new way to alter your nose is an option worth looking at if you want to look and feel your best with no surgery or downtime. This procedure also looks completely natural, so no one will know the difference.
Why Choose a Non-Surgical Nose Job?
If you are researching your options for how to change your nose, you'll find you have two — plastic surgery, known as rhinoplasty, or non-surgical procedures that use derma fillers to shape the nose. If you are feeling self-conscious due to a depression on the nasal bridge, dorsal hump or lowered nasal tip, then using our state-of-the-art techniques can sculpt an attractive straight dorsum that will leave you feeling like a new person. We want you to feel confident and be able to put your best face forward. There are many benefits to choosing this procedure over a traditional rhinoplasty. We share some of the top ones below.
No Downtime
With a traditional nose job, you will require prep time for the surgery, but also will have a lengthy recovery time. Depending on the type of surgery, downtime could be five days to two weeks. A non-surgical nose job procedure has no downtime, so this is one of the biggest advantages for those looking to change their nose. The non-surgical nose procedure takes about thirty minutes to one hour to perform, and you can go back to work the very same day.
Less Risk
Every surgery has risks involved, so you want to use a qualified and certified surgeon with an impeccable reputation. With a rhinoplasty surgical nose job, the risks start when you go under anaesthesia, which is used for many types of cosmetic surgery. Anaesthesia renders you unconscious and although it is a common procedure, some people will experience side effects like dizziness, temporary memory loss, nausea, sore throat and more. The non-surgical nose job we perform in our office does not require anaesthesia, so there is much less risk involved.
Cosmetic surgery will always come with a risk of infection since the procedure requires cutting into the skin. Infection is rare but can be life-threatening. You'll want to follow post-surgery protocol and directions from your doctor to ensure infection does not happen. With a non-surgical nose job, there is less risk of infection since the incision site is as small as a needle.
Some people who get a nose job may lose sensation in their nose, have skin discolouration or trouble breathing with a blocked nose, experience nose bleeds, and the results could still change down the line. Most people experience some pain and are required to take prescription drugs post-surgery. With a non-surgical procedure, you may feel a little pain around the incision site, but none of the other major risk factors applies. This point makes it an ideal option if you want to change your nose.
How Long Does a Non-Surgical Nose Job Last?
The procedure for the non-surgical nose job is easy as can be. When you come into the clinic, we'll make you feel comfortable and then cleanse and disinfect your skin. We'll apply a topical numbing cream to ensure your comfort, but you may feel a slight bit of pinching from the insertion of the needle. A local anaesthetic is integrated within the dermal fillers, to further minimise any discomfort during and after the procedure. The doctor will apply the hyaluronic acid (HA) based filler to the appropriate areas based on your desired shape.
Nose reshaping can last up to 18 months and can be reversed if required, which gives you extra peace of mind when it comes to choosing a procedure. After this, you just come into the office for a top-up session. This procedure is good for both men and women, so get in touch for a consultation if you are considering a nose job.
Are you thinking of changing your nose to feel more confident? Find out how Harley Street MD in London can help. We offer non-surgical nose jobs and facial treatments that meet all your needs.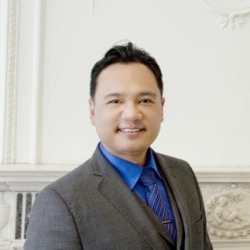 Latest posts by Dr. Chia Tan
(see all)