There's no question that we all want glowing skin, but achieving that lustrous glow can be tricky. Whether you're 20 or 60, a healthy complexion is always in style, and our skincare experts are here to help you get the radiant look you've always wanted. Read on for our top beauty tips to brighten your skin.
How to Get Glowing Skin at Home
Boosting your skin's glow requires effort and an excellent skincare routine. Here are some simple ways to get clear, glowy skin at home.
1.  Exfoliate Regularly
Exfoliating is key to a natural glow, as a build-up of dead skin cells can cause dullness and dryness. As well as enabling your skin to soak up moisturising products more effectively, increasing cell turnover also encourages the creation of new collagen.
Most experts advise that you exfoliate two to three times per week, as long as your skin isn't too sensitive to handle it. To get the most out of exfoliation, try using a chemical exfoliant, which will be less abrasive on your face than a traditional scrub. Chemical exfoliators use a blend of Alpha-hydroxy acids (AHAs) to break down the bonds holding dead skin in place, gently clearing it away for a smooth complexion.
2. Use a Toner
Before applying moisturiser to your face, are you using a toner to prep your skin? A great toner can help your favourite creams and serums penetrate deeper, allowing for greater impact while simultaneously cleansing and hydrating your skin. This extra step in your skincare routine will help get your skin glowing.
3. Moisturise Daily
After exfoliation and toning, an excellent moisturiser is the next step to healthy, radiant skin. A rich moisturiser will make the skin plumper and more hydrated, helping it reflect light and instantly appear brighter. A thick moisturiser will see you through autumn and winter, but you may find that you prefer a lighter gel in your summer skincare routine.
4. Remember Your SPF
You've heard it a million times before, but it really is essential to apply SPF daily for healthy and luminous skin. Wearing sunscreen shields your skin from harmful ultraviolet (UV) rays, protecting against photoaging and reducing the risk of skin cancer. 90% of wrinkles are from sun exposure, and it's much easier to prevent damage than undo it. 
5. Use Hyaluronic Acid
One of our best tips for glowing skin is to look out for products containing hyaluronic acid (HA). This water-loving ingredient is a super hydrator that can work wonders on dull, dry or tired skin, helping it attract and retain water to improve texture and brightness.

6. Treat Yourself to a Face Mask
Sheet masks are an excellent way to smooth and hydrate the face, helping you dial up the glow and maintain flawless skin. Try incorporating them into your weekly skincare routine for an extra boost, rather than saving all those intensive ingredients for skin emergencies. Hydration is key if you've been wondering how to make your skin glow, and face masks will help you achieve a naturally dewy look.
7. Stay Hydrated
If your daily water intake needs improvement, this is another crucial area to focus on for proper hydration. Make sure you're drinking plenty of unsweetened drinks throughout the day to continually regenerate skin cells and keep your complexion at its best.
If you're struggling with dry or dehydrated skin, check out these 18 skin hydration tips for a smoother and brighter look.
8. Switch to a Dewy Foundation
On days when your skin needs a little extra help, a glow-boosting foundation will help you achieve the look you want. Try a light, dewy base for added radiance and a quick fix for any complexion concerns.
9. Invest in Active Ingredients
We already mentioned hyaluronic acid, but there are several active ingredients that can give your skin the glow you've been looking for. Vitamin C is a brightening antioxidant that's excellent for daily use, while niacinamide (vitamin B3) can treat dark spots and help you achieve a more even skin tone.
If you're struggling with dull, damaged and ageing skin, you may consider medical skincare products such as Obagi skincare. Obagi products are packed with potent active ingredients that penetrate the skin, accelerating cell turnover for a younger, brighter and healthier appearance.
10. Get a Good Night's Sleep
Lack of sleep can rob your complexion of its natural glow, so it's vital to prioritise your beauty sleep alongside your skincare routine. When you get a good night's sleep, your skin is better able to repair itself, so you can wake up rejuvenated and radiant. Take extra care of your skin by using overnight products that support the regeneration process, such as rich overnight creams that hydrate and add softness.
11. Cut Back on Alcohol
Cutting back on drinking can work wonders for your skin, as alcohol is incredibly dehydrating. Alcohol can also drain the body of vitamin A, the vitamin responsible for cell turnover. Drinking non-alcoholic alternatives is a fantastic way to limit skin problems and retain a luminous glow.
12. Try Ice Therapy
Using cold water or ice cubes on your skin can increase blood flow and reduce puffiness in your face. When you chill the skin, the blood vessels contract, shrinking pores and improving oxygen levels. This oxygen rush supplies the skin with essential nutrients and vitamins, resulting in a beautiful glowy look.
13. Massage Your Face
It may sound silly, but massaging your face can make your skin glow in the short term and add firmness over time. Try massaging your skin with your fingertips for a couple of minutes to improve circulation and give your complexion a quick boost.
14. Eat an Antioxidant-Rich Diet
Another way to get glowing skin is to be intentional in the foods you eat. Antioxidant-rich foods such as fruit, vegetables, and nuts can protect skin cells from UV damage and keep your skin radiant.
15. Embrace Highlighter
For an instant dose of luminosity, a highlighter has always got your back. Get glowing skin in seconds with a powder highlighter, or add a shimmer lotion to your makeup bag for a more subtle and natural look.
Treatments for Glowing Skin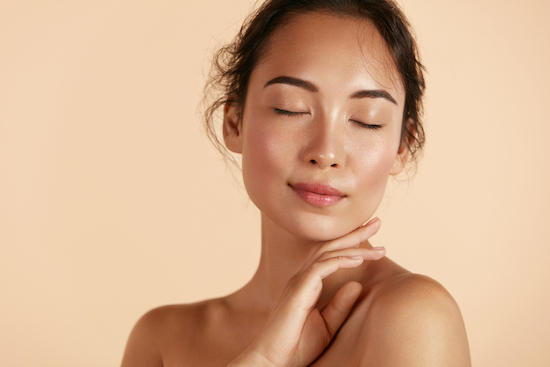 If at-home methods aren't getting you the gorgeous skin glow you were hoping for, there are several cosmetic treatments you can try for a more intensive effect. Non-surgical cosmetic procedures can provide visible results more quickly than topical skincare, giving you a luminous look in a matter of hours. These treatments are also helpful for tackling skin hyperpigmentation issues.
Micro-Needling
Micro-needling is an intensive form of exfoliation that encourages enhanced skin cell regeneration. In this minimally invasive procedure, fine needles are used to make tiny pricks all over the face, prompting new collagen production for increased smoothness, firmness and overall glow.
Chemical Peel
If you want to know how to make your face glow without seriously overhauling your skincare routine, a chemical peel could be the perfect solution. This treatment works by applying a safe chemical acid solution to the skin, which can reduce sun damage, acne scarring and improve an uneven skin tone. Many beauty lovers swear by chemical peels to reveal brighter, glowing skin and achieve a more youthful appearance. 
Dermal Fillers
Incorporating hyaluronic acid into your skincare routine will undoubtedly help with hydration, but there's only so far that topical skincare can go. If you're hoping for more dramatic results, dermal fillers use injectable hyaluronic acid to provide instant volume, hydration and radiance to the skin, all while reducing the appearance of fine lines and wrinkles for a more youthful look.
If your skin feels dull and dehydrated, you may want to try skin hydration therapy, which uses specialist Juvéderm Volite fillers designed to hydrate the deeper layers of the skin.
If you want to get noticeably glowing skin now, our experienced aesthetic specialists would love to help. Book a free consultation to chat with us and we'll help you find the treatment option that's right for you.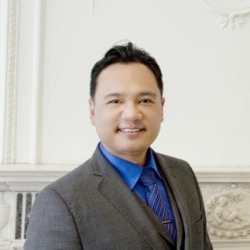 Latest posts by Dr. Chia Tan
(see all)