Your skin needs an extra bit of TLC during winter, as it gets battered by cold temperatures, icy wind and central heating. At this time of year you may notice your skin is a little drier than usual or not looking its radiant best – if this is the case, your face needs some serious hydration.
The winter weather can wreak havoc on your skin as well as your health! Here are some top tips for keeping your skin soft, silky smooth and glowing throughout the cold season.
Remember to Eat well
You've probably been told that your diet can have an effect on your skin, and it's absolutely true – what you put into your body can affect what you look like on the outside. As winter dries out the skin, it's important to eat foods which help the skin retain its moisture and keep it healthy. These include foods rich in omega-3 acids such as oily fish (salmon or mackerel) walnuts and flaxseeds. Also remember to drink lots of water, as the skin is made up of water which needs replacing to boost the complexion.
Overnight replenishment
One of the best ways to lock in moisture is by using an overnight skin treatment, which can be absorbed while you sleep. A face oil can be applied before bed, which helps to nourish the skin overnight without leaving it looking or feeling greasy. You're literally replenishing your skin during the night so you wake up looking fresh and rejuvenated.
Remove make-up gently
Many people opt for face wipes at the end of the day to remove make-up and excess grime, but these are known for drying out the skin and being harsh on the complexion. Instead, opt for a cleanser to remove make-up, or an oil based make-up remover if you wear stubborn make-up.
Exfoliate every week
Don't forget to exfoliate! Removing dead skin cells is essential for a healthy, glowing complexion, but it mustn't be done too often. Try not to use a harsh exfoliator and only use it once weekly – the skin on the face is some of the thinnest on the body, so it's important to be delicate with it.
A helping hand
There is a new way to boost skin hydration all winter – a new injectable aesthetic treatment. Juvederm Volite is a rejuvenating treatment which aims to increase hydration and elasticity, as well as improve the texture of the skin. The injectable treatment has long lasting effects, offering deep hydrations for up to nine months, so it's perfect to try during the winter.
If your skin needs a little seasonal pick-me-up, take a look at our non-invasive face treatments or hand rejuvenation.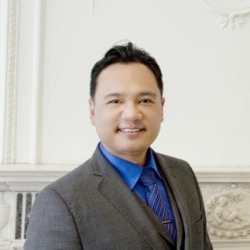 Latest posts by Dr. Chia Tan
(see all)