Beauty trends are nothing new. Since the very beginnings of beauty innovation, there have been fads falling in and out of favour. This long history of beauty trends has included everything from body type to new beauty products. But what are the latest beauty trends for 2021?
Dolphin Skin
Dolphin skin started creeping into the beauty scene in 2020, but thanks to TikTok, it has become increasingly popular this year. Though the name is kind of funny, it gives a clear insight into the desired result – a silky smooth slippery-looking aesthetic.
The key product for achieving dolphin skin is a highlighter, adding illuminators for a shimmery sheen. Think dewy, hydrated-looking skin. For the ultimate hydrated skin, you can give your complexion a boost with skin hydration therapy.
This treatment uses dermal fillers containing Hyaluronic Acid (HA) to hydrate the skin intensely. It helps the skin to retain moisture and also encourages collagen production for a firmer result. This is the ideal base for the dolphin skin aesthetic because the skin looks plump and youthful.
Minimalist Makeup 
The running theme for embracing and enhancing your natural features is minimalist makeup. Whereas previously heavy contouring and bold eyes and lips were in fashion, the latest beauty trends are scaled back and much lighter on the face. 
Grazia notes that working from home has encouraged people to embrace a no-makeup look, so even as we're able to go out, minimalist makeup is here to stay. The focus of the no-makeup makeup look is all about the skin, so whether you go dewy or matte, make sure your skin is the star of the show!
Think natural brows, subtle contouring and limited eye makeup. Opt for brown tones instead of black eyeliner and mascara for a more subdued result. Less makeup can make you look younger and gives your skin a chance to breathe.
Matte Complexion
A matte complexion is down to the products you wear on your base layer of makeup. Opting for a matte foundation is the best way to achieve an all over matte effect, but opt for a powder for more selective matte areas.  Pressed powder is ideal for blotting out the shine on your face. 
These latest beauty trends lean towards predominantly matte skin but still maintain a dewy, glossy aesthetic around the eye and upper cheekbone area. It's the forehead and vast expanse of cheek area that will be fully matte, so you want to keep the area pretty flawless. 
Matte makeup can sometimes highlight blemishes because of the flat nature of the finish. Any texture on the skin's surface can cause shadows, so acne or fine lines can affect the overall look. Micro-needling can help to correct an uneven skin tone and texture for a smoother surface to the skin. It does this by inducing collagen production, which helps the skin regenerate, improving firmness and elasticity. This is an excellent way to get a flawless base for your matte complexion!
Find out how you can achieve a great base for the latest beauty trends by booking your free consultation with our skincare experts. We offer an extensive range of facial treatments to help you achieve flawless results.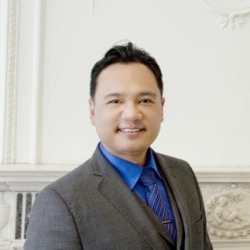 Latest posts by Dr. Chia Tan
(see all)