Celebrities will do anything to keep their youthful glow and accentuate their facial features to set themselves apart. Often, when celebrities have a cosmetic procedure, their fans will follow suit. And this is exactly what happened with the new brow lift trend that makes your eyes foxy without using Instagram filters.
Lateral brow lifts are not something new in cosmetic medicine. It is natural for the face to sag as we age, so non-surgical thread lifts are a common procedure used to lift the face without the need for surgery. But why are young women running to cosmetic clinics to get a brow lift? Because celebrities like Kylie and Kendall Jenner and Bella Hadid are showing off their fox or cat-like eyes, which can be achieved by almost anyone with the thread lift procedure. 
A brow lift can give you almond-shaped peepers by lifting the corners of your eyes with threads that eventually dissolve into the skin. So while this isn't a permanent solution, many people are happy to come into the clinic a couple of times a year for a non-surgical brow lift. Today we'll answer all your questions about this popular procedure.
What Is a Brow Lift Using Threads?
Our thread lift procedure uses a mesh of PDO (poly-dioxanone) threads around the face for an immediate lifting effect. The new brow lift trend is using the threads only in the corner of the eyes, but if you are coming in for the procedure, you can target other areas of the face that need a lift at the same time. The threads are placed deep under the skin so they are not visible at all. PDO thread lifts have an excellent safety record, as they are made from the same material used in cardiac and surgical sutures. 
During the brow lift procedure, we first cleanse the area and apply a numbing cream to help ease any discomfort you may feel. A cannula or small needle is used in the skin to let us insert the threads with ease. Once the thread is placed under the skin, the skin is pulled into position to give you the eye shape you desire. The results are immediate but you may have slight bruising or redness from the procedure that should subside in a few days. The procedure only takes around 30 minutes to complete. 
Is a Brow Lift Painful?
All the procedures at our clinic are considered minimally invasive and non-surgical but that doesn't mean they are without pain. Every person's pain tolerance is different, but we do everything in our power to make sure you are comfortable during the procedure. You may feel some discomfort when the thread is being inserted. Downtime is minimal and many clients return to work right after. 
How Long Does a Brow Lift Last?
The threads will dissolve into the skin within a few months but varies from person to person. The drastic fox eye shape may last a month. While it would be tempting to come into the clinic each month to get a brow lift, we don't recommend it. Scar tissue will start to build up, so this isn't a long term solution to having sexy eyes. A thread lift has the additional benefits of helping the skin produce more collagen, restoring volume, and improving skin elasticity and texture. If you have questions about whether this procedure is right for you, get in touch and we are happy to answer any questions you have. 
To find out more about our non-surgical cosmetic procedures that improve your look, get in touch for a FREE, no-obligation consultation at our Harley Street clinic today.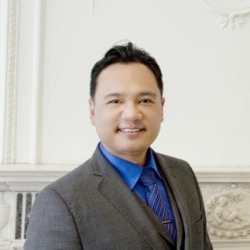 Latest posts by Dr. Chia Tan
(see all)