In 2021, cosmetic treatments are more popular than ever, and cosmetic non-surgical procedures are the most in-demand. Non-surgical aesthetics are an easy, practical and more affordable option for many and enable us to make subtle enhancements to our appearance without going under the knife or dealing with the recovery time involved in cosmetic surgery. These minimally invasive treatments can be incredibly effective to enhance the eyes, lips and face — whether you want to improve dark circles, enhance your cupid's bow or reduce the appearance of wrinkles. 
Have you ever wondered how your colleague achieved such glowing skin overnight? Or how that influencer transformed their jawline in the space of a weekend? Our guide to the most popular cosmetic non-surgical procedures may clear some things up. As with any treatment, it's important to do your research, think carefully about the result you're hoping to achieve and consult with a professional for guidance. 
Tear Trough Filler 
Tear trough filler is a non-surgical treatment that reduces dark circles and improves the appearance of bags under the eyes. It also reduces wrinkles and fine lines for a more youthful look. Dark circles and sunken eyes are something many of us experience to some degree, which is why this procedure is so popular and is often chosen to boost confidence. 
New York dermatologist Paul Jarrod Frank, M.D., notes that as well as building collagen, "fillers can make you look as though you've slept 12 hours." A treatment that can make you appear more youthful, well-rested and invigorated in under 30 minutes? It's clear to see why this procedure is so in demand. 
Lip Enhancement Fillers 
The UK non-surgical cosmetic market is valued at £3.6bn, with an extensive range of quick, effective and painless treatments available. Another popular "tweakment" is lip enhancement, a procedure in which dermal fillers are injected in and around the lips for improved firmness and a smoother, fuller and healthier appearance. Results typically last between 6 and 18 months, with duration varying depending on the quantity of filler, where it's injected, and the patient's age. 
Non-Surgical Nose Job 
Those who want to change the shape of their nose without going under the knife can do so with liquid rhinoplasty, a treatment in which dermal fillers are used to reshape the nose. Whether you're looking to give fullness to a smaller nose, straighten your nasal bridge or create a nasal tip button, a non-surgical nose job can help you achieve the results you're looking for – with no general anaesthesia, plaster cast or long downtime. 
Botox 
Research from the American Society of Plastic Surgeons shows that Botox is the most popular minimally invasive cosmetic procedure. Millions of men and women each year choose this effective treatment to eliminate wrinkles and fine lines for a smoother face. Botox injections work to restrict movement in targeted areas, reducing the appearance of wrinkles and stopping the formation of future wrinkles for a more youthful look. 
Non-Surgical Facelift 
A non-surgical facelift, also known as a liquid facelift, is a way to tighten and restore lost volume in the skin, eliminate fine lines, soften deep creases and improve the symmetry of your face. Using a combination of dermal fillers, Botox and PDO threading, a non-invasive facelift can give you a more youthful and refreshed look in under an hour. This innovative technique can be used to achieve a younger look with minimal downtime and no need for surgery. 
Jawline Reduction 
One reason for increased interest in non-invasive facial procedures is the "Zoom Boom", which has led to a surge in demand for treatments such as jawline reduction. As people spend more time looking down into their computer's camera, they focus more on areas of their face that they could enhance.
Jawline reduction can transform the shape of your face and create the jawline of your dreams. In this procedure, injectables are used to create a slimmer face, add structure to your jawline or combat sagging skin. The treatment can be done in around 30 minutes and requires no downtime. 
If you're unsure what's the best non-surgical procedure for you, let our skincare experts help. Book a free no-obligation consultation, and we'll talk you through our range of facial treatments to help you achieve flawless results.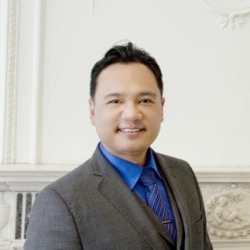 Latest posts by Dr. Chia Tan
(see all)