You may have noticed a theme for the blogs we are sharing this month — May is all about getting you ready for summer! It's just around the corner and we want you to look and feel your best. You may not get to travel to an exotic country with the coronavirus lurking, but you always need to protect your skin when summer arrives. Protecting your skin with anti-ageing UV protection should be a top priority for everyone, so we share our top tips to improve and protect your skin when the summer rays are shining at their strongest.
How Is Our Skin Damaged by the Sun?
Whether we take precautions or not, our skin is damaged by ultraviolet light radiation (UV) throughout our lifetime. UV radiation is made up of three different kinds of rays —  UVA (longest wavelength), UVB (mid-range wavelength) and UVC (shortest wavelength). UVB rays cause the most superficial damage to our bodies, while a study shows that UVA can penetrate the skin all the way into the dermis. 
UV rays are the ones we have to protect ourselves from the most as the same study shows, "UV exposure may account for up to 80% of visible signs of ageing in the skin." So there's never been a better time to enlist a sun protection system that can protect you against harmful UV rays. But first, let's discuss how you can improve your skin. 
How to Improve Your Skin
The skin is our largest organ and it's sensitive to the external environment as well as what's happening inside the body. There are several reasons why you might have irritations on the skin like acne, breakouts, bumps, etc. Your skin could be reacting to a skincare or makeup product you use, you could be allergic to something you ate, or it could simply be poor diet and lifestyle. Thankfully, all these causes of skin irritation and damage can be improved by following the tips below.  
Overhaul Your Diet
What you eat affects how good your skin looks. A diet filled with junk food can dehydrate the skin, so you might want to overhaul your diet if you've had a bad spell with your skin. A diet rich in fruits and veggies and fewer animals foods will do wonders for your look. Foods like avocados, walnuts, sweet potatoes, tomatoes and soy are scientifically proven to improve the health of your skin.
Kiss Alcohol and Cigarettes Goodbye 
It might seem like a no-brainer, but these two lifestyle habits do several bad things to your skin. Smoking is a big no-no if you want vibrant, healthy skin. Cigarettes are full of harsh chemicals that damage both your organs and your delicate skin. When you smoke, you get less oxygen to the skin, which causes premature ageing, wrinkles, sagginess and dehydration. 
Alcohol is also known to dehydrate the skin. Reducing your alcohol intake is not only good for your wellbeing, but it's also best for your skin. Hydrated skin is happy skin, so if you are partaking in a little extra alcohol while quarantined at home, make sure you are drinking extra water to make up for it. It's recommended to get nine cups (2.2 litres) of water per day for women so go up from there. We understand it's not realistic for everyone to stop drinking completely, so here are some tips on how to choose alcohol wisely for the sake of your skin. 
Consider Skin Hydration Therapy
As we age, and because of the damage the sun does over time, we lose elasticity and hydration from our skin. A breakthrough treatment, called skin hydration therapy, gives dull and dry skin a refresh. Juvéderm Volite is a hydrating treatment that infuses hyaluronic acid (HA) in multiple sites under the skin through small injections. HA is known to restore and stimulate collagen production, while also reducing fine lines and hydrating the skin more than topical products can. There's no downtime with this treatment; you can expect to see glowing skin within two weeks and its effects can last up to nine months. 
Try a New Facial Treatment
You've probably heard of micro-needling if you are looking for youthful and healthy skin. This facial treatment also helps your skin produce more collagen and elastin — like skin hydration therapy above — but it's especially good for those who have superficial damage like acne scars and brown spots. The Dermapen Micro-needling method we use in our London clinic is suitable for all skin types. 
How to Protect Your Skin
We all know sunscreen is an important part of everyone's skincare regime. Your daily moisturiser should have a broad spectrum SPF of at least 18 and be worn every single day, all year round. But, if you have sensitive skin prone to sunburn — even when wearing sunscreen and protective gear — or you are over 40 and have dark spots, maybe it's time to try a more advanced anti-ageing UV protection system. 
Try a New Sun Protection System
Have you looked at the ingredients in your daily moisturiser with SPF? Many generic pharmacy brands have harmful ingredients that are hurting your skin. Even if you aren't breaking out — or having something more serious like dermatitis — preservatives and other icky things in your sunscreen you can't pronounce will damage skin over time. We know the brands available at everyday shops are tempting because they are affordable.  However, we highly recommend seeing a doctor or dermatologist for a UV protective system if you plan to get a lot of sun this summer. Store-bought sunscreen isn't going to cut it anymore, especially with the ozone layer depleting, causing more harmful rays to reach our skin. 
Heliocare® sunscreen is a clinically proven advanced UV sun protection product that offers a very high level of UVA and UVB protection — more than regular sunscreen can provide. It uses a patented Fernblock® photoimmunoprotection technology to give you unparalleled protection against the sun's harmful rays at an affordable price.
Are you thinking you need to up your skincare regime to get ready for summer? Book a free no-obligation consultation with our aesthetic treatment experts. We offer the best facial treatments in London to meet all your needs.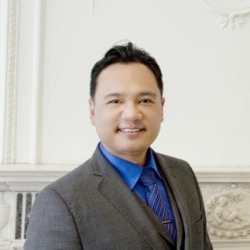 Latest posts by Dr. Chia Tan
(see all)