Updated June 2023
Often considered the most prominent facial feature, the shape of your nose can have a significant impact not just on how you look but also on your self-confidence. As much as friends and family may assure you they can't see the problem, nose size and shape can sometimes become a source of insecurity, especially regarding photographs or even dating.
So it's not surprising that rhinoplasty is one of the top five most popular cosmetic surgery procedures worldwide. But one study published in the Aesthetic Surgery Journal discovered that the average rate of rhinoplasty revision was 9.8%. When it comes to nose reshaping and the possibility of a liquid nose job, more and more individuals realise that nose fillers are a low-risk and excellent alternative to surgery. Whether related to size or common complaints about shape, such as bumps, depressions and concerns about crooked or hook-shaped noses, a liquid nose job may be your way to obtain your desired nose shape.  
Whether you have been considering a traditional rhinoplasty procedure or would prefer to avoid going under the knife, a liquid nose job, also referred to as a non-surgical nose job or liquid rhinoplasty, could transform your nose in as little as 30 minutes. Read on to find out what you can expect from a non-surgical nose job and why it could be an alternative to traditional rhinoplasty.
Can a Liquid Nose Job Alter the Shape of My Nose?
If you're not ready for a complete surgical nose job or do not want to undergo a surgical procedure, a liquid nose job allows you to see how your nose looks when the shape is altered without committing to a surgical procedure. Non-surgical rhinoplasty can make a dramatic difference to the overall appearance of your nose and is particularly effective for individuals with a curved or hook-shaped nose and those with a bump on the nasal bridge. 
Furthermore, nose filler can be used after surgical rhinoplasty if the results are not as desired or if the nose is too delicate for future surgery. This could be due to a major break or repeated revision rhinoplasty procedures.
Nose filler is also effective if you only want to adjust the shape or angle of your nose tip. At our Harley Street aesthetics clinic, we could even lift your nasal tip, which is often associated with a more youthful appearance. 
A variety of conditions can be treated with nose filler, making your nose appear more symmetrical or better suited to your face structure. All liquid nose job treatments at our aesthetic clinic in London are performed with hyaluronic acid (HA) dermal filler, which is a naturally occurring substance in the human body with a very low rate of complications.
Results from non-surgical rhinoplasty can differ enormously, and choosing the right practitioner to perform the procedure is critical. At Harley Street MD in London, your procedure will be carried out by Dr Chia Tan, an experienced and respected aesthetic doctor who is a member of the following organisations:
• Royal College of Surgeons of Edinburgh (MRCSEd).
• British College of Aesthetic Medicine (MBCAM).
• European College of Aesthetic Medicine & Surgery (ECAMS).
• Royal College of General Practitioners (MRCGP).
Prior to your liquid nose job, Dr Tan will assess your facial anatomy and discuss your desired results in detail. Tailoring techniques are an essential part of creating an optimal outcome, and during your consultation, you will be fully aware of the results you can expect. Not only does this ensure you receive the treatment that will create the best results for you, but it will also give you a clear understanding of what to expect from the procedure. 
Although Dr Tan doesn't apply a "one size fits all" approach, here are some of the ways a liquid nose job can alter the shape and appearance of your nose:
• Straighten a hook-shaped or a crooked nose
• Smooth out the appearance of a bump 
• Increase the height of the nasal bridge 
• Fill in a depression on the bridge of the nose
• Create a more defined nasal tip
• Lift a nasal tip
In almost all cases, whatever insecurities you might have about your nose, a liquid nose job will be able to rectify them. It's not unusual for the change to be so noticeable that other people may assume you had surgical rhinoplasty. If you're considering nose reshaping and think a non-surgical nose job could be a good fit for you, here's what you need to know about the procedure.
How Does a Liquid Nose Job Work?
Non-surgical rhinoplasty — a non-surgical nose job or liquid nose job — typically uses hyaluronic acid (HA) filler. In Hollywood, a liquid nose job is often called a lunchtime nose job. Instant results can be achieved with virtually no downtime — dermal filler is simply injected into the targeted area to achieve the desired shape.
At our Harley Street clinic, all dermal filler injections are administered using HA dermal fillers, which are widely considered the safest available in the cosmetic industry. HA occurs naturally within the body, has an important structural function and is completely dissolvable if you are unhappy with the result.
Depending on the area of your nose you want to alter and the degree of filler required, it is possible to achieve a subtle or dramatic change using HA fillers. Generally, you will receive multiple filler injections in certain strategic areas of your nose to create the shape you want.
Does Non-surgical Rhinoplasty Hurt?
Nose filler treatment is relatively painless. Numbing cream is applied, and the HA filler is administered with a thin needle — the sensation could be compared to tiny stings or bites. A liquid nose job is also quick, usually taking between 30 minutes and an hour, depending on the amount of filler used and the treatment areas. You can immediately return to your day-to-day activities, as the procedure requires no downtime or recovery. 
How Long Do Nose Fillers Last?
In non-surgical nose reshaping, the longevity of results varies between individuals depending on age, general health, the type of fillers and lifestyle. A liquid nose job with HA filler typically lasts between 12 and 18 months, after which repeat treatments may be required to maintain the amended nose profile and shape. Other types of dermal filler may last longer. However, they are not dissolvable and have a higher associated rate of risks and complications. 
Liquid Nose Job Aftercare Tips 
Following a liquid nose job, there are very few restrictions on what you can do, but there are a small number of things you should avoid in the first 24 hours.
To allow the filler to settle, you should:
• Avoid touching, itching, rubbing or picking around or inside the nose 
• Avoid alcohol
• Limit activity, and don't do any strenuous activities as this can increase and prolong swelling
• Avoid intense heat — we'd recommend avoiding sunbathing, hot baths and saunas 
• Steer clear of extreme cold, so snow sports are a definite no-go. 
Liquid nose job side effects may include:
• Redness
• Bruising
• Swelling
• Tenderness 
These symptoms will typically dissipate within a few days, and you may also feel some firmness in certain areas of your nose, which will soften within one to two weeks. 
When Can I Use Makeup and Skincare Products after a Liquid Nose Job?
Makeup, sunscreen and cleansing products can be used immediately, but we'd recommend waiting 24 hours before you apply anything to your nose. Rather than using your fingers, it is a good idea to use a makeup brush. But take care not to use pressure when applying products to your nose area. 
As most skin damage is caused by the sun, it is best to try to stay inside for the first 24 hours, and then we'd always recommend using a sunscreen protection factor (SPF) 50 or over for the face, reapplied every two hours if you spend any time outside. Not only will this prevent skin damage, but it will also help maintain your skin's look and health.
Some patients find the effects of fillers can be enhanced by our range of medical-grade Obagi skincare products, so this may be something you want to try for yourself. Obagi prescription skincare products for all skin tones and types are clinically shown to increase cell turnover, leaving the skin looking plump, healthier and more youthful.
Final Thoughts: Liquid Nose Job vs Surgical Rhinoplasty 
A liquid nose job might not be the most appropriate option for everyone. Occasionally, a surgical nose job, called rhinoplasty, might be required to lower your nasal bridge, make it narrower or if you have a significant bump. But in most cases, nose fillers can correct the nasal shape without surgery. Your satisfaction is our priority, and if Dr Tan does not think he can achieve the results you are looking for with dermal fillers, he will always be frank with you.
Are you thinking about nose reshaping? If you're curious about a liquid nose job, book a free, no-obligation consultation today at Harley Street MD, in London, and we'll discuss treatment options to help you achieve flawless results.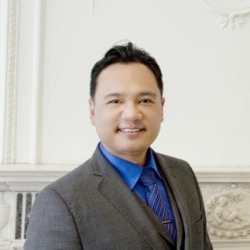 Latest posts by Dr. Chia Tan
(see all)