With several non-surgical cosmetic treatments now available to brighten and plump skin, smooth out wrinkles and improve the appearance of facial flaws, fewer people are choosing to go under the knife and instead seek out minimally invasive alternatives for a flawless look
Data from the International Society of Aesthetic Plastic Surgery (ISAPS) supports this, showing that as the number of cosmetic surgery procedures carried out decreases, non-surgical procedures are increasing year on year.
One of the great things about non-surgical procedures is that there's something for everyone, and treatments can be customised to achieve the aesthetic you have in mind. If it's a natural, radiant look you desire, these popular procedures are excellent options to consider: 
Micro-needling Facial
A micro-needling treatment will leave you looking exactly like you, but with smoother, more airbrushed skin. This innovative procedure uses a device called a dermaroller to puncture the skin with very fine needles, promoting the skin's natural ability to repair itself and produce new collagen and elastin. These essential proteins improve skin texture, increase firmness and reduce pore size, helping you achieve a smoother, rejuvenated appearance.
Although a procedure that uses fine needles to cause micro-injuries may sound scary, it's definitely not as bad as you think. An experienced practitioner will apply a numbing cream to your face before using the dermaroller, reducing pain and discomfort as much as possible.
Non-surgical Nose Job
If you're unhappy with the shape of your nose but don't want to risk surgery, non-surgical rhinoplasty is a viable option to consider. Using dermal fillers to sculpt the nose or provide more fullness, a qualified doctor will help you achieve your dream nose in as little as 15 minutes.
A reputable practitioner should always listen to your requests and can provide subtle, natural-looking results with dermal fillers. Ensure you visit a trustworthy and well-reviewed clinic for a balanced look in harmony with your facial features.
Tear Trough Filler
Tear trough filler treatment is an effective way to rejuvenate your look, reducing the appearance of dark circles and under-eye bags without making it obvious you've undergone a procedure.
In this treatment, a hyaluronic acid (HA) filler is applied in targeted areas beneath the eyes, resulting in a fresh, revitalised appearance. If you're sick of looking tired all the time and want to refresh your look subtly, tear trough filler is a fantastic choice.
Skin Hydration Therapy
If your skin feels dull and dehydrated no matter how much moisturiser you use, skin hydration therapy could be the answer. Using Juvéderm facial fillers containing HA, expert practitioners can restore volume and fullness in the face, reviving dry, wrinkled skin for a natural, youthful appearance.
Results are subtle but provide a healthy glow that'll make your friends wonder what you've been using in your skincare routine. Skin hydration therapy is a popular treatment for a quick skin boost or special occasion. 
Chemical Peel
Needles may not be for everyone, in which case a chemical peel is a highly effective alternative for a natural, glowing look. Chemical peels vary in strength, with some that exfoliate the skin more deeply than others and may require more downtime.
Chemical peels work by removing the top layer of skin to reveal new layers. This results in a brighter, clearer and younger-looking complexion, and can even reduce the appearance of wrinkles, acne scarring, sun damage and dark spots. If you want to improve skin texture and improve your appearance in a natural-looking way, chemical peels may be a good fit for you.
At Harley Street MD, we offer all these non-invasive cosmetic procedures and more to help patients achieve a glowing, rejuvenated look. Get in touch with our experienced clinicians to discuss how we can help you become a fresher, more radiant version of yourself.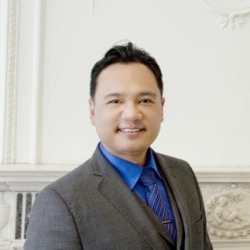 Latest posts by Dr. Chia Tan
(see all)