If you have sunken eyes, dark circles or bags under your eyes, you might want to consider getting a non-surgical treatment to help you feel more confident. Undereye fillers are also called tear trough fillers. Some people have hereditary dark circles or get them as they age. It's also normal for the skin around the eyes to lose elasticity and thickness, causing some discolouration or depression under the eyes. Our non-surgical treatment for under the eyes is safe and easy. We'll explain more about it in this article.
What Is Used in the Tear Trough Filler Treatment?
Like our non-surgical nose job, lip enhancement and many of our procedures, we use hyaluronic acid (HA) as the filler. This substance occurs naturally in the body, so it's safe to use for these types of non-surgical enhancements. When we inject HA around the eyes, it helps to plump up the hollow areas under the eyes to give you a fresher, younger and awake look. Unfortunately, there isn't much you can do to treat dark circles and concealer can get you only so far, so many people are turning to undereye fillers as a solution.
Are under Eye Fillers Safe?
Since the FDA has approved hyaluronic acid, it is considered safe. It easily dissolves in your body as it isn't a foreign substance. A qualified doctor will always keep your safety in mind. Though the procedure is quick and relatively painless, many people feel uncomfortable with needles and may want to take extra precautions, so they feel at ease during the treatment. Undereye fillers can last nine to twelve months or even up to two years for some, depending on factors like age, lifestyle and heredity. Many clinics in big cities are performing ten to fifteen tear trough filler procedures a day, so it is popular and people are getting good results.
What Are the Benefits to This Procedure?
Little Downtime — One of the greatest benefits of non-surgical treatments is the fact there is little to no downtime. You may experience some slight bruising at the incision sites, but you can go to work right after the procedure and go about your day as usual.
Less Risk and Safer — Every surgery has risks involved, but non-surgical treatments have far fewer risks than procedures that require anaesthesia or cutting into the skin. With our tear trough filler procedure, we use a tiny needle for the entry site, which is not even detectable. You may experience some mild local swelling, but there are no major side effects to worry about.
Boost in Confidence — The most noticeable benefit for our clients is the boost in confidence they experience after the procedure. Many have lived with sunken eyes or discolouration for a long time and are so thankful for their new brighter face.
What Happens during the Tear Trough Filler Procedure?
This simple procedure has you in and out of our office in under an hour. You can see a video of the full procedure on our website. We want you to know all the details and feel comfortable with what will happen during your visit. We first clean the face and apply a numbing cream to the area we insert the needle, so you feel less pain during the procedure. The doctor will then make the insertion hole with a cannula on both sides of the face. Then the HA is injected and it's gently massaged into the target area to blend into the cheekbone and re-create the smooth, firm foundation for your under-eye area. Many people notice a difference within the first hour after the procedure.
We look forward to discussing your options on how to brighten your face with our non-surgical procedures.
Are you thinking of getting undereye fillers to feel more confident? Book a free no-obligation consultation at our aesthetic clinic in London. We offer many non-surgical facial treatments that meet all your needs.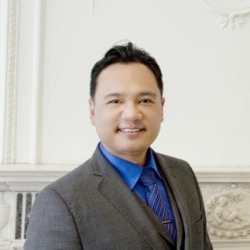 Latest posts by Dr. Chia Tan
(see all)