If you are feeling self-conscious about the shape of your face or would like your cheekbones more defined and lifted, there are ways to do that without going under the knife. If you have made your way to this article, you probably know something about dermal filler. Are you curious if it is the right choice for you to transform your face and build your confidence? With new technology and non-invasive techniques, you can get the look you want and feel your best with no surgery or downtime. Our cheek augmentation procedure also looks completely natural — so no one will know the difference. But you'll feel better when you look in the mirror, and that is priceless. 
What Is a Non-surgical Cheek Enhancement? 
Cheek augmentation, cheek enhancement or cheek filler is a non-surgical procedure that uses dermal filler to lift and enhance the area around the cheekbones. Some people feel like their face would be better with rounder, plumper cheeks or defined higher cheekbones they weren't born with. Or as we age, we lose volume and elasticity all over the face, so dermal filler can lift the cheek to give the face a more youthful appearance. People of all ages are trying cheek filler for the added dimension it gives to the face. 
Dermal filler injections are made from hyaluronic acid (HA), which is a naturally occurring substance in our body, making it safe to use for cheek filler. HA has the added benefit of adding moisture, collagen and elasticity to the skin and smoothing out wrinkles and imperfections. With a skilled doctor, you can get a natural look that enhances your natural features to give you the best overall effect and appearance. 
Since this is not a surgical procedure like cheek implants, the results are not permanent. But dermal filler lets us add volume to your face easily and quickly, (in 30 minutes actually), without the need to go into hospital for surgery. Keep in mind that the results can last for a year or more so you will need to come back to the clinic to top-up the fillers to keep your new defined cheekbones. 
Why Choose Cheek Fillers over Cheek Implant Surgery
Many people are turning to this procedure over cheek implants because there is no need for surgery, anaesthesia, downtime or recovery time. Let's look at these reasons in more detail so you can decide if a cheek augmentation with dermal filler is right for you. 
Consider Downtime
While cheek implants are a more permanent solution to change your face shape, it is more costly and you'll need a week off work for recovery time. The surgery requires general anaesthesia and is normally an out-patient visit. Incisions are made inside the mouth, so there is no scarring to the face. Non-surgical cheek augmentation has no downtime — one of the biggest advantages for those looking to change their cheekbones. You can go back to work the very same day and even have the procedure on your lunch break. 
Consider Risk
Cosmetic surgery will always come with risk since the procedure requires cutting into the skin. Infection is rare but can be life-threatening. With cheek implants, a piece of silicon is placed in your face and there is a risk of this shifting or moving somewhere you don't want it to be. If you look at reviews on the popular plastic surgery site, Real Self, many people regret having cheek implants due to complications. Thankfully they can be removed if required. General anaesthesia renders you unconscious and although it is a common procedure, some people will experience side effects like dizziness, temporary memory loss, nausea or sore throat. 
With a non-surgical cheek enhancement, there is less risk of infection since the incision is made with a tiny needle. Dermal filler injections are considered minimally-invasive, so the procedure does not require anaesthesia, hence much less risk involved. You may have some swelling or bruising so it may take a day or two to see your final results. 
What Happens during Cheek Augmentation? 
First, book your free consultation with us so we can go over your concerns to see if dermal filler would be a good choice for your needs. Some clients have the procedure right after the consultation and so can you if you are ready to proceed, but you are under no obligation to get treatment. If we continue with the procedure, we'll make you feel as comfortable as possible in our clinic. Your face is cleansed and disinfected first. We'll apply a topical numbing cream to ensure your comfort, but you may feel a slight bit of pinching from the insertion of the needle. A local anaesthetic is integrated inside the dermal filler to further minimise any discomfort during and after the procedure. The doctor will inject the hyaluronic acid (HA) based filler to the appropriate areas of the cheek based on your desired shape and massage the filler around. This shouldn't be painful.  
Cheek enhancement can last anywhere from 12 months to a couple of years, depending on the type of filler used. It can be reversed if required, which gives you extra peace of mind. This procedure is good for both men and women, so get in touch for a consultation if you are considering a cheek augmentation.
Are you thinking of enhancing your cheeks to feel more confident? Find out how Harley Street MD in London can help. We offer non-surgical cheek augmentation and facial treatments that meet all your needs.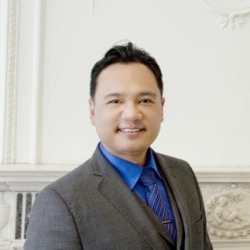 Latest posts by Dr. Chia Tan
(see all)