If you follow the world of beauty, you've probably heard of micro-needling. It is an advanced revolutionary treatment that can help stimulate collagen and elastin production that is lost in the skin as we age. The procedure results in smoother, firmer, healthier and younger-looking skin. Facial needling can also help improve damage from the sun, pigmentation and scarring of the skin. The concept of skin micro-needling takes the skin's natural ability to repair itself after it encounters physical injury, even if it is only a micro-injury from very fine needles. Creams and lotions do very little to undo or improve the signs of ageing. Microneedling gives your skin a fighting chance to regenerate and rejuvenate itself. 
How Does Micro-Needling Work?
A micro-needling treatment uses a device called a dermapen or dermaroller, which uses very fine needles to puncture the skin to promote the skin's self-repair mechanism. This triggers new collagen synthesis and results in improved skin texture. While you can buy a dermaroller for use at home, the machines that aesthetic doctors use in cosmetic clinics are more advanced. A professional will create a treatment plan that is specific to your skin's needs and the dermapen they'll use has different settings to target the skin issues you may be having. If you have any questions about our micro-needling treatment, get in touch.  
Is Micro-Needling Suitable For Me?
Our micro-needling procedure is suitable for all skin types, and even those with sensitive skin can use it without the risk of hyperpigmentation. Micro-needling is highly versatile; and treats the skin around the eyes, face, neck, décolletage, hands and body. It is a procedure that is suitable for both men and women and can be used as an intensive rejuvenation series of treatments or as general maintenance for healthy-looking skin. 
At your consultation, the doctor will examine your skin and discuss the results you would like to achieve to see if micro-needling is right for you. Then a bespoke plan is created to help target your specific skin issues. For instance, if you have acne scarring, you might need three to five treatments to achieve the best results. Or suppose you are using micro-needling as an anti-ageing treatment. In that case, we may recommend a combined therapy using other aesthetic medicine procedures like mesotherapy, PRP therapy or other facial injectables to give you the results you desire. 
What Results Can I Receive From Micro-Needling?
The Dermapen is a revolutionary micro-needling treatment that is completely safe and can significantly improve the appearance of wrinkles, acne scars, dark spots and skin flaws without the use of chemical peels or the need to "prime" the skin with face cream. The treatment is associated with a reduction of wrinkle depth, softening of fine lines, enhancement of skin elasticity and firmness, as well as improvement of the skin's overall texture and pore size.
Is Micro-Needling Painful?
At the start of your treatment, the doctor will apply a numbing cream to your face to make the procedure less painful. Whether you experience pain during or after the procedure is dependent on your personal pain and sensitivity threshold. We will do everything we can to ensure your comfort during the procedure. You may experience some peeling, skin irritation and redness following the procedure, which is totally normal since micro-needling is puncturing the skin with fine needles. You may not want to schedule any important meetings for right after, but you can go on with your life as usual. We recommend applying a high SPF after treatment and for the following days to reduce sun exposure.
Would you like to improve your skin and restore its youthful appearance? Book a FREE no-obligation consultation with our aesthetic treatment experts. We offer the best facial treatments in London to meet all your needs.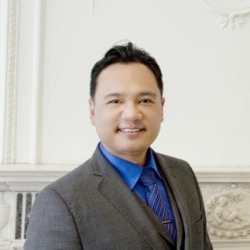 Latest posts by Dr. Chia Tan
(see all)