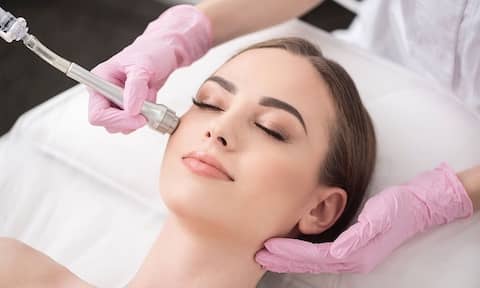 Microdermabrasion is a skin treatment, usually carried out on the face, and is a successful treatment in reducing the appearance of fine lines, wrinkles and discolouration / pigmentation. This progressive facial treatment is relatively low-cost compared to surgical options, and can offer noticeable results in a short space of time.
Microdermabrasion is one of the least disruptive skin treatments you can have, and as the treatment is pain-free, it's an extremely popular alternative to surgery and facelifts, and something many patients choose instead of going 'under the knife'. The treatment is even suitable for those with sensitive skin, making it a very versatile and well-receives treatment for all skin types.
​A Microdermabrasion facial usually lasts between 30 minutes and an hour. The treatment is designed to give your skin a fresher and more youthful appearance, and can give your skin a youthful 'glow'. We'll talk more about the areas of skin people use Microdermabrasion for the most later on.
Here are some key facts about Microdermabrasion:
Course of treatments often needed.

Treatment time: 30 – 60 minutes

Specialist level: Nurse or practitioner

Recovery: 24 hours
Is Microdermabrasion the Right Choice for You?
If you feel like your skin needs a little extra care and attention, and that your regular facials just aren't giving you the noticeable results you want – then yes, Microdermabrasion could be a fantastic option for you.
Microdermabrasion works great for people who want to make their skin look younger, more vibrant, and more youthful. If you're feeling insecure about fine lines or wrinkles – Microdermabrasion might be a good first step to getting your confidence back.
The same goes for people who have acne, or people who feel their skin is dull or lacking a 'glow'. Microdermabrasion can help improve the appearance of these things and give you back the confidence you want. We all know that feeling insecure about your face, especially your skin, can be a terrible knock on confidence – and Microdermabrasion can go a long way to fix the issues that cause that insecurity.
Microdermabrasion isn't traditional 'cosmetic surgery' in that it doesn't involve surgery or going under anaesthetic. It's also a pain-free treatment with minimal recovery time. Because of all these advantages, it makes it a fantastic choice, that is low-risk and affordable too.
Areas for Treatment
Whilst it's mainly the face where Microdermabrasion is used as a treatment, it can be used in other areas of the body, such as the hands (to target hand wrinkles or ageing skin).
These are the areas where Microdermabrasion is used the most:
Facial Wrinkles

Wrinkles on Hands

Pigmentation on face

Acne

Dull skin
For most people booking a Microdermabrasion, the end goal is to see fresher, younger-looking, healthier skin. The Microdermabrasion facial gives you a renewed skin surface and makes the skin feel tighter, plumper and younger.
During your Treatment
During your Microdermabrasion treatment, you'll be awake, and will be able to go about your routine as usual when you leave the clinic.
The Microdermabrasion technique involves propelling micro-crystals across the skin's surface, which essentially removes the top layer of the skin, and gets rid of the top layer of skin cells. By removing these top skin cells, you're left with a renewed appearance and a youthful, healthy glow.
It's also worth noting, that because the epidermal layers of the skin are rejuvenated from this process, your body naturally produces more collagen, which then leads to plumper skin. This plumpness is one of the most desired effects from Microdermabrasion treatment and it what makes the results so noticeable.
Is one Treatment Enough?
For best results, it is recommended you book several Microdermabrasion treatments as part of a skincare course. Because Microdermabrasion is a progressive treatment, you'll see better and more noticeable results, after a course of sessions.
After your first session, you'll likely notice softer and smoother skin, but after your second or third sessions is when you'll notice visible improvements on lines, wrinkles and pigmentation. After your course of treatment, you should notice:
Fresher, softer, clearer skin

A healthy glow

Epidermal layers of the skin are rejuvenated

Increased circulation
After your Treatment
There are some side-effects to Microdermabrasion, which you'll probably notice immediately after treatment, and in the days following your treatment. These can include redness and swelling, dry and flaky skin, and maybe slight bruising. But don't worry – these things are normal following Microdermabrasion, and you may notice them for a few days following your treatment.
Your nurse or practitioner will also have run through this with you before your treatment, so nothing will come as a surprise, or be unexpected.
It's also worth noting that your skin on your face will be much more sensitive to sunlight following your treatment (because of the new skin that has been exposed). Ideally you should avoid sitting out in sunlight following the treatment, and avoid sun beds too – if you do find yourself outside in the sun, it's crucial to put on suncream with maximum spf).
If you Have any Questions
If you have any questions about Microdermabrasion, we're always happy to help, so feel to get in touch with us.