Are you struggling with your confidence, mourning the loss of youthful skin, or simply craving some self-care? A beauty treatment for men could be just the thing to boost self-esteem and put a pep in your step, and with more options available at beauty clinics than ever before, you're spoilt for choice.
The Rise of Beauty Therapy for Men
There was a time when beauty treatments, cosmetic procedures and pampering were thought of as exclusively for women, but in 2021, male beauty and grooming is no longer a niche market.
Modern men want to age gracefully and look fantastic just as women do, and there are countless beauty therapies available to help them do it. Salons and clinics are no longer female-only zones, with both men and women having a greater understanding of the different treatment options available, the results they can offer and who they're for. As the conversation around male beauty has become more open, the number of men's treatments has increased, with something available for everyone.
UK plastic surgeons reported a 70% rise in consultation requests in 2020. The demand for injectable cosmetic procedures for men has increased massively as professionals aim to look more presentable on video calls. A 2019 report from the British Association of Aesthetic Plastic Surgeons found that men increasingly want to look "tweaked" rather than "tucked".
The Benefits of Men's Beauty Treatments
Whether you want plumper skin, a more chiselled jaw, or a fuller head of hair, there's a treatment that can help. Each procedure provides its own specific results, from a clear, youthful-looking visage to improved facial symmetry. Here are some of the benefits of the most common men's beauty treatments:
– Reduce the appearance of fine lines and wrinkles
– Tackle problem skin to achieve a smoother complexion
– Get a hydrated, youthful glow
– Achieve a more sculpted or symmetrical look
– Combat hair loss
– Reduce the need for daily shaving and maintenance
– Prevent ingrown hairs
– Weight loss
– Boost self-confidence
– Feel relaxed and rejuvenated.
Top Male Beauty Treatments to Try
Are you interested in trying a beauty therapy for men but not sure where to start? Below are some of the most popular options.
Hair Loss Treatment
Two-thirds of all men will eventually be affected by male pattern baldness, which means 7.4 million men in the UK are impacted by this most common form of hair loss at any one time. As celebrities such as Jimmy Carr and Wayne Rooney have been open about their experiences of hair transplants, the shame around hair loss and combative treatments has dissipated, and more men are openly seeking treatment.
As well as hair transplants, non-surgical hair loss treatments have also become more popular to combat receding hairlines, providing a minimally invasive and cost-effective alternative. Platelet-rich plasma therapy or PRP hair loss treatment is one such option — a treatment in which unique growth factors and proteins are retrieved from your blood and re-injected into the scalp to stimulate the tissue and encourage hair growth.
Laser Hair Removal
The removal of body hair for men, often referred to as "manscaping",  is also on the rise. Although many men begin with a razor at home or try regular waxing, laser hair removal is an easier and more effective long-term option for men with unwanted hair. Although the process is uncomfortable, most patients find it less painful than waxing and are willing to handle some discomfort to achieve longer-lasting results.
Laser hair removal is an appealing beauty therapy for men who are uncomfortable with excess hair on their bodies, whether that's on the back, chest, stomach or all over. Some men choose treatment on the body to enhance muscle definition, reduce irritation and chafing or improve overall appearance. Others remove unwanted hair on the face for easier grooming or the treatment of ingrown hairs. Most men will need a series of laser hair removal treatments over a few months but will see permanent hair reduction as a result.
Skin Treatments
If you thought skin treatments were just for women, think again. Facial treatments have become a popular choice for men of all ages, from spa facials and chemical peels to microneedling for smoother, firmer, and healthier-looking skin.
Facials are a quick, no-fuss beauty treatment that helps you relax while cleansing and detoxing the skin. They're an excellent point of entry into the world of male grooming for any man who may feel apprehensive.
Mild chemical peels can improve skin blemishes and pore size by removing dead skin, while medium or intermediate peels go deeper to improve the appearance of fine lines, wrinkles, and sunspots. Peels are a fantastic option if you feel your skin requires rejuvenation.
Microneedling can help to stimulate collagen and elastin production for a younger-looking visage and plump, smooth skin. In this treatment, fine needles are used to create micro-injuries in the skin, encouraging the dermis to regenerate and repair itself naturally.
Non-Surgical Rhinoplasty
Just as many women do, lots of men feel self-conscious about their noses. If the size or shape of your nose is an insecurity and you've thought about changing it, non-surgical nose reshaping is a great solution. Using dermal fillers, professional clinicians can give you your dream nose without the need to go under the knife, providing a natural look with minimal recovery time. Liquid nose jobs for men are on the rise, particularly among those who've suffered from sports accidents that have left them with a nasal bump or deviation.
Weight Loss Injections
Fat dissolving injections have become a popular option for men who feel self-conscious about their physique and struggle to get rid of small pockets of fat through diet and exercise. Sometimes, even the most physically fit and healthy men fail to get rid of stubborn fatty deposits around the body, but weight loss injections can provide contouring without surgery. For many men, this treatment isn't just about getting rid of unwanted fat but augmenting and enhancing muscle for a defined look.
Anti-ageing Treatments
Anti-ageing treatments are highly sought after to enhance male beauty, with men often favouring an imperceptible look. When administered by a professional aesthetician, dermal fillers and Botox can provide the level of subtle enhancement desired, making it difficult for anyone to tell you've had work done. A common misconception is that these cosmetic treatments are only available for women. Still, in truth, procedures such as under-eye fillers and non-surgical jawline contouring have become very popular among male clients.
Botox works by temporarily preventing muscle contraction in targeted areas, helping to reduce facial wrinkles and preventing future lines from appearing. On the other hand, dermal fillers contain pharmaceutical-grade hyaluronic acid and are used to slow wrinkle formation and increase elasticity in the skin. Whichever treatment you choose, by enhancing your facial features with injectable treatments, you can achieve a fresh-faced look and instil confidence from within, making you feel revitalised and self-assured.
Ready to try one of these popular men's beauty treatments and boost your confidence? Book a free, no-obligation consultation with our aesthetic treatment specialists, and we'll help you find the right cosmetic procedure for your needs.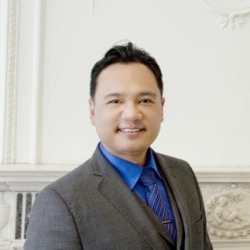 Latest posts by Dr. Chia Tan
(see all)