It's common for people to feel self-conscious about extra fat under their chin — affectionately known as the "double chin". This is an area of stubborn fat that is often resistant to diet and exercise or might be an area where fat accumulates more easily for people regardless of if they are overweight. The good news is we have a minimally-invasive way to treat your double chin without ever going under the knife. We can target the stubborn fat in your double chin using fat dissolving injections. Over a recommended course of treatments, you'll gradually see amazing results and your double chin fade away. You'll see the results you want, without the worry and expense of traditional face-lifts or surgery.
What Are Fat Dissolving Injections?
The technical name for fat dissolving injections is injection lipolysis. This is an FDA and UK-approved non-surgical technique where a liquid is injected into the fatty layers of the skin, which dissolves local fat without the need for surgery. Fat-dissolving injections work by hydrolysing the wall of the fat cell, making it release its lipid content, where it is then flushed out by the body naturally through the lymphatic system.
You may have heard of the brand names Aqualyx, Belkyra and Kybella® for fat removal injections. The double chin injection is a treatment that (over time) can get rid of unflattering or stubborn areas of fat and completely transform your appearance. The technique is used for many areas of the body where stubborn pockets of fat won't budge. The double chin is a popular area that sees fantastic results for our patients.
Who Is a Good Candidate for This Procedure? 
Unfortunately, it is common for certain areas of the body and face to be resistant to a good diet and exercise no matter what we do. Anyone can have excess fat under their chin, so most people are good candidates for fat dissolving injections in this area. Be sure to visit the treatment page at the bottom for "What You Need to Know" about the treatment to see if you qualify.
In general, fat loss injections are not a great option for larger areas of unwanted fat, but it is perfect for people who are at a healthy weight but have a little extra in a small area. If you want to remove larger amounts of fat non-surgical fat removal treatments are not the best choice. You may want to look into surgical procedures if this is the case.
Is Injection Lipolysis Safe?
We only offer safe treatments that are approved by government agencies at Harley Street MD. Aqualyx and fat loss injections have been used worldwide since 2009, so it's a cosmetic procedure you can feel at ease receiving. Our team is trained and certified to perform all the injectable treatments we offer. 
The added safety benefit from having fat dissolving injections over surgical treatments is there is no need for surgery or to go into hospital. Surgical treatments like liposuction or facelifts carry a much greater risk of infection, have more pre and post-treatment requirements and have longer downtime. Aqualyx is a non-invasive body contouring option available at a much lower cost, so if you are a good candidate, we recommend it over surgery, at least as the first line of defence. 
How Many Treatments Will I Need?
You may require multiple treatments before seeing the results you desire from double chin injections (your consultant will recommend a treatment course for you). Usually, it is necessary to have two to four treatments spaced out four to six weeks apart. You'll see results after 2-3 weeks and up to 6 weeks. The results are permanent.
What Is the Recovery Time?
The procedure has minimal downtime and recovery time, which means you can carry on with life relatively quickly after the treatment. We recommend giving yourself a day or two of rest immediately following treatment. Most people experience some swelling for a week or more, so that is perfectly normal. You may want to get the procedure when you can easily wear turtleneck tops or a scarf if you feel uncomfortable with the swelling. 
Is This Procedure Only for Women?
We find that fat-dissolving injections are a very popular treatment for both women and men. Everyone wants to look and feel their best, so we have all kinds of people come in for this non-invasive procedure to remove localised fat pockets around the body.
How Long Do the Results Last?
The removal of fat cells is permanent, but maintaining reduced fat after treatment is down to you. We can't work miracles if you don't do the work needed to maintain your treatment with a healthy diet and lifestyle. Six weeks after your last treatment, you will see your final results, and it will look completely natural. 
What Are the Side Effects to Treatment? 
The side effects of fat loss injections are mild. You may experience some pain, light bruising or swelling around the injection area for a few days after treatment. This treatment is not suitable for certain clients, such as pregnant or lactating women or those with certain health conditions like diabetes, liver or kidney disease, or skin issues. Please discuss with your registered clinician to see if Aqualyx is right for you. Serious complications are very rare from fat-dissolving injections.
If you decide to have double chin injections, make sure to choose a reputable clinic. There have been reports of people selling fake products marketed as Aqualyx. It's also important to note that clinics do not have to be specially licensed to offer fat removal treatments, so you'll want to receive the treatment from a licensed medical professional. 
If you'd like to book a free consultation with us today to discuss how injection lipolysis can benefit you, we'd love to hear from you. So take the next step to get rid of your double chin and book your free no-obligation consultation.
Get in touch with our weight loss clinic in London today to set up your free no-obligation consultation. Visit Harley Street MD and we will discuss your needs and recommend the best double chin removal treatment for you.
Updated May 2021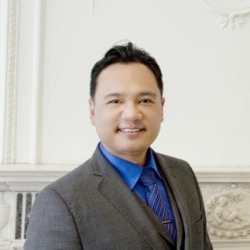 Latest posts by Dr. Chia Tan
(see all)