If your double chin is an area you feel self-conscious about, it is something you can change cosmetically without going under the knife. We can target the stubborn fat in your double chin, using our double chin injections – and over a recommended course of treatments, you'll gradually see amazing results.
If you're worried about having heavier surgery, our double chin injections, are a wonderful compromise. You'll see the results you want, without the worry and expense of traditional face-lifts or surgery.
What are fat dissolving injections?
Injection lipolysis is what we often refer to as the 'double chin injection'. It's a technique that recently entered the cosmetic market here in the UK, and it has been around for a couple of years. The process helps dissolve local fat, but doesn't involve liposuction or surgery.
The double chin injection is a treatment that (over time) can get rid of unflattering or stubborn areas of fat. Injection lipolysis works by hydrolysing the wall of the fat cell making it release it's lipid content. The technique can be used across the body, but the double chin is a popular usage, that sees fantastic patient results.
Is the Injection Safe?
We only offer safe treatments at Harley St M.D. Aqualyx has been used worldwide since 2009, so it's something you can feel at ease receiving. Our team are trained in the procedure, and you can book your double chin injection.
What is the Recovery Time?
The procedure also had minimal downtime and recovery time, which means you can carry on with life relatively quicker after the injection has been received.
Is the Injection only for Women?
No, in fact this procedure is very popular with men too. Both men and women can have this treatment.
How Long do the Results Last?
You may require multiple treatments before seeing the results you desire from double chin injections (your consultant will recommend a treatment course for you). You'll see results after 2-3 weeks, and up to 6 weeks. The results are permanent.
If you'd like to book a free consultation with us today to discuss how injection lipolysis can benefit you, we'd love to hear from you. If you want to take the next step to getting rid of your double chin, your journey starts here.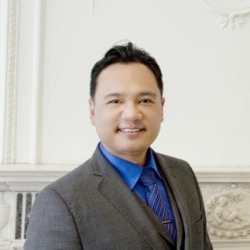 Latest posts by Dr. Chia Tan
(see all)