For many people, no matter how much they eat right, or exercise – they struggle to shift those fatty deposits in stubborn areas of the body. For some of us, it's the little belly pooch, for others it might be their double chin or back fat. There are so many areas of the body that can keep hold of stubborn fat, and for many people, their confidence would sky-rocket if they could finally see an improvement. 
Surgery is an obvious choice, but surgery is also expensive and scary. Going into a hospital, and going 'under the knife' is something many of us have nightmares about, and for a lot of people, it's simply not an option they want to explore. 
For those people, or for people who just want to explore a lower-risk option for losing stubborn fat – fat-dissolving injections are a great solution. 
What is a fat-dissolving injection? 
Put quite simply – it's an injection that goes into your problem area, and dissolves away the fat. 
The injection we use is called 'Aqualyx' and it's one of the leading fat removal injections. Aqualyx® can dissolve fat cells and helps gets rid of those stubborn fatty areas. It has been a great success since it was introduced about 10 years ago, and we have seen our clients experience fantastic results with it. 
It gives you targeted results, without the need for surgery or liposuction, and the procedure has minimal downtown too – meaning you can go back to work the same day. It's not uncomfortable, and it's not invasive – which means you have minimal worry or stress beforehand. It can be used to treat:
Tummy bulges 
Inner and outer thighs 
Buttocks 
Saddlebags 
Jowls 
Double chins 
Back fat
Love handles
How does Aqualyx® work?
The main component of Aqualyx® is Deoxycholic acid (DC). This is a secondary bile acid and is actually found naturally in our body anyway. When Deoxycholic acid is injected into the subcutaneous layer of fat, it disrupts the fat cells and causes permanent dissolution of them. The fat cells will then be naturally released and drained away by your lymphatic system – which means we always recommend drinking plenty of water after your treatment and avoiding alcohol too. 
Your comfort is always a priority, and you won't feel too much discomfort during your fat dissolving injections. There is an anaesthetic agent added into the Aqualyx® solution, which helps relieve any discomfort, and our consultants will use topical numbing cream on your skin prior to injection too. 
How long until you see results? 
Your fat dissolving injections are repeated every 3-4 weeks until your desired look has been achieved, and your consultant can advise on how many session they would recommend. You won't see the results immediately after each procedure, as your body has to naturally drain away the dissolved fat deposits as part of its normal process. 
How much fat can be removed with fat dissolving injections?
This will vary depending on where you receive treatment, how many sessions you take, and how also how your body responds to the treatment. Results can be encouraged by drinking lots of water (to help with your lymphatic drainage) and also exercising alongside the treatment can help speed up results too. 
We always recommend discussing everything through with your consultant after booking, so you have a clear idea of what to expect from your personalised treatment plan. For example, for many clients, we recommend considering the medical slimming options too (such as Saxenda medical weight loss injection, Orlistat tablet or appetite suppressants). These can often provide you with a stronger, more impactful result and can help accentuate the outcome.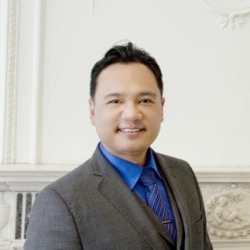 Latest posts by Dr. Chia Tan
(see all)