It's normal as we age for our hands to show signs of ageing. You may have noticed the signs of ageing on your hands and it makes you feel self-conscious. Sometimes our hands age faster than our face because they are exposed to much more, and constant hand-washing and product use can dry them out. If you start soon enough, you can make your hands look younger naturally and we share those tips with you below.
But if you feel like you need a quick solution to rejuvenate the look of your hands, we have good news! We can help turn back the clock on your hands with our modern non-surgical treatments for hand rejuvenation.
Natural Ways to Make Hands Look Younger
The skin is our largest organ and we should treat it as such. Since your skin is exposed all the time, it will take the most damage from both internal and external factors. To have younger-looking skin, you must start taking care of it at a very young age. Signs of ageing on your hands usually don't show up until your thirties or forties, so take care of your hands. Here are some tips on what you can do to give your skin a boost and protect your hands naturally from ageing.
Protect Your Skin from Sun Exposure
Constant sun exposure and not wearing sunscreen can cause your skin to age more quickly. Your hands need protection from the sun as well because they are always exposed. When you use a daily moisturiser with SPF on your face, go ahead and lather some on your hands too.
Wear Gloves While Washing Up
To protect your skin from water damage and drying out, wear gloves when cleaning and washing the dishes. Hot water and abrasive products can do a number on your hands, stripping away the natural oils that help keep skin moist.
Hydrate Often
Take every opportunity to moisturise your hands. Right after you wash your hands put on some moisturiser. But make sure it's a natural product that isn't doing more damage, which leads us to our next tip.
Use Natural Beauty Products
You always hear to moisturise the heck out of your skin, but if you are using products with junk inside, you are doing more harm than good. If you want to have youthful skin, it's time to revamp your beauty products. Look for products that are natural and paraben-free, with ingredients like shea butter, coconut oil, vitamin E and macadamia nut oil.
What Treatments Are Available to Help Hands Look Younger?
As we age, it's normal for our hands to lose elasticity and become more wrinkled. You may also have veins that are more noticeable or bulging above the skin. Or maybe you have dark sunspots and rough, scaly skin that make you feel like you want to hide your hands from the world. While all these things are inevitable as we get older, your hands don't have to stay this way.
It's amazing what we can do with dermal fillers to change the look of your hands easily without surgery. These new procedures are very popular because they are safe and there's no downtime. Our non-surgical treatments allow you to go back to work right after the procedure.
We have a hand rejuvenation treatment that restores hydration to the skin and removes signs of wrinkles. To do this, we inject natural dermal fillers into the treatment areas. The fillers lift the depressions between the tendons and the veins to reduce the bony and skeletal appearance. It also stimulates your natural hyaluronic acid production, which acts as an internal moisturiser to hydrate your skin and leaves your hands feeling softer. The procedure also restores lost volume in your hands to reduce the appearance of wrinkles.
What Happens during the Hand Rejuvenation Procedure?
After your consultation to determine the best plan of action, you'll come into the office for the procedure, which will take about a half-hour. We will do everything to make sure you are comfortable during the treatment. First, we cleanse and disinfect your skin and apply a topical numbing cream to ensure your comfort. The filler Radiesse® is then injected into the volume-deficient areas and massaged into place. Radiesse® maintains a soft, natural feel and takes on the characteristics of surrounding skin tissue. Once integrated into the skin, the calcium hydroxylapatite promotes new collagen and elastin production. The treatment can last up to 18 months before needing another procedure. After treatment, we will book a complimentary follow-up to check on your progress.
Come into our office for a consultation so we can help your hands look young again.
Are you wanting to improve the look of your hands to feel more confident? Book a free, no-obligation consultation with our aesthetic treatment experts. We offer the best therapies for facial treatments and hand rejuvenation to meet all your needs.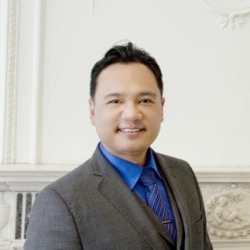 Latest posts by Dr. Chia Tan
(see all)