Botox is rising in popularity, and the demand for injections is high. It's no surprise when you see the incredible results Botox treatments can offer, especially for anti-ageing and smoothing out fine lines and wrinkles.
Botox gives you a flawless, youthful appearance, and here are some of the main benefits our customers and clients love:
It's a non-surgical option to improve facial appearance
A safer alternative to cosmetic surgery
It can help areas such as the forehead, neck, eyes and cheeks
It's gives a smooth, more even complexion
It's minimal pain
It is quick
The recovery is minimal (especially when compared to cosmetic surgery)
It can help reduce sweating in the treatment areas
It can help reduce migraines in the treatment areas
It's affordable
Following on from the last point, Botox is likely more affordable than you think, and as you're here reading this blog post, we assume you'd like to know how much Botox costs, and what to expect to pay for treatment.
The Cost Depends on the Clinic, and the Size of Treatment Area
The costs you are quoted when booking Botox, will depend on the clinic you're booking with (different clinics can charge different prices) and also the amount of areas (or the size of areas) you're having treated.
It's important to ask your clinic or practitioner in your consultation about how many areas they will be injecting, and how that could affect the total price. Some areas are classed as '2 treatment areas' due to their size, and some smaller areas will only be classed as one – because of this distinction between areas, it's very important to have a clear idea before booking your treatment.
A good Botox clinic or practitioner will run this through with you before any injections are given, so you should always have a clear idea of the price and scope of treatment you'll be undertaking.
Botox Treatment
Common treatment areas for Botox, are the forehead, the eyebrows, crows-feet, laughter lines, the hairline, and lower-cheek / mouth lines.
If you'd like to get in touch with us about receiving Botox, or if you'd just like to enquire about what treatment may work best for you, we'd love to hear from you.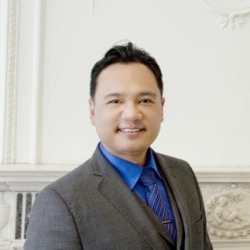 Latest posts by Dr. Chia Tan
(see all)