What is considered attractive is — and probably always will be — influenced by celebrities. One trend is the fuller lip, as seen in male stars, such as actors Tom Hardy and Ansel Elgort, referred to as the macho mouth. Lip fillers for men are becoming increasingly popular.
In under an hour, injectable aesthetic treatments can roll back the clock by as much as ten years! And with little or no downtime and no scarring, dermal fillers for men are becoming more and more prevalent. A lack of regulation around non-surgical aesthetic treatments has led to a boom in aesthetic courses and aesthetic practitioners working without a medical background. 
Maybe you have noticed your lips have become thinner, or you want your lips to look plumper. Choosing the right aesthetic practitioner is the first step to getting the best result and the lowest possible risk of complications. Another critical factor is the types of lip filler that are used. In this guide, we will tell you how to find the best aesthetic practitioner, the various types of lip fillers for men, and the differences between them. 
7 Checks to Help You Choose an Aesthetic Practitioner
1. Registered Medical Professional 
Always check that your aesthetic practitioner is a qualified and registered medical professional. The current three healthcare professional regulatory bodies in the UK are the following:
• The General Dental Council (GDC) 
• The Nursing and Midwifery Council (NMC)
• The General Medical Council (GMC)
Each regulator has a website where you to check your aesthetic practitioner is registered. You can also find the process of making a complaint if you have any concerns about the care you have received. 
Although serious complications are rare, if they do occur, it is critical that they are addressed correctly. Fundamentally, experienced registered aesthetic practitioners are aware that potential complications from fillers and Botox may happen and know how to treat them.
2. In-depth Consultation 
You should never feel rushed or under pressure during your consultation. All the risks and complications of your treatment should be explained, and you should have the opportunity to ask questions. Reputable aesthetic practitioners will also be happy to provide answers to questions at any point after your consultation.
3. Experience 
Experience is one of the most important factors to consider when choosing an aesthetic practitioner. Aesthetic courses will not provide practitioners with the opportunity to treat complications, which is why experience is critical. Someone with experience is also more likely to have patient reviews and the ability to tailor their technique to the individual.  
4. Holistic Approach 
In recent years there has been an increasing emphasis on the role of hormones and wellbeing. Choosing an aesthetic practitioner that also treats conditions related to men's health and can offer hormone tests and treatments will mean they are likely to have a more holistic approach to aesthetic treatments. 
5. Price 
Research the average price of the treatment you are considering but don't ever go by price alone! A professional aesthetic practitioner will normally have a clear price structure displayed on their website. Price will also depend on the clinic location. On average, the cost of Botox is around £150 to £200, and dermal fillers are between £200 and £350 for one area. This will also depend on the type of filler used. 
6. Reviews
Google reviews and social media accounts are great places to find reviews. But don't just go by a star rating, as this can be misleading. Look at individual reviews and how the practitioner responds to a bad review. Do they offer to see the person again, or do they simply ignore it?
7. Before and After Photos 
Before and after photos can give you an idea of how the aesthetic practitioner individualises their technique. If every photo of lip augmentation is the same, or you want a natural-looking result, but every photo shows full-volume lips, that's a red flag. Remember, any before and after photos in an aesthetic practitioner's portfolio will have been chosen by them, so you will only see the very best. 
The Differences between Lip Filler for Men and Women
Men's and women's lips come in a variety of shapes and sizes, but the anatomy of the lip is the same. This does not mean that injection techniques will be or should be the same for men as they are for women's lip injections. As with any aesthetic injectable treatment, the technique needs to be tailored to address the individual anatomy and goals of the client. 

Anatomy of the Lip — What You Need to Know before Having Lip Filler Injections
Men typically seek subtle enhancement of lip volume rather than noticeable shaping and defining. The goal for most men who have lip fillers is to look as if nothing has ever been done. With that in mind, there should be no "standardised result", and the entire face must be addressed holistically before any aesthetic treatment. 
As you age, your lips become thinner and lose definition, which is just as ageing for men as it is for women. Adding volume can enhance your lips and help make your overall facial appearance more youthful. The key is maintaining balance to achieve a natural result. Therefore if you have Botox or anti-wrinkle injectable treatments, you should ensure your lips don't give away your age. 
Types of Lip Fillers for Men
Dermal fillers come in varying consistencies and work in different ways. Two main types of FDA-approved fillers are used to augment lips. Let's look at the pros and cons of each type of filler.
1. Calcium hydroxylapatite (CaHA) 
Radiesse is the most common brand of Calcium hydroxylapatite (CaHA) injectable dermal filler. Composed mainly of a naturally occurring substance found in bones and teeth, this gel-like filler works by stimulating the production of collagen. Although this filler can be injected into the lips, the semi-solid consistency makes it more suitable for deeper tissue injections, such as the laughter lines.  
Pros: Lasts 12 to 18 months.
Cons: More likely to cause visible or painful lumps and can not be dissolved.
2. Hyaluronic acid (HA)
Juvederm, Restylane, and Perlane are three of the most used brands of Hyaluronic acid (HA) dermal fillers for lip injections. This soft gel-like filler is usually the preferred lip filler for men as it produces a more natural-looking result. Risks of lumps and complications with Hyaluronic acid (HA) dermal filler, when administered by an experienced aesthetic practitioner, are very low. Hyaluronic acid (HA) fillers can be dissolved if you are not happy with the result, and they are widely considered the safest dermal fillers to use for augmenting lips. 
Pros: Feels softer, has a lower risk of causing lumps and can be easily dissolved.
Cons: Shorter lasting, with a lifespan between 6 and 12 months. 
Here at Harley Medical MD Aesthetic Clinic in London, our goal is to provide effective, research-based, non-surgical medical aesthetic treatments focusing on natural-looking results. We are known for our patient care, built around a personal and considered 360-degree approach that our patients trust.
Our extensive treatment portfolio targets a number of skin concerns and men's health, including testosterone replacement therapy, erectile dysfunction, premature ejaculation, anabolic-androgenic steroid use, and human growth hormone (HGH) therapy. Patient safety is our number one priority, so we'll never carry out treatment that isn't right for you. 
We use Hyaluronic acid (HA) dermal fillers for a natural-looking result when performing filler injections and lip fillers for men. At your initial consultation, we'll discuss your goals and explain if the treatment you are considering will help you to achieve the results you are looking for. 
Ready to find out more about how we can help you achieve your goals? Contact us for a free no-obligation consultation at our clinic.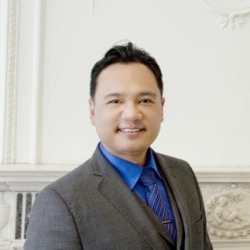 Latest posts by Dr. Chia Tan
(see all)