It's that time of year where we make personal goals for the 12 months ahead. What would you like to change in your life for 2018? Most of us make a commitment to get fitter and lead a healthier lifestyle – whether that means cutting out alcohol, losing weight, joining a gym or stopping smoking. We'd all like to look and feel more confident in our own skin, and this is the perfect time of year to improve your body confidence.
What's your New Year's resolution? If you want to look younger, or change your body shape, then a range of non-invasive procedures can help. Losing weight and toning up is a long process – why not get a head start and give yourself some motivation?
We've listed some non-surgical procedures which can help boost your confidence and encourage you to look after your body.
3D Lipo Cryolipolysis
More commonly known as 'fat freezing,' cryolipolysis is the non-invasive alternative to liposuction and is becoming more popular each year. It uses low temperatures to kill off fat cells which are notoriously difficult to get rid of, melting away love handles, wobbly buttocks and thighs and flabby stomachs.
This treatment can offer results in as little as 48 hours and involves no needles or leaves no scars. Once the fat cells are frozen and killed, they are removed naturally through the liver. If you have any problem areas which your diet and exercise regime isn't targeting enough, then cryolipolysis could work for you.
Chemical peel
Sick of looking tired and having dull skin? It's time to remove the old skin and start a New Year with a fresh, radiant layer of skin waiting underneath. Chemical peels are a corrective therapy which can improve flawed skin including wrinkles, large pores, sun spots, blemishes and uneven skin tone. An intermediate peel can have drastic effects as it increases collagen production and improves fine lines and creases. If you want to look rejuvenated and more youthful, treat yourself to a chemical peel treatment.
Tear trough treatment
As we age, one of the most noticeable parts of our face which show ageing is under the eye. The hollow area under the eye becomes more pronounced as the skin under the eye becomes lax, casting dark shadows and making you look tired all the time. If your resolution is to look more youthful and have more energy, then a tear trough filler is ideal to start you off.
This is a quick, non-surgical dermal filler which instantly boosts the under eye area. Lifting the hollow area can lighten those permanent dark circles and gives a young, fresh appearance. It only takes around 30 minutes and can make a real difference to the face.
Are you ready to feel more confident this year? Contact us to see how Harley Street Medical Doctors can help.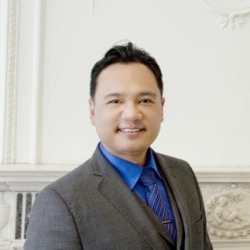 Latest posts by Dr. Chia Tan
(see all)