Updated April 2022
It's normal to feel self-conscious about your body sometimes, but if you're struggling with stubborn areas of fat that don't seem to go away, you may have considered fat removal treatments like injection lipolysis. These treatments, also known as Aqualyx, are some of the most popular in our London clinic. They can contour the body and provide excellent results for women and men.
There's a lot of information about fat removal treatments, but how can you sort the truth from the myths? When considering any cosmetic procedure, it's essential to understand the facts, benefits and risks before deciding, which is why our cosmetic treatment specialists are here to help.
If you've tried improving your diet and are exercising until you're blue in the face, yet you can't seem to shift that stubborn double chin or pocket of unwanted fat, you're in luck. Surgery isn't your only option now that non-surgical treatments can be as effective with minimal pain and downtime. One of the most popular options is Aqualyx — a non-surgical treatment that dissolves fat cells when injected into tissue under the skin. 
Although Aqualyx injections have proven to be a popular and effective fat removal option for many, the benefits of this treatment have been clouded by several myths. Today, we're debunking the top five myths about fat-dissolving treatments so you have all the information you need before deciding whether this treatment is right for you.
If you're interested in a fat-removal procedure or have questions about the different treatment options available, our friendly aesthetic specialists would love to help. Send us a message or call us on 020 8127 8840 for a chat.
Talk to our friendly aesthetic specialists about treatment options
Myth #1 — Fat Removal Treatments Are Harmful
We're naturally sceptical of the unknown, and perhaps this is why many people fear that fat removal treatments like Aqualyx will cause permanent damage to their bodies. The truth is that the Aqualyx treatment is composed of naturally occurring ingredients — deoxycholic acid (DC) solution, which is a secondary bile acid, and several plant-based compounds. Aqualyx is a safe and effective fat-dissolving injection designed to work with your body to eliminate excess fat cells. After it is injected and the fat cells are destroyed, the remains are naturally excreted by the lymphatic system.
Myth #2 — Fat-Dissolving Is a Surgical Treatment
Some people confuse fat-dissolving treatments with cosmetic surgeries designed to remove fat, such as liposuction, but injection lipolysis does not require you to go under the knife. This non-surgical treatment is a low-risk, minimally invasive and more cost-effective alternative to cosmetic surgery, and unlike liposuction, it requires no downtime. An Aqualyx procedure involves injections in targeted areas, and patients can return to their normal activities immediately after treatment.
Myth #3 — Results Aren't Permanent
Although weight loss injections don't require surgery, this doesn't mean that the procedure can't be as effective (i.e. with permanent effects). This non-surgical treatment involves the permanent removal of specific fat cells, and results can be maintained as long as the patient commits to lifestyle changes alongside treatment.
If a patient who has had fat-dissolving treatments doesn't lead a healthy lifestyle, including a balanced diet and regular exercise, the fat cells that were not dissolved by the Aqualyx injections will begin to grow in time. However, this is true of any weight-loss surgery or treatment, and this is why weight loss injections aren't recommended as a miracle cure or to treat large areas of fat.
Myth #4 — Fat Removal Is a Quick Fix
Yes, the procedure can be done before your lunch hour ends, but your body won't transform immediately. An Aqualyx fat removal treatment will not deliver instant results, so this won't be the best solution if you are trying to drop a few pounds right before a big event.
Injection lipolysis will work well if you have patience and give yourself time to see results. The result will vary depending on the size and region of the fatty deposit you wish to deplete, with larger areas requiring more treatments. Patients can receive up to eight treatments (each three to five weeks apart), and results generally show between four to eight weeks after your final treatment. On average, patients require two to five treatment sessions to achieve the look they're aiming for.
Myth #5 — Fat Removal Treatment Is for Weight Loss
Treatments including Aqualyx are indeed used to remove stubborn pockets of fat. Still, they are only used to remove fat cells in smaller, more isolated areas of the body that are resistant to exercise and dieting. These areas include the stomach, hip, chest, inner and outer thighs, upper arms, knees, ankles and under the chin (the jowls). If you are looking to remove larger amounts of fat or want to lose a significant amount of weight all over the body, non-surgical fat removal treatments will not be suitable for you. But if you are at a healthy weight and want to address a stubborn area of fat that won't shift, then fat loss injections could be the perfect solution. 
Interested in fat-dissolving injections? Get in touch with our weight loss clinic in London today to set up your free, no-obligation consultation. Our qualified Harley Street doctors will discuss your needs and recommend the fat removal treatment best for you.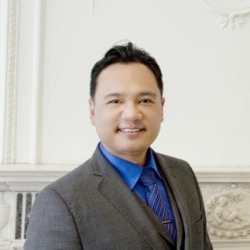 Latest posts by Dr. Chia Tan
(see all)