Lip fillers for men are becoming increasingly common, with one news outlet reporting the "rise of the macho mouth" and a 74% increase in male patients requesting dermal fillers between 2015-2016.
While men don't always want to feel more feminine, they can appreciate how great a fuller lip can look. Men looking for lip fillers were most likely to mention Harry Styles, Brad Pitt, Channing Tatum, and Henry Cavill as their male celebrity "wish pics". 
Working with a great surgeon makes it possible to achieve the look you desire, and lip fillers for men are by no means one size fits all.
Understandably, you may have questions about getting lip or dermal fillers. Some might include: 
• What does the procedure involve?
• What are the risks?
• How long do lip fillers last?
• Is it reversible?
• How much should it cost? 
• How can you find a reputable practitioner?
We're here to answer your questions. Read on to discover more about the lip filler procedure and whether getting lip fillers is right for you.
What Are Lip Fillers for Men?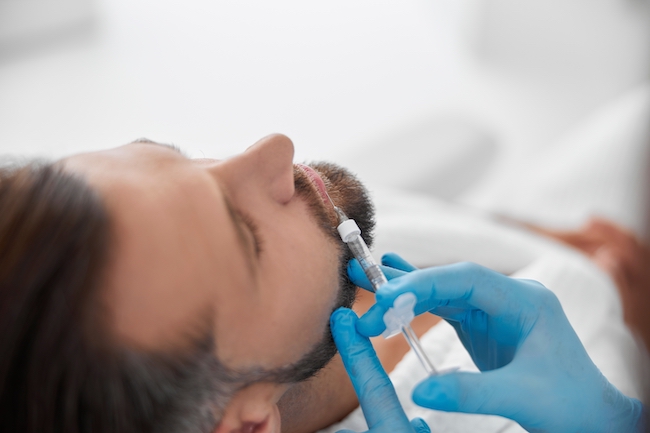 Lip fillers are a minimally invasive procedure using filler injections. The most common type is hyaluronic acid (HA), a gel-like natural substance that naturally occurs in the body, which is then used as a lip injection to give natural lip enhancement and add volume in as little as 30 minutes.
Lip fillers for men are the same as any other lip filler. Just like other lip filler injections, dermal filler can give a fuller-looking lip in a way that suits you.
Why Get Lip Fillers?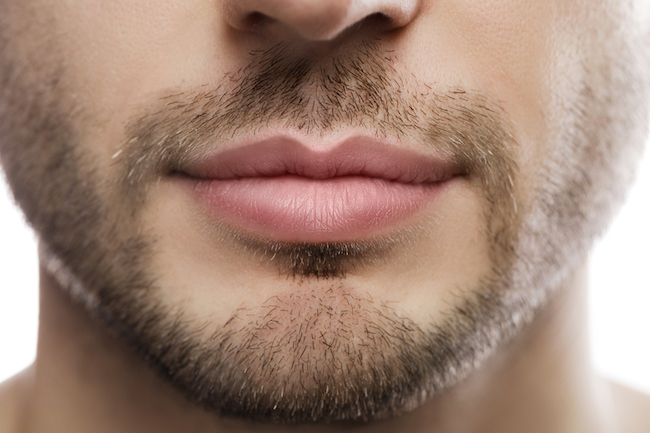 There are many reasons why someone might decide to get lip fillers. They are often personal, but most often, it is because people are concerned about their appearance.
With the rise of social media, influencers and selfies, more and more people are searching for a perfect full lip to feel good about how they look. Thinner lips are genetic, and getting lip fillers is often a good solution if this affects your mental health.
We all naturally lose collagen as we age, this lost collagen can lead to thinner lips, so if this is something that's concerning you, a lip filler procedure might also help. Lip fillers do not stop the ageing process or tissue death, but they can give you a temporary lip lift to boost your confidence.
How Do They Work?

Example of before and after with lip filler
Lip fillers are a fairly simple procedure that can take as little as 30 minutes. You can have lip filler on your upper lip, bottom lip or both to get the desired effect.
The procedure will start with a consultation. A good surgeon will want to understand the desired outcome and also will want to set realistic expectations. 
Dermal fillers are minimally invasive, and while they can be applied to enhance lips and alter the shape slightly, they're not a dramatic, permanent solution.
Sometimes the practitioner will use numbing cream before the lip augmentation. It only takes a few minutes to start working and lasts up to a few hours. So, if you're not comfortable with the feeling of needles, it makes having lip injections a relatively pain-free experience.
Following this, the practitioner will take a fine needle to inject the hyaluronic acid into the lip in various places. The places the practitioner chooses will depend on the effect you're looking for, which is why choosing a reputable clinic for your dermal fillers is essential.
An experienced practitioner will guide you in choosing the lip fillers that suit your current lip size and shape. If you're wondering how to pick the right practitioner and clinic for you, read on. We will explain what to look for in a clinic later in the article.
How Long Do Lip Fillers Last?
Dermal fillers are not permanent, and you can pick the type of filler used depending on how long the lip fillers last. There are other factors to consider as well. Your metabolism, the area injected, and your age may all affect how quickly the hyaluronic acid breaks down.
Dermal fillers can last from around six months to up to a year. However, you might want to top up your dermal fillers after a few months, as the effect will lessen over time.
An alternative and increasingly popular option are newer-generation fillers that can last up to 18 months.
Tips for Fuller Lips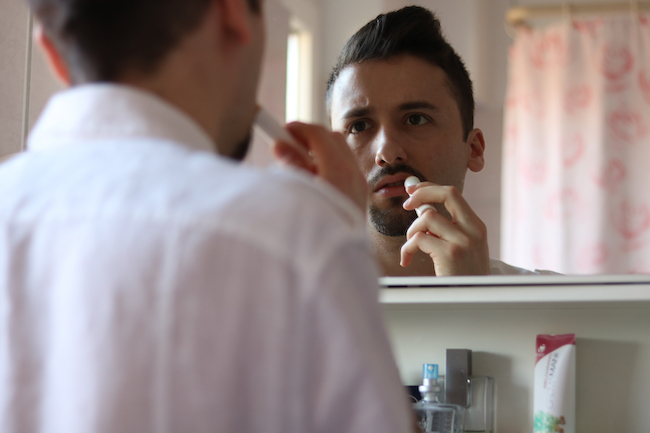 If you're still unsure whether you'll suit a fuller lip, try enhancing your lips naturally. You won't get the same effect as dermal fillers, but this might give you some sense of what you might look like after lip augmentation.
1. Hydrate
Hydrating can help your skin look fresher and plumper, which is also true of your lips. Drink plenty of water and try to avoid alcohol. When you drink alcohol, it can dehydrate your body and cause your lips to look thinner.
2. Shave facial hair
Shaving your beard or stubble will draw attention to your lips, making them seem more voluminous.
3. Exfoliate
Choose a light lip scrub or use a toothbrush to lightly exfoliate your lips to stimulate blood vessels and remove dead cells. Your lips will look great if nothing else.
4. Moisturise
Many men today use a daily lip balm and a good quality plumping lip moisturiser with vitamin e is an excellent way to ensure your lips look nourished and hydrated.
What Are the Risks of Lip Fillers for Men?
Lip fillers have minimal side effects. However, there are a few minor risks to the treatment. These are not all a given; most side effects are minor and will fade within a few days. Some possible side effects include:
• Bruising — If you experience bruising, this should fade over time like any other bruising. The best way to avoid this is to choose your practitioner with care.
• Swelling — Swelling is not uncommon and will go down quite quickly. Use an ice pack to ease any initial discomfort of the swelling.
• Bleeding — Again, this is not uncommon and can depend on the patient. Keeping the area clean is important, and this common side effect should go away after a short time.
• Pain at the injection site — This will probably go hand in hand with any bruising and might occur after the numbing cream has worn off. It's nothing to worry about, but you should still try to keep the area clean to reduce the chance of infection.
• Infection — If you think your lips are infected, make sure you see a doctor. It's likely that if caught early, it can be treated with antibiotics.
• Uneven lips — It's natural for filler to look a little uneven at first, and this can last for around one to two weeks. Speak to your practitioner about this as they should be able to advise when to be concerned.
The best way to minimise side effects of lip fillers is to pick a reputable practitioner with great reviews.
Are Lip Fillers Reversible?
Hyaluronic acid fillers will break down over several months, so they're great if you want to try out more volume without committing to anything permanent.
However, if you're not happy with your new look, it is possible to dissolve the hyaluronic acid with an enzyme called hyaluronidase. This isn't true of Botox, which we wouldn't recommend using to increase lip size.
For more information or if you still have concerns, you can read more on our frequently asked questions about lip fillers.
How Much Does Lip Filler for Men Cost?
This can depend on the procedure and the practitioner, but you should expect to pay anything between £250 and £1500.
At Harley Street MD, our dermal filler procedure starts at £350.
How to Pick a Clinic?
Lips play a big part in how we present ourselves and if you want to enhance your lips to feel more confident about yourself, then make sure you choose a practitioner you trust.
It is not required by law to have any certification to administer dermal filler, but that doesn't mean you shouldn't be careful who you pick to do yours.
Go for a practitioner or clinic that is board certified to reduce risks. Here at Harley Street MD, we are registered with the General Medical Council (GMC), and our primary practitioner, Doctor Tan, has many years of surgical training and plenty of qualifications. Read more about Dr Tan here.
The doctors at Harley Street MD are all dedicated to great results and happy clients. So if you still have questions about getting lip fillers for men, why not start with a no-obligation, free consultation with one of our doctors? Simply get in touch with our friendly team to book.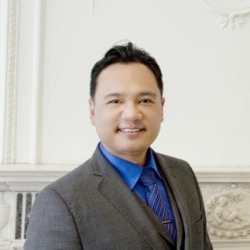 Latest posts by Dr. Chia Tan
(see all)