If you have dark circles or bags under your eyes, you may have considered tear trough filler to improve their appearance. As we age, it's common for the under-eye area to appear darker and more sunken, but injectable treatments can help. Read on to find out everything you need to know about tear trough filler.
What Is Tear Trough Filler Treatment?
Tear trough filler treatment, also known as under-eye filler, is a popular cosmetic procedure designed to improve the appearance of tired-looking eyes. This minimally invasive, non-surgical procedure involves injecting a gel-like substance called hyaluronic acid (HA) into targeted areas around the eyes, promoting a smoother, more radiant appearance. These dermal fillers work by replenishing volume that's been lost through the natural ageing process, reducing the appearance of fine lines and wrinkles and under-eye hollows.
What Can Tear Trough Fillers Do for You?
The tear trough area can contribute to dark circles and make you appear tired, which may be something you feel self-conscious about. Under-eye fillers can boost the appearance of hollowed eyes, sunken troughs, dark shadows, sagging and fine lines, providing a refreshed appearance and a boost of self-confidence, 
What Is the Tear Trough Area?
The tear trough area lies between the lower eyelid and the cheeks. As we age, tear troughs beneath the eye can become more hollow and deepen over time. Hollow tear troughs can cause a shadow below the eyes, resulting in a tired appearance. In some cases, tear troughs are the result of genetics. The goal of tear trough filler is to reduce the depth of the tear trough and make the skin appear fuller and tighter.
What Is Involved in Tear Trough Treatment?
The tear trough filler procedure is quick, simple and safe. It involves a qualified practitioner carefully injecting the tear trough area with hyaluronic acid gel using a fine needle. An integrated local anaesthetic is provided for your comfort. The HA dermal filler works to hydrate the skin, restore lost volume and boost collagen production. Treatment usually takes around 30 minutes, and you can return to normal activities straight after your appointment.
Do Results Appear Natural?
As long as you ensure that expert clinicians administer injections, tear trough filler treatment produces attractive and natural-looking results. At Harley Street MD
, you'll have an initial consultation with one of our aesthetic specialists, who will discuss the treatment and your expectations. Our clinicians will ensure you get the results you're looking for and that there are no surprises. Patients should expect to appear rejuvenated but not dramatically different.
How Long Does Tear Trough Filler Last?
Fillers for under eyes typically last between 12 and 18 months. How long results last will depend on various factors such as the patient's lifestyle, genetics and the type of filler provided. Most of our patients top up their fillers once per year to maintain a smooth, youthful look.
What Type of Filler Is Used in a Tear Trough Treatment?
At Harley Street MD, our team of experienced clinicians use soft dermal fillers made with pharmaceutical-grade hyaluronic acid. HA occurs naturally in the body and has excellent hydrating properties, making it an essential component to increase skin elasticity and reduce the effects of ageing. Our HA-based fillers have been formulated with tear troughs in mind and are well-suited to this delicate area. All of our dermal fillers are dissolvable, so if you decide that tear trough treatment isn't right for you, we can safely reverse the process.
Are under-Eye Fillers Safe?
The tear trough filler procedure is very safe, minimally invasive and has a low-risk profile in most patients. All patients undergo an initial consultation before treatment to ensure that this procedure is right for them. Our clinic will outline any possible risks, and treatments will only ever be provided by an experienced practitioner to ensure patient safety and the best results.
How Do I Prepare for a Tear Trough Filler Procedure?
During an initial consultation, one of our experienced practitioners will discuss your requirements and help you make an informed decision about the treatment option that's best for you. Before receiving under-eye filler, you should also:
• Avoid vitamin E and ginkgo biloba for two days before treatment.
• Avoid drinking alcohol for 24 hours before treatment.
• Avoid aspirin for seven days before treatment.
• Avoid non-steroidal anti-inflammatory (NSAIDs) medicine for two days before treatment.
How Long Does It Take to Recover from Tear Trough Treatment?
Recovery from tear trough treatment is usually rapid. As this procedure is non-surgical and minimally invasive, there is no downtime required, and you can go back to your day immediately after treatment. There is a slight risk of localised swelling or bruising, but it will subside within a couple of days if you are affected by this. To reduce swelling, patients can apply an ice pack to the area every few hours or use an Arnica cream to minimise bruising.
Following treatment, patients should take care to:
• Avoid skin care products or makeup for at least four hours following the procedure.
• Avoid using skincare with peeling chemicals for two days.
• Avoid strenuous exercise for two days.
• Avoid drinking alcohol for two days.
• Stay out of extreme heat, e.g. saunas, tanning, sunbeds for two weeks.
What Is the Best Age to Get Under-Eye Fillers
Tear trough fillers are suitable for adults of all ages, but they've become a popular non-surgical treatment amongst younger people to improve the appearance of tiredness or add plumpness to the skin. Some people may find that their tear troughs aren't a problem until they get older when they become more prominent with age. Whatever your age, if you're feeling self-conscious about dark shadows or under-eye bags, tear trough treatment is an excellent option to achieve a rejuvenated look.
How Much Do Tear Trough Fillers Cost?
If you're considering an under-eye treatment, you may have wondered how much tear trough fillers cost. While cosmetic surgery is often expensive, tear trough treatment is an affordable, non-surgical alternative to get the youthful and energised look you've been striving for. At Harley Street MD, prices for tear trough fillers start from just £350, with results typically lasting between 12 and 18 months. Under-eye fillers are safe, require no downtime and are incredibly cost-effective.
Tear Trough Fillers: Before and After
Take a look at some of the fantastic results our patients have seen when undergoing tear trough treatment at our professional aesthetic clinic.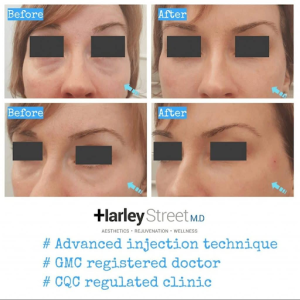 Why Choose Harley Street MD for Under-Eye Fillers
At Harley Street MD, our skilled team led by Dr Tan offers the best tear trough filler procedures to rejuvenate the under-eye area and give you a glowing look. Located on London's world-famous Harley Street, our specialist aesthetic clinic is the perfect place to discuss your dream look with qualified clinicians. Our team will talk you through the treatment options available and provide precise and professional non-surgical procedures in a safe and comfortable environment.
Ready for a confidence boost? Contact Harley Street MD today to discuss under-eye fillers and a range of other non-surgical cosmetic procedures that could transform your look. Our friendly team offers FREE no-obligation consultations and will help you find the perfect treatment option for you.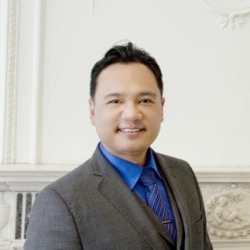 Latest posts by Dr. Chia Tan
(see all)