Winter doesn't bring only cold weather and darker skies — your skin is also probably taking a beating, resulting in dry and cracked skin. Winter skin problems are common and affect us all, but there are several things you can do to prevent and treat your troubled skin.
Why Is My Skin Reacting to Winter Weather?
There are a number of reasons why the most wonderful time of year brings with it dry, scaly and cracked skin. When the weather gets cold, humidity is lower, meaning there's less moisture in the air. Coupled with blasting heat inside your house, these conditions lead to disaster for our skin. This makes it vital to pay close attention to your environment and what you are putting in your body during the winter months to help lessen dry skin.
Watch Your Alcohol Intake
Did you know that your skin is the largest organ you have? Everything you eat and drink has an effect on your skin. This probably goes without saying, but hydrated skin is happy skin, so make sure you are drinking plenty of water during the winter. It's easy to drink more alcohol when holiday celebrations are plentiful, but alcohol dehydrates the skin because it is a diuretic, and this means it's stealing hydration from your body. If you are going to partake in festive drinking, be sure to drink even more water to counteract the effects. No one is going to judge if you choose the sparkling apple cider instead of champagne.
What you eat, of course, also affects what shows up on your skin, so be careful of eating too much sugar, fried foods, dairy and salt if you are experiencing skin issues. All these foods are known to dehydrate your skin.
Protect Yourself Against the Elements
If you are participating in fun winter activities like skiing, snowboarding, ice skating and the like, you'll want to protect your skin from the elements with extra due diligence. Choose clothing that is extra warm and made from materials that won't irritate your skin further. Always moisturise your entire body before you dress — you may need a thicker moisturiser for your face if you spend more time outdoors. Apply moisturiser multiple times a day when needed.
How to Treat Winter Skin Problems
If dry and scaly skin rears its head when the weather turns cold, there are a few things you can do to help treat the issue. Sometimes, a good diet alone isn't enough to combat the effects of winter. Try these things to make your skin happy again.
Get Better Skincare Products
The first line of defence is looking at your skincare regime. Unfortunately, many of the skincare and makeup products available today contain harmful ingredients that aren't doing your skin any favours. If you're having skin troubles, consider switching to a paraben-free skincare line. If price is a concern, they are many brands available that are more affordable — you could even ask your nearest and dearest to treat you with a box of skincare goodies for Christmas. Your skin is worth it, so slowly start to transition out of using your usual products, starting with the things you use the most. Some dermatologists suggest using products that contain oil as a main ingredient instead of water, but your mileage may vary. Get samples to test new products before buying the regular size.
Skin Hydration Therapy Will Quench Your Skin
There are many facial and body treatments that can do more than changing your skincare routine and diet alone. If you have stubborn, dry and cracked skin, try skin hydration therapy. This treatment involves a series of small injections of hyaluronic acid at multiple sites under the skin (or subcutaneously) to hydrate the dermis. Hyaluronic acid is found naturally in your skin and helps to retain moisture, but these levels decline as we age. It also stimulates collagen production, which improves the elasticity of your skin. There's no downtime with this procedure, so it won't put a damper on your holiday plans.
Micro-Needling Is All the Rage
If you are looking for youthful and healthy skin, you've probably heard of micro-needling. This procedure helps your skin produce more collagen and elastin, which results in smoother, firmer and younger-looking skin. If the winter is causing your skin to be dry and dull, a treatment like this will help, and it comes with the extra benefit of reducing fine lines and improving the appearance of acne scars.
Ready to give your skin a boost and combat dry and scaly winter skin? Find out how Harley Street MD in London can help. We'll create a bespoke treatment plan that meets all your needs.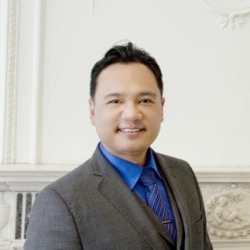 Latest posts by Dr. Chia Tan
(see all)