You may be considering a facial treatment like Botox to improve your self-esteem and confidence. It's perfectly normal to want to improve what you see in the mirror and with new technologies and non-surgical options, you can have the face you've dreamed of with little effort or downtime. Botox is one of the best choices to reduce fine lines and wrinkles around the eyes and mouth, along the forehead, and between the eyebrows.
Why Choose a Non-Surgical Botox Treatment?
We offer many types of non-surgical produces and facial treatments at our clinic in London. There are many benefits to choosing a non-surgical treatment over surgical aesthetic procedures. If you are researching your options on how to change your nose, get rid of wrinkles or plump up your lips, you've come to the right place. If you are feeling self-conscious and don't feel like you can put your best face forward, there are many benefits to choosing Botox to reduce wrinkles.
Little Downtime
One of the greatest benefits of non-surgical treatments, in our opinion, is the fact there is little downtime or recovery. You may experience some slight bruising at the incision sites, but everyone is different. We suggest not scheduling any important dates directly or a couple of days after your procedure to be safe. Also, you don't have to spend much time to prep before the procedure as you would with surgical options.
More Natural Look
Every surgery has risks involved, so you want to use a qualified and certified surgeon with an impeccable reputation. Our goal with Botox is to make the procedure look as natural as possible, so no one will even notice you had it done. We don't want anyone to have that frozen face look many celebrities have after bad procedures and long-time use. It might be best for you to have several different treatments for the best look and results. We will discuss this with you in a consultation, so you get exactly what you want.
Safer and Less Side Effects
Cosmetic surgery will always come with risks, but non-surgical treatments have far fewer risks than going under the knife. Botox is the safest and most popular treatment for the reduction of facial wrinkles. With Botox, there is less risk of infection since tiny needles pierce the entry site, so we do not need to cut into the skin. You may experience some mild local swelling, but there are no major side effects to worry about. There may be some long term side effects if you continue this procedure over a long time, so be sure to discuss the risks with your doctor.
What Does Botox Feel Like?
If you are curious what botox feels like and when it starts to work, we can ease your worries today. Botox is FDA approved, safe and used in millions of treatments each year. The procedure for wrinkle treatments with Botox is easy as can be. Botox treatment is administered using fine needles. We'll make you feel as comfortable as possible in our clinic. You may feel a slight bit of pinching or stinging from the insertion of the needle. An ice pack might be used after the procedure to minimise the bruising and swelling that some people experience. Right after the treatment, your face will look the same — the results are not immediate with Botox. A few days after the procedure, you may notice a stiff feeling or heaviness in your face. You can go back to work on the same day, and you'll see more results as the days go on. It may take three days to a week to see the full effects of your treatment. We will check your progress after two weeks. Then you won't need to come back for another treatment for at least four to six months. Botox is such a great alternative to surgical facial procedures.
We look forward to discussing your options.
Are you thinking of getting Botox to feel more confident? Book a free no-obligation consultation at our aesthetic clinic in London. We offer Botox and facial treatments that meet all your needs.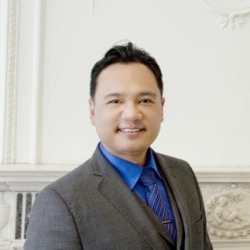 Latest posts by Dr. Chia Tan
(see all)