Throughout history, the ways in which people have kept themselves looking good have changed dramatically. In recent years, as well as the rise of more advanced skincare and multi-step beauty routines, "non-surgical" cosmetic procedures have become increasingly popular.
You may wonder what the term "non-surgical" means and exactly which treatments fall into this category. Just two decades ago, surgical methods were the only option for revitalising and reshaping your look. Today, non-surgical methods can often be used in their place and come with several advantages over traditional cosmetic surgery.
In this article, we detail key differences between surgical and non-surgical aesthetic procedures and when you may want to consider the latter over the former.
Do You Want to Change Your Look Dramatically?
If the answer is "yes", you may have initially considered surgical treatment as the obvious step forward. Various surgical cosmetic treatments serve different purposes, including facelifts, neck lifts and brow lifts for reducing facial wrinkles.
Both men and women are drawn to surgical treatments. Women may be tempted by facial implants to plump up their cheeks and create higher definition, while men may be self-conscious about other areas, such as a nose that has been visibly injured through sport and requires correction.
However, you would like to bring meaningful changes to your appearance, consider that surgery might not be your only option. Non-surgical procedures support the mantra that "a little goes a long way", bringing many of the same merits of cosmetic surgery with fewer associated drawbacks.
What Are Non-Surgical Procedures?
In the cosmetic space, "non-surgical" treatments are otherwise known as "non-invasive". Unlike "invasive" surgical treatments, these procedures do not involve the skin being cut or instruments being inserted into the body.
Despite the terminology, this is not to say that non-surgical procedures work their magic only on the surface — far from it. Injected solutions, laser technology or LED-based machines can produce collagen and elastin deep under the skin to improve the muscle's infrastructure and make skin appear discernibly tighter.
Non-surgical procedures also differ from surgical alternatives in that they don't leave permanent changes, allowing patients to reverse them if desired.
You may be pleasantly surprised by how easily you could revitalise your look without surgery, achieving even the most nuanced enhancements through non-surgical procedures. Non-surgical services available here at Harley Street MD include:
Cons of Surgical Procedures for Aesthetic Reasons
While cosmetic surgery can theoretically provide the beautiful or handsome look that you have long dreamed of, your experience of the treatment itself could prove a different story.
Consider the example of rhinoplasty — or, as it is commonly known, a "nose job". This reconstructive surgery would require you to take general anaesthesia and wear a plaster cast, neither of which would be necessary for those who instead opt for our non-surgical nose reshaping treatment.
Similarly, women looking to slim down their faces may feel daunted by the highly invasive way in which surgery would shave their jawbone — and that's before considering the extensive recovery period that would follow. Through non-surgical methods, we're able to offer facial fillers that can slim the face non-invasively.
Aside from the potential scare factor during a surgical process, there is also the crucial question of downtime to consider. Whereas a surgical treatment may require you to spend weeks off work while you wait for everything to heal, there is typically little to no downtime involved in non-invasive treatments.
Even if you aren't nervous about the process of receiving surgery, you may find that it isn't a practical option for health reasons. Some health conditions can rule you out of being accepted for surgery, in which case you might want to turn your attention to other options.
Why Non-Surgical Procedures Could Be Better for You
The non-permanence of non-surgical procedures has made them particularly appealing for patients who would like to "test-drive" a new look before committing more firmly to it. Even after years of continued non-surgical procedures, changes can still be reversed.
If you have friends who have received surgical treatment, their stories may have left you nervous about the process. Choosing non-surgical treatment is a way to ease yourself in gently.
Another benefit of non-surgical procedures is that they are typically associated with a more natural-looking beauty. Choosing surgery as a means of permanently altering your look can fundamentally affect your facial structure and provide you with the dreaded "fake" appearance. Alternatively, non-invasive methods work by altering your body's biology. Many are focused on replenishing natural substances already in abundance in your body during your youth.
Best Non-Surgical Cosmetic Procedures for a Rejuvenated Look
If you're still unsure about how non-surgical procedures could enhance your look, consider these popular non-invasive aesthetic treatments:
1.  Liquid Facelift
A non-surgical liquid facelift helps patients achieve a younger look without undergoing a traditional surgical facelift. This quick and effective treatment can give you a refreshed, healthy glow in under an hour, taking years off your face without the need to go under the knife. At Harley Street MD, our liquid facelift is a bespoke treatment that's tailored to your needs, using a combination of Botox injections and PDO threading to contour your face, soften wrinkles and restore volume. This procedure involves minimal downtime and results are immediate.
2.  Anti-Wrinkle Treatment
If you're feeling self-conscious about fine lines and wrinkles, cosmetic surgery isn't your only option. Anti-wrinkle treatments make use of Botox and dermal fillers to reduce the appearance of facial lines, with a series of small injections made in targeted areas to smooth out the skin and provide a more youthful appearance.
3.  Non-Surgical Rhinoplasty
Nose filler is a quick, effective, low-risk alternative to the traditional surgical nose job. Non-surgical or "liquid" rhinoplasty helps patients achieve their dream nose shape without invasive surgery, injecting a hyaluronic acid-based dermal filler into the targeted area to achieve the desired results.
4.  Tear Trough Filler
Tear trough filler treatment is one of our most popular non-surgical procedures, often surprising patients by how effectively it can combat tired-looking eyes and signs of ageing in the under-eye area. This quick treatment uses soft hyaluronic acid fillers to improve the appearance of depressions and sunken eyes, creating a smooth, firm foundation that makes the under-eye area appear brighter and well-hydrated.
5.  Lip Enhancement
If you want to achieve full, luscious lips without surgery, lip filler is the perfect option for you. These safe dermal fillers are fully reversible and can provide the exact look you want, whether that's a subtle enhancement or voluptuous pout. At our Harley Street clinic, our expert lip enhancement specialists will discuss your requirements before treatment and help you achieve an attractive look. 
6.  Cheek Augmentation
Cheek fillers are an excellent treatment option if you're craving fuller cheeks or higher, more defined cheekbones. Through the use of dermal fillers, our highly-trained clinicians ensure an attractive and youthful appearance, creating more structure and definition while also giving your skin a smoother and healthier look.
If you want to enhance your look without going under the knife, our non-surgical cosmetic treatments are the ideal option for you. Book a no-obligation consultation with our aesthetic experts to discuss your needs and find the right procedure for you.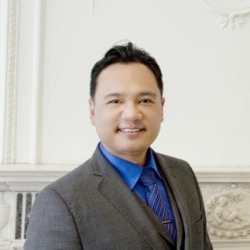 Latest posts by Dr. Chia Tan
(see all)