The Advanced Non-Surgical Facelift
Do you feel like you look tired and older than you feel? Not ready for a surgical facelift? If you are aged between 35 and 50, then the 8-point facelift may be the solution you are looking for. Also referred to as a liquid facelift, this advanced technique goes beyond simply filling lines and wrinkles with dermal filler.
As you age, collagen production reduces, volume is lost, and elastin fibres that provide support decrease. Typically, the effects start to become more noticeable from around the age of 30, when fine lines start appearing. Over time, deeper wrinkles and distinct structural changes result in an older appearance. By replacing volume loss, this technique restores the structure of the face. 
With precise and targeted injections of small amounts of filler, volume is restored, and your face is lifted and rejuvenated. Developed as an alternative to a surgical facelift, the 8-point facelift targets the key areas of your mid and lower face that lose the greatest volume as you age. The result is a total facial rejuvenation that looks completely natural. 
The Process
When you arrive, you will have a consultation which normally takes between 10 and 20 minutes. This is a critical part of our process and allows us to design a bespoke plan based on your specific facial structure, volume loss and skin laxity. 
Only when we are confident you understand the outcome we can achieve will we proceed. Your makeup is removed, and your face is cleansed with antiseptic, followed by numbing cream. The actual injections typically take around 40 minutes.
Areas Targeted by the 8-Point Facelift
The 8-point facelift precisely lifts and contours by injecting filler into eight areas of the face:
1. Infraorbital hollow — to reduce hollows and dark circles in the under-eye area
2. Zygomatic arch — to provide structure and definition to the cheekbone
3. Malar fat pad — to replace volume in the cheeks 
4. Sub-zygomatic hollow — to fill lower cheek hollows 
5. Nasolabial folds — to smooth out the depression from the nose to the mouth, often called laughter lines
6. Marionette lines — to smooth out the depression from the corner of the mouth down to the chin
7. Pre-jowl sulcus — to lift the area in front of the jowls 
8. Mandible — to contour the lower jawline.
Risks and Complications 
All dermal fillers have associated risks and complications. At our London clinic, we use  Juvederm® dermal fillers, which have a high safety record when administered correctly. Currently, in the UK, lack of regulation means many practitioners will have had minimal training before they start working for themselves or in a clinic — which can be very dangerous. 
At Harley Street MD, your treatment will always be carried out by Dr. Chia Tan, a fully registered doctor with the General Medical Council (GMC) and a member of the:
• Royal College of Surgeons of Edinburgh (MRCSEd)
• British College of Aesthetic Medicine (MBCAM)
• European College of Aesthetic Medicine & Surgery (ECAMS).
Although this can not completely remove any risk of complications, it does make them far less likely to occur. 
Common side effects include:
• Swelling
• Bruising 
• Tenderness 
These will normally resolve within a couple of days. 
The most serious complication, skin necrosis (death of skin cells), is rare. This is why you should only ever let an appropriately trained and experienced medical practitioners, such as a nurse, doctor, or dentist, administer dermal fillers.
Necrosis can occur when too much filler is injected, and vascular supply is compromised or when the filler is injected directly into a vessel. If, after using injectable dermal fillers, you experience severe pain or notice a white or purple, blue tone to the skin, you should contact your practitioner immediately. Necrosis caused by hyaluronic acid (HA) filler is usually effectively treated by injecting the area with hyaluronidase, which dissolves the filler. 
8-Point Facelift vs. Lower Facelift
The 8-point facelift lifts areas of the face that have become sunken or lost definition, smooths deep lines, and enhances the facial structure. The result is a reduction of moderate skin laxity and an improved definition of the facial contours. When done correctly, the 8-point facelift can produce similar results to a lower surgical facelift, also called a mini facelift. 
Although the 8-point facelift is suitable for everyone, it does have its limitations. When there is severe skin laxity, an improvement will still be noticeable; however, the definition of facial contours will be less apparent. A lower facelift may be required if there is an excessive loss of volume, too. 
At Harley Street MD, an aesthetic clinic in London, our priority is to ensure you understand what is realistically achievable with an 8-point facelift. If you have prominent jowls, a considerable loss of volume and loose skin, a PDD thread lift or surgical lower facelift might be a better option if you are willing to go down the surgical route. 
Q&A
What fillers are used for an 8-point facelift?
We use Juvederm® dermal fillers made from hyaluronic acid. This is a naturally occurring substance found in the skin which creates natural volume. 
Is an 8-point facelift painful?
Prior to injecting any filler, a numbing cream is applied to reduce skin sensation. Local anaesthetic is also injected with the actual filler, which makes the process comfortable and almost pain-free. 
When will I see the results?
The results will be immediate; however, some swelling may reduce the definition of facial contours. The full effect will be visible after one to two weeks.
How long does an 8-point facelift last?
Juvederm® dermal fillers can last up to 18 months. We advise that a top-up treatment may be required after 12 months to maintain the results.
Who shouldn't have dermal fillers?
If you have broken skin or any sign of skin infection, you will not be able to have dermal fillers. It is recommended you do not have filler treatments if you are immuno-compromised, taking antibiotics, pregnant or breastfeeding.
Learn more about our 8-point facelift, or get in touch and book a FREE no obligation-consultation at our central London, Harley Street clinic today.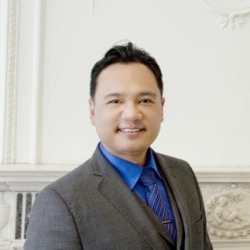 Latest posts by Dr. Chia Tan
(see all)